News
News
Cait Burns and Vera O'Riordan of the School of Engineering awarded Intel Women in Technology Scholarships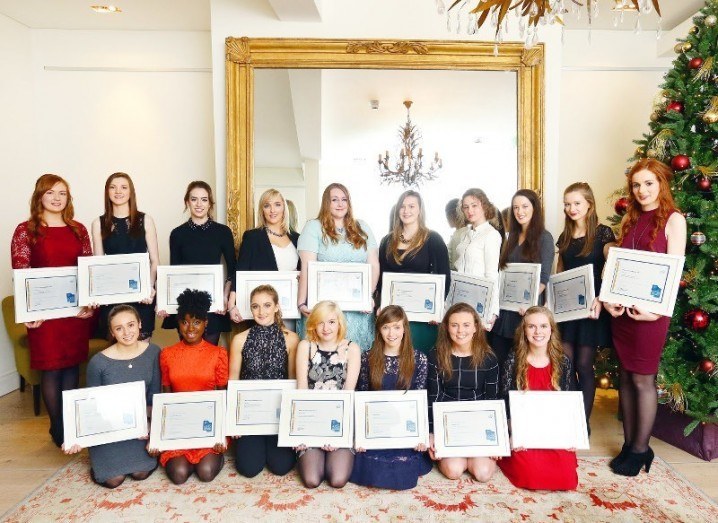 Cait Burns (BEP1) and Vera O'Riordan (BEG1) are among the 17 female students awarded the INTEL Women in Technology Scholarships for 2015. The scholars were celebrated at an awards ceremony on Wednesday, 18th November 2015 in Dublin.
Well done to you both, we are very proud of you.
Each recipient will receive €2,000 per year for their studies, work placements on campus in Intel's Leixlip plant and a mentor throughout their academic career.
The 17 ladies join a programme that has seen €160,000 invested in the past three years and which aims to encourage women to start careers in science and technology.
Each of the recipients is studying a science, engineering or technology course in either Trinity College Dublin, University College Dublin, Dublin City University, University College Cork, University of Limerick, Maynooth University or Dublin Institute of Technology.
"At Intel we are very passionate about workforce diversity, particularly gender diversity, because we fundamentally believe, and it is proven, that our business benefits from having diverse employees," said Intel's Fab 24 factory manager Ann-Marie Holmes.
"Women are under-represented in the technology workplace and this programme creates an important opportunity for us to encourage more young women to pursue careers in science and technology, as well as giving them firsthand experience of the career opportunities at Intel."
The full list of recipients is:
Cait Burns (Cork) – UCC
Maria Cordero (Cork) – Trinity
Fiona Maguire (Donegal) – UCD
Lucia Hughes (Dublin) – Trinity
Aileen McCabe (Cavan) – UCD
Anna McEvoy (Louth) – DIT
Ruth Quinn (Meath) – UCD
Orlaith Hickey (Wexford) – UCD
Eimear Murphy (Kildare) – UCD
Caoimhe Rose Martin (Wicklow) – UCD
Stephanie Walsh (Offaly) – Maynooth University
Eunice OreOluwa Fasan (Louth) – Trinity
Catrina Carrigan (Dublin) – DCU
Vera O'Riordan (Cork) – UCC
Louise Allen (Kerry) – UL
Aoife McMenamin (Louth) – UCD
Zenouska Murphy (Dublin) – DCU