Past conferences
Past conferences
Past Conferences
Rómánsaíocht: Seimineár Taighde ar na Scéalta Rómánsaíochta
Research Seminar on the Irish Romantic Tales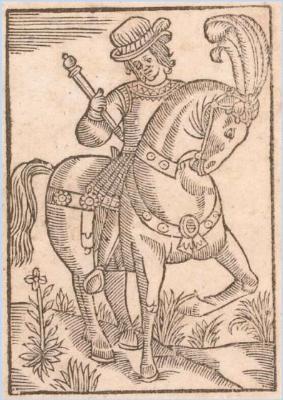 Coláiste na hOllscoile Corcaigh / University College Cork
Dé Sathairn 30 Samhain 2019 / Saturday 30 November 2019
Cainteoiri/Speakers
Andrea Palandri, Institiúid Ard-léinn Bhaile Átha Cliath/ DIAS: Gabháltais Shéarlais Mhóir: Comhthéacs liteartha in Éirinn agus san Eoraip
Deirdre Nic Chárthaigh, Ollscoil Mhá Nuad/ Maynooth University: An dúchas agus leanúnachas an traidisiúin in Bodach an Chóta Lachtna
Ken Ó Donnchú, Coláiste na hOllscoile Corcaigh/ UCC: Idir dhá rómánsaíocht: Eachtra Chonaill Gulban agus eachtraí Mhaghnuis Uí Dhomhnaill
Bernadette Smelik, Ollscoil Radboud/ Radboud University: Continuity and discontinuity in the Céilidhe Iosgaide Léithe
Síle Ní Mhurchú, Coláiste na hOllscoile Corcaigh/ UCC: Female experiences of love in the Irish romantic tales and the dánta grá
---


The Department of Modern Irish, UCC, in partnership with the Austrian Academy of Sciences is pleased to host
The 5th International Conference on Watermarks in Digital Collections
Creative Zone, Boole Library, UCC, 16–17 October 2019
Download 2019-Watermarks in Digital Projects Conference UCC [PDF]
Admission free, but advance notice (to p.omachain@ucc.ie) required.
Emanuel Wenger (Austrian Academy of Sciences, Vienna) 'Bernstein'
Maria Stieglecker (Austrian Academy of Sciences, Vienna) Jubilee: 20 years WZMA – Watermarks of the Middle Ages
Pádraig Ó Macháin (University College Cork) Gathering watermarks in Ireland
Erwin Frauenknecht / Tilo Wütherich (State Archive, Stuttgart) Consolidation, networking and sustainable operation – the next generation of WZIS
Silvia Hufnagel (Árni Magnússon Institute for Icelandic Studies, Reykjavík) The Role of Watermarks for Paper Trails Iceland: A Project Description
Veronika Giglberger / Bernhard Lutz (Bavarian State Library, Munich) Exploring watermarks in 16th century Bavarian music manuscripts
Louise O'Connor (National Library of Ireland, Dublin) 17th-century watermarks in the Genealogical Office MSS of the National Library of Ireland
Annelies van Hoesel (Rijksmuseum Amsterdam) Watermarks visualised: exploring the paths towards a digital collection of watermarks in the Rijksmuseum collection
Giles Bergel (Visual Geometry Group, University of Oxford) Computer vision for watermark studies: recognition by instance and type
Mikhail Zhizhin / Elena Ukhanova (Space Research Institute of the Russian Academy of Sciences / State Historical Museum, Moscow) The first all-Russian database of watermarks: the development of new methods for image processing and identification of interrelated groups of manuscripts
Ourania Kanakari (General State Archives of Greece, Athens) The Digital Watermark Collection of the General State Archives of Greece (G.S.A): recording watermarks, considering paper manufacture and use in the newly established Greek state
Maria Giannikou (General State Archives of Greece, Athens) The Digital Watermark Collection of the General State Archives of Greece (G.S.A): repertory, classification and origin of the early 19th-century watermarks
Ilaria Pastrolin (École Nationale des Chartes, Paris), Project: 'Filigranes pour tous', two years later: A prototype of the watermark ID app
Ingelise Nielsen (KADK School of Conservation, Copenhagen) To be or not to be a watermark in a database
Ivan Badanyak (Croatian Institute of History, Zagreb) Mošin-Traljić watermark collection (13th –19th century)
Carmen Hidalgo (Instituto del Patrimonio Cultural de España and Asociación Hispánica de Historiadores del papel, Madrid) Arabic paper, Espanich-arabic paper and Italian paper in the three existing copies of the 'Libro del Buen Amor. Arcipreste de Hita' at the end of the 14th century: the watermarks
Grigory Vorobyev (Saint Petersburg Institute for History, Russian Academy of Sciences) Watermarks in Manuscripts Copied by Demetrius Chalcondyles (1423–1511)
Krisztina Rábai (Polish Institute of Advanced Studies, Warsaw / University of Szeged, Hungary) Early Watermarks from Silesian Papermills? The beginning of producing paper in Silesia in connection with the usage of paper in the Jagiellonian royal courts around the turn of the 15–16th centuries
Anna-Grethe Rischel (National Museum of Denmark, Copenhagen) Links between watermarks, provenance, paper technology and trade – illustrated through studies of 18th century paper
María Rosa Ruiz Cervera (National School of Conservation, Restoration and Museography, Mexico City) 'Filigranas-ENCRyM Project', México: a recently created database for watermarks
---
Coláiste na hOllscoile, Corcaigh i bpáirt le hOllscoil Uladh
ADUAIDH
Comhdháil Cois Laoi ar Dhúchas Uladh
An Leabharlann, Coláiste na hOllscoile, Corcaigh
23 – 24 Samhain 2018
Peadar Mac Gabhann 'Domhnall Gorm Mac Lachlainn – Ministéir agus File Inis Eoghain'
Ailbhe Ó Corráin 'Slán agaibh a fhir chumtha – Giolla Brighde Ó hEódhasa cct.'
Máire Nic Cathmhaoil 'Logainmneacha agus Láithreacha i gCín Lae Uí Mhealláin'
Lauren Ní Néill 'Ról na cruite i sochaí na nGael'
Lillis Ó Laoire ''Doiminic Ó Domhnaill' – Amhrán seicteach Gaeilge mar lón sa chath in aghaidh an Phrotastúnachais?'
Fionntán de Brún ''Sás suthain na scríbhinne' – éigse agus staireolaíocht Chúige Uladh in úrscéalta Bhreandáin Uí Dhoibhlin'
Mícheál Ó Máinnín 'Ard Macha Bréige'
Margaret Gallagher 'Dánta Diaga Uladh agus na Paidreacha Traidisiúnta'
Gráinne Ní Ghilín 'Acht Anois - an feachtas ar son Achta Gaeilge go dtí seo'
Eimear Ní Chinnéide 'Siúlach, Scéalach agus Ultach: An Teagmháil Idirchultúrtha i Litríocht na hImirce agus i Litríocht Taistil Chúige Uladh'
Nioclás Mac Cathmhaoil 'An fhilidheacht i gCúige Uladh, 1200–1750: bunú, briseadh agus seachadadh an traidisiúin'
Ciarán Dawson 'Peadar Ó Gealacáin agus Próslitríocht Chúige Uladh'
Ailbhe Nic Giolla Comhaill 'Éan na Scéalaíochta: Spléachadh ar na Scéalta Iontais a bailíodh ó Shorcha Chonaill (Ní Ghrianna), Rann na Feirste.'
Seoladh: Súgán an Dúchais (agus Ceol ó Lauren Ní Néill & Niall Comer)
Seosamh Watson 'Trí Rainn agus Amhrán'
Domhnall Ó Baoill 'Tacaíocht "Litríocht'' an Bhéaloidis don Teanga i nGaeilge Uladh'
Séamus Mac Mathúna 'Anailís ar Chorpas Scéalta Farraige as Éirinn agus Albain'
Saorchead isteach ach scéal a chur roimh ré go dtí p.omachain@ucc.ie
Clár: 2018-Aduaidh clár [PDF]
---
Avicenna in Ireland and Medieval Medicine
A seminar of the Department of Modern Irish, UCC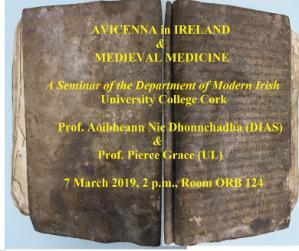 Thursday March 7 2019
O'Rahilly Building, Room 124
Prof. Aoibheann Nic Dhonnchadha (DIAS), 'A vellum fragment: an Irish translation of the Canon of Avicenna'
Prof. Pierce Grace (UL), 'Bloodletting in Medieval Ireland – a tale of two texts'
---
Beyond the text: the functionality and materiality of the book
An Afternoon Seminar of the Department of Modern Irish, University College Cork
Thursday, 30 November 2017


John Gillis (Trinity College Library) Reading between the lines; codicological evidence from two early medieval Irish manuscripts
Agata Dierick (City Archive of Leuven) The City Archive of Leuven and Itinera Nova: tools, people and history
Dorothea Müller (Chester Beatty Library) Mirror of the World: conserving an 18th century Turkish printed book at the Chester Beatty Library
Daniela Iacopino and Pádraig Ó Macháin (UCC) Preliminary report on the analysis of inks in Irish manuscripts
---
Amhrán : Arrane : Òran - A Conference on Gaelic Song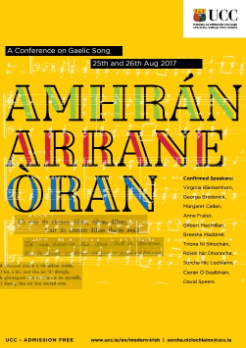 University College Cork, 25-26 August 2017
Virginia Blankenhorn, 'The art, the artist, or the artifact?'
Breesha Maddrell, 'Songs with three legs: how the Gaelic world has supported the development of Manx song'
Ciarán Ó Gealbháin, '"Ó bhailte na tuaithe go bruach na farraige": Song and the Gaelic Revival in a County Waterford community in the early decades of the 20th Century'
David Speers, 'Written for the day: the Gaelicisation of extraneous ballads in the Manx song tradition'
Anne Frater, 'Ciorstaidh Ann NicLeòid: charting the community'
Sorcha Nic Lochlainn, '"Chunnaic mi do long air sàile": The theme of seafaring in the compositions of Gaelic women songmakers'
Margaret Callan, 'Performance in context: North Uist's Gaelic Song Tradition'
Tríona Ní Shíocháin, 'Singing Ideas: Performance, Performativity and Power in Traditional Irish Song'
George Broderick, 'The Revival of Traditional Songs and Music in the Isle of Man'

Róisín Nic Dhonncha, 'Interpretations of Authenticity in the Practice of Sean-Nós Singing'
Gilbert MacMillan, ''Gaoth an Iar': Regeneration of traditional song in the traditional Gaelic community of South Uist'
Round-table session on the present-day Gaelic song tradition, its social context, and its promotion
---
The Paper Manuscript
A colloquium of the Department of Modern Irish
Friday 26-Saturday 27 May 2017
Pádraig Ó Macháin (UCC) The Irish paper manuscript
Matthew Driscoll (University of Copenhagen / University of Ulster) The paper manuscript in post-medieval Iceland
Aoibheann Nic Dhonnchadha (Dublin Institute for Advanced Studies) An Irish medical treatise on vellum and paper from the 16th century
Siobhán Fitzpatrick (Royal Irish Academy) A view of Ireland on paper
Orietta Da Rold (University of Cambridge) Paper in medieval English books
Timothy O'Neill (UCC) Scholars' hands: non-Irish handwriting in the later manuscripts
Elaine Harrington (UCC) Special Collections in the Boole Library, University College Cork
Barbara McCormack (NUI Maynooth) Paper manuscripts in the Russell Library, Maynooth University
Paul Curtis (Mucros Bookbindery and Paper Conservation Workshop) Conserving and binding the journal of Ó Mealláin, 1641
Nioclás Mac Cathmhaoil (University of Ulster) Continuity and change in the Ulster manuscript tradition of the 18th Century
Theresa Fairbanks-Harris (Yale University) Looking at paper: a conservator's approach
Maria Stieglecker (Austrian Academy of Sciences): Hidden signs: how to capture watermarks
Agnieszka Helman-Wazny (University of Hamburg): From palm leaves to paper: a transfer of technological knowledge in the Tibetan manuscript tradition
Élodie Levêque (Institut de Recherche et d'Histoire des textes, CNRS, Université Paris Ouest Nanterre) A scholar's binding? The archaeology of some 19th-century Gaelic manuscripts in the National Library of Ireland
---
Comóradh an Ríordánaigh
Imeachtaí comórtha céad blian Sheáin Uí Ríordáin (3.12.1916-27.2.1977)
10 Samhain
Mórfhile/Mionteanga
Teacht le chéile chun ceard na filíochta sa Ghaeilge a phlé agus í a thagairt go háirithe do shaothar an Ríordánaigh. Aoichainteoirí: Colm Breathnach, Áine Uí Fhoghlú, Ailbhe Ní Ghearbhaigh, agus Wilson McLeod

Liam Ó Murchú, Ailbhe Ní Ghearbhaigh, Áine Uí Fhoghlú, Colm Breatnach, agus Wilson McLeod
17 Samhain
Ceol agus Filíocht le Gaelscoil Uí Ríordáin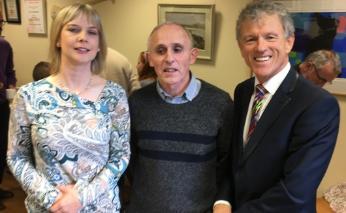 Máiréad Ní Loingsigh, John Riordan (mac dearthár don bhfile), agus Gabriel Ó Cathasaigh
22 Samhain
'Letter-forms and literature: wrestling with Scripture, Heaney and Ó Ríordáin'
Léacht le Timothy O'Neill (Ollamh Taca, Roinn na Nua-Ghaeilge)
Christine O'Neill, Tim O'Neill, agus Aidan Doyle
25 Samhain
Aistriú dhealbh Shéamuis Uí Mhurchú de Sheán Ó Ríordáin go Roinn na Nua-Ghaeilge
---
Ar Muir is ar Tír: Seanchas na Réabhlóidí
A weekend conference jointly hosted by Roinn na Nua-Ghaeilge and Coláiste na Rinne, 30 September – 2 October 2016, Coláiste na Rinne.
2016-Ar Muir agus ar Tír clár [PDF]
---
Translating European Literature into Irish in the Free State
A one-day colloquium, 16 September 2016. Contact: a.doyle@ucc.ie
'A D'IOMPAIGH GO GAEILGE' TRANSLATING EUROPEAN LITERATURE INTO IRISH IN THE FREE STATE
Opening of symposium by Dr Martin Howard, Head of School of Languages, Literatures and Cultures
Michael Cronin (DCU), 'Pádraig de Brún and the equations of translation'
Pádraigín Riggs (UCC), 'Pádraig de Brún's translations of Racine (Athalie) and Corneille (Polyeucte)'
Daragh O'Connell and Aidan Doyle (UCC), 'Canto XIII of the Divine Comedy'
Mark Ó Fionnáin (KUL), 'Liam Ó Rinn – a European Gael'
Ailbhe Ní Ghearbhuigh (NUIG), 'Daudet's "La dernière classe": versions and motives'
Alan Titley, 'An Gúm: state publishing as an engine of literary creation'
Closing of symposium by Prof. Pádraig Ó Macháin, Head of School of Irish Learning
Poetry reading and wine reception: Common Room, North Wing, Readings of original texts and translations into Irish from: French, German, Greek, Italian, Spanish, Portuguese, Polish, Galician, Latin