Medical Graduates Association
Medical Graduates Association
Medical Graduates Association
Welcome
‌The aim of the UCC Medical Graduates Association is to create links between graduates, friends and the University to benefit future students, current students and alumni. The Medical Graduates Association informs medical graduates about developments and events in the medical school, highlights class reunions, organises scientific meetings and publishes an annual newsletter. We encourage all UCC medical graduates, here and abroad, to keep in touch with the Medical Graduates Association (MGA@ucc.ie) and we look forward to hearing from you.
Medical Graduates Association video
Professor Tony O'Brien, Chairperson, UCC Medical Graduates Association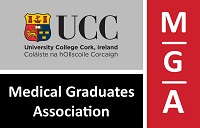 Medical Graduates Association Virtual Annual Conference 2020
Medical Graduates Association Annual Conference Saturday, September 26th 2020.
Please see programme below.
UCC MGA Virtual Scientific Conference programme
*************
Please note that this will be a virtual conference conducted via MS Teams. Please email mga@ucc.ie to express your interest and a link will be issued to you in advance of the event.
Ainsworth Scholarship 2019-20
UNIVERSITY COLLEGE CORK
AINSWORTH SCHOLARSHIPS
SESSION 2019-20
Applications for the above postgraduate Scholarships are invited, from doctors who intend to practise their profession in Ireland, primarily those who are medical graduates of University College Cork.
Full particulars of the Scholarships and of their award may be viewed at:
http://www.ucc.ie/calendar/scholarship/sch004.html (Postgraduate Scholarship section (Medicine and Health) of the College Calendar).
Further details may be obtained from Professor Catherine Keohane, School of Medicine, Brookfield Health Sciences Complex, College Road, catherine.keohane@ucc.ie who may be contacted for informal discussion.
PLEASE NOTE APPLICATIONS ARE NOW CLOSED