Awards
Awards
Medal Recipient 2015 - Professor Mary N Sheppard
MARY NOELLE SHEPPARD, MB. BCH. BAO, BSc. MD. FRCPath
Professor of Cardiovascular Pathology, Cardiovascular Sciences,
St George's Medical School, University of London
Visiting Professor Imperial College, London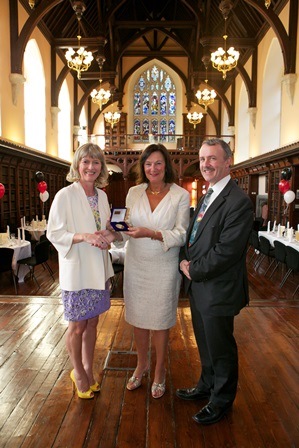 Professor Mary N S‌heppard undertook her undergraduate medical degree at University College Cork Ireland.
Professor Sheppard completed specialist training in pathology at Cork University Hospital, Hammersmith Hospital and University College Hospital London. She was awarded a Wellcome Fellowship to do postgraduate research in 1981 and completed an MD research degree in 1984 and went into academic hospital based medicine. She a Consultant Histopathologist with a special interest in cardiac disease. She has worked in both NHS and academic positions which enables her to combine diagnostic work with research and teaching.
St Georges Hospital Medical School has a large medical school programme with both undergraduate and postgraduate students. The medical school works closely with St George's Hospital, the largest teaching hospital in South London. Professor Sheppard is a recognised researcher and teacher within the Medical School and is an invited lecturer both nationally and internationally on cardiac disease. She runs annual UK national training courses in adult cardiovascular pathology.
Her research interests include sudden cardiac death, cardiomyopathy, ischaemic cardiac disease, valve disease and congenital heart disease and she has over 20 years of specialist experience in these areas of cardiac pathology. As a result of this work, Professor Sheppard act as a national referral centre for cardiac disease. She has established a cardiac pathology research laboratory with funding from the charity CRY (Cardiac Risk in the Young) to study sudden cardiac death in the young. The referral centre has designated specialist technical and administrative personnel to deal with an increasing number of referrals within and outside of the UK as well as Ireland.
Professor Sheppard works closely with Cardiologists who screen relatives of sudden cardiac death victims as the causes are often genetic. She still collaborates with Royal Brompton Hospital in London and is a visiting Professor at National Heart and Lung Institute within Imperial College, London. She collaborates with clinical/scientific teams at other institutions, both nationally and internationally, including University College Cork.
Professor Sheppard was President of the Pathology Section of the Royal Society of Medicine in 2012-2014 and organised meetings at the RSM on autopsy, post-operative deaths maternal death and sudden cardiac death.
She is on the management board of UK network of cardiac pathologists and Clinical lead in national database on sudden young Cardiac Death in UK.
As well as this, she is pathology representative on the Board of the National Association for Inherited Cardiac Conditions, established in 2009, and she is a member of the Editorial Board and subeditor (cardiac pathology) for Histopathology since 2008.
She is elected councillor on the Board of European Association of Cardiovascular Pathology 2009 and she is a Member of the international panel, established by the Association for European Cardiovascular Pathology (AECVP) and Society for Cardiovascular Pathology (SCVP) setting out guidelines for sudden cardiac death, cardiac pathology training, cardiac autopsy, handling of cardiac surgical specimens, endomyocardial biopsy and aortic surgical specimens.
Professor Sheppard was awarded the Stokes Medal by Irish Cardiovascular Society for her work in 2007.
She has been invited to give the Philip Poole Wilson Memorial Lecture by Anglo-Israeli Cardiological Society at annual meeting 2014.
Professor Sheppard has published 160 peer reviewed papers, 71 case reports, 24 book chapters, 36 reviews/letters/articles, 9 international guidelines/government reports.
She has co-edited one book; co-authored four books including cardiac pathology and imaging, pulmonary pathology and cardiac valve disease, and she has written a book on Practical Cardiovascular Pathology, a leading bestseller in the field in 1998 and 2011 with third edition to be completed in 2015.
UNIVERSITY EDUCATION
National University of Ireland,
University College Cork, Medical School 1971-1977
DEGREES
Honours Medical Degrees MB. BCh. BAO. 1977
Honours BSc. in Pathology 1979
MD. Degree 1984
SPECIALIST QUALIFICATION
MRCPath 1986, FRCPath 1996
POSTGRADUATE APPOINTMENTS
- Junior House Officer in Surgery and Medicine, St. Finbarr's Hospital, Ireland, 1978.
- Senior House Officer in Histopathology, Cork University Hospital, Ireland, 1979- 1980.
- Wellcome Research Fellow, Royal Postgraduate Medical School, London 1981 - 1983.
- Senior Registrar/Lecturer in Histopathology, University College/Middlesex Hospitals, London, 1983 - 1987.
SENIOR POSITIONS
- Senior Lecturer/Consultant in Histopathology, The Royal London Hospital Medical School, 1987 - 1988.
- Consultant in Histopathology, Royal Brompton and Harefield Trust Hospital. 1988-2013
- Reader in Cardiovascular Pathology, Imperial College London 2010-2013
- Professor of Cardiovascular Pathology, Cardiovascular Sciences, 2013-present
- St George's Medical School, University of London,
- Visiting Professor Imperial College, London
Medal Recipient 2014 - Prof Daniel J. Penny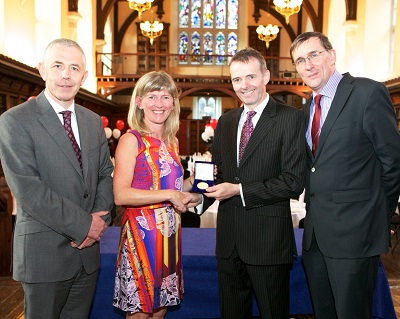 Professor Daniel J. Penny - Chief of Paediatric Cardiology at the Texas Children's' Hospital, and Professor of Paediatrics – Cardiology at Baylor College of Medicine, Houston, Texas, received the 2014 UCC Medical School Medal. Daniel entered UCC Medical School in 1979. In 1982 he was invited to read for an intercalated B.Sc. (Hons) in Physiology, graduating with 1st Class Honours in 1983. He subsequently graduated M.B., B.Ch., B.A.O. in 1986, and interned in Medicine and Surgery at Cork University Hospital.
Between 1987 and 1990 he trained as a Senior House Officer in Paediatrics at a number of Irish hospitals, being awarded the Diploma in Child Health and Membership of the Royal College of Physicians n 1988. In 2002, the Royal College of Ireland elected him to its Fellowship.
In 1990 he was awarded a British Heart Foundation Junior Research Fellowship at the Royal Brompton Hospital in London, moving to Australia in 1992 as a Research Fellow in Cardiology at the Royal Childrens' Hospital Melbourne, and as a Research Fellow in Paediatric Cardiology, Specialist Fellow in Paediatric Cardiology and Research Fellow at Monash Medical Centre and the Institute of Reproduction and Development at Monash University, Melbourne.
In 1997 he returned to the UK, as Consultant Paediatric Cardiologist at the Royal Brompton & Harefield NHS Trust Hospital and Honorary Senior Lecturer, National Heart & Lung Institute, Imperial College of Science, Technology & Medicine, London. He was subsequently appointed Senior Lecturer in Cardiology, Institute of Child Health, and Consultant Paediatric Cardiologist-Intensivist, Great Ormond Street Hospital for Children, London.
He returned to Melbourne in 2001, as Chief of Cardiology at the Royal Childrens' Hospital Melbourne. Whilst there, he was a founding Director of the Australia and New Zealand Children's Heart Research Centre, a collaborative network for multicenter research across Australia and New Zealand.
Following a visit to Vietnam in 2002, he became active in an international collaborative effort to establish a top-level care facility for children and adults with cardiovascular disease in Hue City. In 2007, The Cardiovascular Institute in Hue City Central Hospital opened its doors. In 2011, he was awarded the 'For the People's Health' medal, the highest Award for Healthcare in Vietnam, by Dr. Bui Duc Phu, director of Hue City Central Hospital and member of The Vietnamese Parliament.
In 2010, he moved to Houston, Texas, to take up his current position. In February of this year, he delivered the prestigious 12th Annual William J Rashkind Lecture in Paediatric Cardiology, speaking to a topic which encapsulates the ethos of his career: 'How to Build the Ultimate Team.'
As well as his other Academic achievements, he has successfully defended his Ph.D. thesis and holds a Masters of Health Administration. His research bridges cardiac physiology and clinical studies of congenital heart disease. He has over 100 peer-reviewed Publications in the Medical Literature, appearing in press in every year, without a break, since 1996. His first Publication, in Arch Dis Child, appeared in 1986 when he was an Intern, publishing research work he had done as a UCC Medical Student. Between 2011 and 2016 he acts as Editor of Paediatrics.
Dan Penny has chosen a career caring for some of the most vulnerable of the world's citizens – children with complex cardiological problems and their families. This field presents amongst the greatest challenges in physiology, anatomy, pharmacology, medical technology, ethics and holistic practice.
He was recently described by a colleague as follows: "Quite simply, Dan Penny is one of the most creative and innovative pediatric cardiologists on the planet," and: "The application of his talents to the creation of this heart center in Vietnam literally has saved the lives of thousands of Vietnamese men, women and children."
In a previous interview, Dan Penny reflected that: "One of the great privileges of my career has been the opportunity to work in leading hospitals which are committed to improve the health and well-being of children and families, no matter where they live. Any children's hospital which has a vision to be great must be committed to working on a global scale."
Dan Penny is a Clinician, Researcher and Leader in his field, who has achieved excellence in these roles on 4 continents, and whose own career has exemplified that global focus. As an outstanding role model for future Graduates of our Medical School, he is a most deserving recipient of the 2014 UCC Medical School Medal.
2014 UCC Alumni Achievement Awards
Professor John Barrett is a recipient of the 2014 UCC Alumni Achievement Award.
Please click the link below to see the video interview with him: