Journals
Journals
Béascna
‌‌‌‌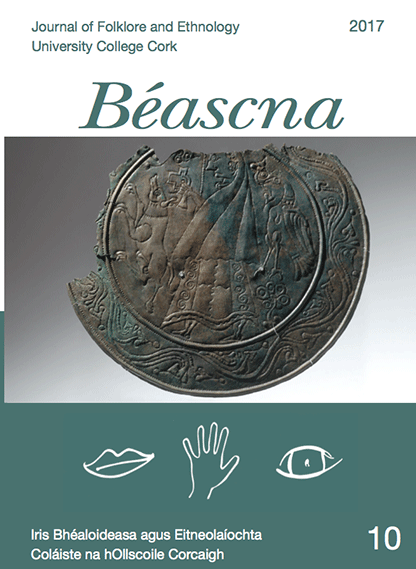 Welcome to the link for 'Béascna', the UCC Journal of Folklore and Ethnology. 'Béascna' is one of only two scholarly journals in the Republic of Ireland publishing articles and reviews relating to Irish and European Folklore and Ethnology in general. 'Béascna' was founded in 2002, in part to commemorate the establishment two years earlier of Roinn an Bhéaloidis/the Department of Folklore and Ethnology. Produced on a biennial basis initially, the journal has since become an annual publication of significant standing. In line with the ethos of the department in general, the journal seeks to encourage challenging and original academic articles and reviews in Irish and English. To date, published submissions have focused on material culture; popular religion; oral literature; oral history; gender in folklore and popular culture; fieldwork methodologies; digitization of folklore recordings; urban ethnology; history of folkloristics and ethnology; and interplay between folklore and literature. The journal also accepts interdisciplinary or other submissions which explore innovative critical approaches to the subject. One central aim of the journal is to provide a forum for furtherance of discipline-specific critical discourse in Irish. The mission of the journal is by no means limited to this, however. 'Béascna' contributes notably to the general furtherance of the discipline in the English speaking academic world. The journal has thus far attracted contributions by leading academics and established research postgraduate students in both Europe and America.
Fáilte go dtí nasc 'Béascna', Iris Bhéaloideasa agus Eitneolaíochta COC. Bunaíodh 'Béascna' sa bhliain 2002 faoi chúram Roinn an Bhéaloidis i gColáiste na hOllscoile Corcaigh mar chuid den chomóradh a bhí á dhéanamh um an dtaca sin ar bhunú na Roinne dhá bhliain roimhe sin. Foilseachán débhliantúil ba ea í sna blianta tosaigh sin, ach is foilseachán bliantúil anois í a bhfuil ardmheas agus dea-theist uirthi. Glactar san iris le hailt bhunúla dúshlánacha acadúla agus léirmheasanna i nGaeilge nó i mBéarla. Is ins na réimsí seo a leanas den disciplín is mó a bhfuil ábhar foilsithe go nuige seo: an cultúr ábhartha, an creideamh tíre, an litríocht bhéil, stairsheanchas, ceist na hinscne sa bhéaloideas agus sa chultúr coiteann, modhanna bailithe sa ghort, digitiú ar thaifeadtaí béaloidis, an eitneolaíocht uirbeach, stair léann an bhéaloidis agus na heitneolaíochta, agus anáil an bhéaloidis faoin litríocht. Glactar, chomh maith, le hábhar idirdhisciplíneach nó altanna eile a fhéachann le cur chuige nuálach a chur i bhfeidhm ar ghnéithe éagsúla den mbéaloideas trí chéile. Aidhm lárnach ag an iris í fóram a sholáthar d'fhorbairt agus do chur chun cinn an dioscúrsa chriticiúil i nGaeilge i réimsí éagsúla a bhaineann leis an disciplín. Is mó go mór ná sin, áfach, bunchuspóirí na hirise. Cuireann 'Béascna' go mór le forbairt an disciplín i saol acadúil an Bhéarla, leis. Tá ábhar foilsithe go nuige seo san iris ag scoláirí aitheanta agus iarchéimithe áitithe ón Eoraip agus ó Mheiriceá Thuaidh. Glacadh le hábhar as Éirinn, ón mBreatain, ón Iorua, ón Íoslainn agus ón bhFionlainn don dá eagrán is deanaí. Is inmhianaithe an rud é, dá réir sin, agus is chun leas na scoláireachta sa ghort é, go dtiocfadh fás agus forbairt uirthi diaidh ar ndiaidh.
Journal Editons
Purchase Béascna
You can purchase Béascna online at Litriocht.com
Is féidir an iris a cheannach ach cuairt a thabhairt ar shiopa oifigiúil COC.
You can order the journal by visiting the official UCC online shop.