Béaloideas na mBan
Béaloideas na mBan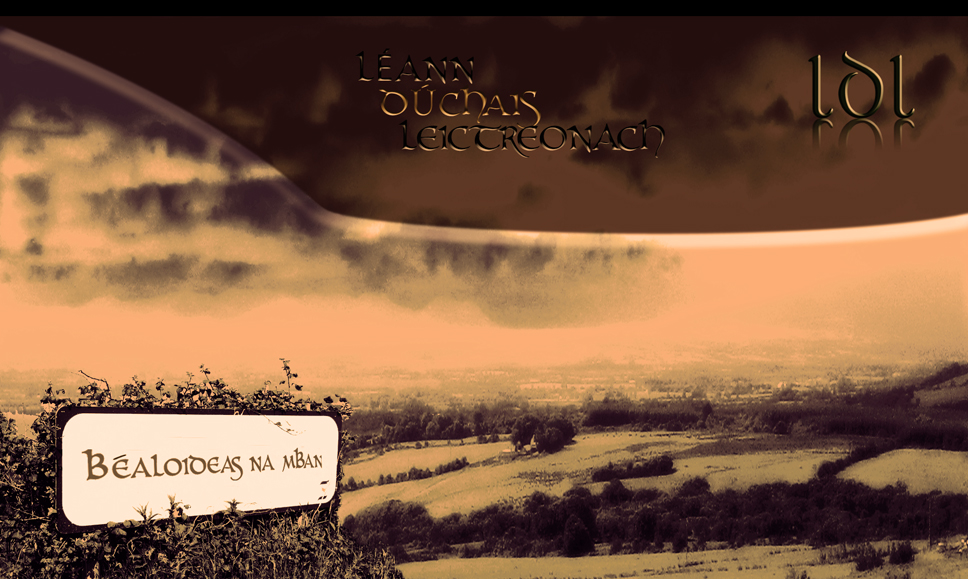 Béaloideas na mBan
Is tionscnamh 'Béaloideas na mBan' é mar chuid den tionscnamh taighde AN LÉANN DÚCHAIS LEICTREONACH (LDL). Tá an tionscnamh á mhaoiniú ag an Údarás um Ardoideachas ó 2004 i leith. Tugann an Roinn comhthéacs acadúil don tionscnamh taighde seo, ó thaobh comhairle agus léinn de, chun gnéithe de shaol agus de chultúr comhaimseartha na Gaeltachta a thuairisc le cabhair na teicneolaíochta is nuálaí. Ceapadh Cúntóirí Taighde chun an taighde seo a dhéanamh sa ghort. Ar an bhfoireann go dtí seo bhí Treasa Ní Éalaithe (Port Láirge agus Iarthar Chorcaí), Dáithí de Mórdha (Iarthar Chiarraí), Proinsias Ó Cuilinn (Tír Chonaill) agus Piaras Ó Droighneáin (An Ghaillimh).
Sliocht as Béascna
Tá an taighde á chur chun cinn ar bhonn téamúil. Is é Ceann na Roinne, an Dr Stiofán Ó Cadhla, a cheap an tionscnamh agus atá á stiúrú ó shin i gcomhpháirt le foireann Léann Dúchais na Roinne, an Dr Clíona O'Carroll agus Ciarán Ó Gealbháin.
Ón mbliain 2008 amach is é 'Béaloideas na mBan' an téama atá á chíoradh agus tá mná na Gaeltachta ó Thír Chonaill go dtí Corca Dhuibhne agus ó Chúil Aodha go dtí Rinn Ó gCuanach i mbun seanchas a sholáthar mar chuid den tionscnamh seo, a dhíríonn d'aon ghnó glan ar fhianaise na mban le hionchas an fhaillí a deineadh in Éirinn le tamall fada de bhlianta sa ghné thábhachtach seo den mbéaloideas a chúiteamh. Tá Dr John Eastlake ag obair ar an mbailiúchán tábhachtach faoi láthair.
Béaloideas na mBan is a project carried out by Research Assistants in the Department of Folklore and Ethnology's Irish-language LÉANN DÚCHAIS LEICTREONACH (LDL) project. The project has been kindly supported by the Higher Education Authority since 2004. Research Assistants from several regions have been employed to conduct fieldwork, among them Treasa Ní Éalaithe (Waterford and West Cork), Dáithí de Mórdha (West Kerry), Proinsias Ó Cuilinn (Donegal) and Piaras Ó Droighneáin (Galway). It was designed, and is directed by, Head of Department, Dr. Stiofán Ó Cadhla, with the assistance of An Léann Dúchais Staff, and employs the latest AV technology. The aim of the project is to research critically important aspects of past and contemporary life in Gaeltacht areas and, where relevant, in the wider Irish-speaking community. It is envisaged that this record will not only be of interest to the general public, but that it may also serve as a resource for scholars and as a didactic tool or learning aid within the Department. Since 2008 LDL has followed a theme-based approach focusing on women's knowledge and experience. To this end, Irish-speaking women from Donegal to Dingle and from Ballyvourney to Ring have given oral accounts relating to their life experiences. Dr John Eastlake is currently working on this important collection.