News & Events
News & Events
October 2018 -Independent Thinking Magazine
Prof Jonathan Hourihane was interviewed recently for the UCC Independent Thinking Magazine. Check out "Impact of allergy research goes more than just skin deep" Independent Thinking Magazine 2018
October 2018 Prof Jonathan Hourihane's Appointment to National Paediatric Hospital Development Board
We are delighted to announce that Prof Jonahtan Hourihane has been appointed to the National Paediatric Hospital Development Board for a period of 5 years by Mr Simon Harriss, Minister for Health. Prof Hourihane commented, I'm honoured and delighted to represent RCPI Faculty of Paediatrics,UCC and HSE's SSWHG on this important committee for the next 5 years. I look forward to bringing some regional perspective to their discussion and oversight of the huge NPH project that we are also keen to see be completed as quickly as possible"
September 2018 -Retirement of Bernadette Fitzgerald
Ms Bernadette Fitzgerald retired from her role as National Resuscitation Programme Coordinator today. Over the last 20 years in her role, Ber made a significant contribution to newborn survival and well being. Not only did she organize local NRP courses, but Ber supported over 50 active instructors in 19 units where babies are born. Ber was also involved in organising the Stable Programme, PALS, APLS courses and PILS courses. We wish to thank Ber for her dedicated service in ensuring, nurses, doctors and EMT's received the necessary emergency training. The Department wishes Ber all the best on her future retirement.
Prof Deirdre Murray, Ms Bernadette Fitzgerald, Dr Liam O'Connell
September 2018 - Canadian Society of Allergy and Clinical Immunology Award Winner
Professor jonathan hourihane was awarded the le prix milton gold memorial lecturship award at the csaci annual scientific meeting this month (http://csaci.ca/csaci-awards/. the milton gold memorial lectureship is presented to the speaker whose lecture exemplifies the role of advocacy in the field of allergy & immunology, an attribute that dr. gold was well known for throughout his career.
18 June 2018 - Opening of Paediatric Academic Unit
Tainiste Simon Coveney & Leah Conway
On the 18th June 2018 the dedicated UCC Paediatric Academic Unit based at Cork University Hospital was offically opened by Tainiste Simon Coveney and Ms Leah Forde. This unit is the first of its kind in the country and is home for both UCC Paediatric academic teaching and training and the Paediatric Clinical Research arm of the INFANT Centre. The unit has been designed and developed to foster and encourage collatoration between clinicans, researchers, academics, industry, students, trainees, patients and their families to work togther in impriving childrens health.
The unit facilitates teaching and training for both undergraduate medical students and postgraduate paediatric and health discipline trainees in an integrated facility where tomorrows doctors can partcipate and observe research led healthcare being developed and delivered.
Prof Jonathan Hourihane, Ms Anita McGuire, Mr Gerry O'Dwyer, Mr Patrick O'Shea, Tainiste Simon Coveney, Mr Tony McNamara, Prof Geraldine Boylan, Prof Deirdre Murray, Prof Helen Whelton
April 2018 - Announcing our New Head of Department
The Department of Paediatrics and Child Health would like to announce the appointment of Professor Deirdre Murray as the new Head of Department.
Professor Murray has taken over from Professor Jonathan Hourihane who has held the post since 2005 and will now take on the challenging role of lead for paediatrics in the south and south -west hospital group. under the leadership of professor hourihane, the department has developed and expanded exponentially, now being the leading centre for paediatric research in ireland, housed in the new paediatric academic unit, opened by tanaiste simon coveney td on 18th june 2018. Professor Hourihane has supported and mentored both students and staff, including Professor Murray, by fostering a culture of critical thinking, education and impactful research during this time.
Professor Deirdre Murray joined the department in 2008 as senior lecturer. Professor Murray has developed her research interest into early brain injury and neurodevelopmental outcome since that time and in 2013 she became one of 9 principal investigators in the irish centre for fetal and neonatal translational research (Infant Centre). Professor Murray is looking forward to her new role as head of department and the challenges and opportunities it will bring. with the staff of the department of paediatrics, and the infant centre. Professor Murray aims to make ucc the leading centre for paediatric clinical trials and postgraduate studies in ireland, linked to the infant maternal and child health institute. We will build on our international reputation for research excellence in paediatrics and neonatology, whilst continuing to provide high quality, student-centred teaching to our undergraduate students, and our growing body of multi-disciplinary post-graduate students.
Professor Murray looks forward to meeting you and working with you in the future.
16 October 2016 Presidents Award for Excellence in Teaching
A President's Award for Excellence in Teaching 2016 was awarded for innovative Paediatric Emergency simulation teaching to a team including Dr Irina Korotchikova. The award cermony was held in the Aula Max, UCC, on 6th October 2016.

Photo Gallery
Opening Night Tales from the Andes Photographic Exhibition in Jennings Gallery UCC May 2015
Professor Jonathan Hourihane and Dr Jackelina Pando-Kelly May 2015
Professor Anthony Ryan May 2015
Professor Jonathan Hourihane welcomes our first Peruvian Elective Students June 2015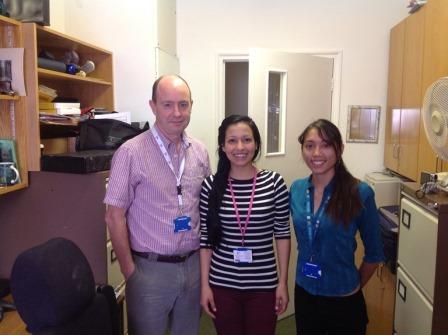 Professor Jonathan Hourihane, Vanessa Zarate and Claudia Lopez
The Dr. Henry Hutchinson Stewart Scholarship and Prize in Paediatrics 2011
Grace Neville and Una Clancy 2011
THE AODÁN Ó DONNCHADHA MEMORIAL PRIZE
Ross Doyle 2011
Daithi de Baroid 2010