Exam Resources
Exam Resources
Exam Resources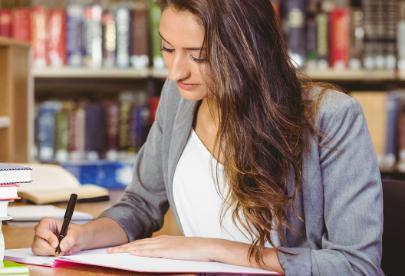 Welcome to our exam resource page. Here you will find all the information you need for exam season. From Timetables, Venues to results we have it all below.
Accessing Timetables & Exams
To access your timetable log onto https://mystudentadmin.ucc.ie/ with your UCC login details. Please ensure you accept the Examination Rules and Regulations. Your timetable will be visible under the "Examination Timetable" tab. Don't forget to print your timetable for in person exams.
Examinations Rules & Procedures
You will find the regulations and procedures for examinations and assessments in taught programmes and guidelines to their implementation in the Guide for Examinations which is available on the UCC Academic Policy Portal.
Examination Venues
The following venues are used for both on-campus and off-campus exams:
Aula Maxima (Main Quadrangle)
Áras Na MacLeinn
Kampus Kitchen, Kane Science Building
College Mini-Restaurant
Electrical Engineering Rooms L1 and L2 (Building on left inside College Road Entrance)
Food Science Building, Block A Level 1
Food Science Building, Block B Room 201C
Western Gate Building G33 Lab
Cavanagh Pharmacy Building - UG27
Mardyke Arena
Directions: The Mardyke Arena is located at the end of the Mardyke Walk off Western Road. Coming out of Cork City, travel down Washington Street leading onto Western Road. At the intersection of the Western Road and the Sacred Heart Church (on your right hand side), take a right turn. Approximately 300 metres on your right (before you cross Thomas Davis Bridge) there is a turn into the Mardyke Arena.
Neptune Stadium
Directions to Neptune Stadium: From the Lee Maltings, go past the Mercy Hospital, continue down the quay, go left at North Gate Bridge and up Shandon Street. Go through the traffic lights at the top of Shandon Street (North Cathedral is on the right) onto Gerald Griffin Street. At the next set of traffic lights turn left. Neptune is just ahead.
The Rock Bingo Hall
Directions to The Rock Bingo Hall: From Main Campus,Turn left at Daybreak on College Road, continue straight along Highfeild Avenue, continue straight along Dorgans Avenue and onto Hartlands Avenue, continue straight until arriving at the traffic lights at the Lough by P O' Connells Butchers. At these lights turn right along Togher Road, continue straight through the traffic lights at the junction of Togher Road and Vickers Road until you come to a roundabout. At this junction The Rock Bingo will be on your right hand side.
If you don't know where a venue is, don't worry, you can view maps of both on-campus and off-campus exam venues.
Results
Information of exam results and release dates please see Student Record and Examination Office
Examination Rechecks, Mitigations and Appeals
There are a number of options open to students in the event that you wish to apply for a recheck, mitigation or appeal your result. You can find out more information in the exam portal.
Deferral of Exams
The deadline for deferring Semester 2 examinations for the 2021/22 Academic year is Tuesday Friday 15 April 2022. For further information on this and to make an application, please see Examinations Mitigation.
Study Tips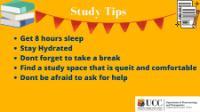 There are an abundance of study tips you can find online. Every person will have their own way of studying for exams. But we have some basic principles to help you along the way.
Sleep. Make sure to get a good nights sleep.
Move. Take a break, maybe a walk, but make sure to move around.
Hydrate. Drink plenty of water.
Eat. Have some healthy snacks and a good dinner.
Quiet. Find a quiet study space. You can book quiet spaces on campus.
Call a friend. Exams are stressful, call a friend or meet them for a coffee and a chat.
Be aware of the supports available to students.
Viewing of Scripts
As the exams come to an end and the results are released, we would like to inform you that we will be facilitating the viewing of exam scripts throughout the month of June. We understand the importance of reviewing your scripts to gain a better understanding of your performance and to provide valuable feedback. If you would like to arrange a viewing of your script, please send an email to noregan@ucc.ie.