Janssen 2019
Janssen 2019
Janssen Scholarship 2019
Janssen Scholarship presented by:-
Alan Bateman: Make Asset Management Site Lead Janssen Pharmaceutical Companies of J&J
In Attendance:-
Michael Cleere: Engineering Manager
Part of Johnson & Johnson Family of Companies, the USA based Healthcare Corporation
40,000 employees working across the five continents
Around $4.5 billion investments in research & development annually
A top 10 company in the global pharmaceutical sales
Janssen Sciences
Janssen Sciences Ireland are part of Johnson and Johnson. At their facility in Ringaskiddy they produce drug substance for the market as well as to support clinical trials for new treatments. They are currently completing a major expansion to introduce more capacity for large-scale production.
Janssen is a worldwide group of pharmaceutical companies:
Applications were invited from 2nd year students and short-listed to eight students who are interviewed by staff from Process & Chemical Engineering and Alan Bateman & Michael Cleere from Janssen
Scoring for the scholarship:-
20 marks for the Leaving Certificate
20 marks for 1st year UCC results
60 marks for the interview.
- Enthusiasm (15 marks)
- Leadership Potential (15 marks)
- Innovation (15 marks)
- Interpersonal skills (15 marks)
2019 Winner – Clodagh Hayes (2nd year)
Award:- €2,500 Per Annum and the opportunity for placement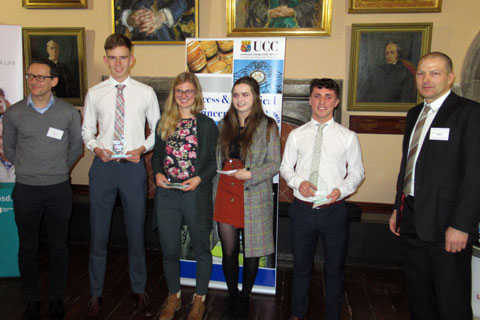 2019 Runners Up – Emily Crowley, Cillian Desmond, Anna O'Sullivan, Luke Crowley, Shona O'Brien
2018 Winner – Daniel Maguire
2017 Winner – David Murphy