Abbvie 2021
Abbvie 2021
Abbvie Award 2021
AbbVie: Sustainability Prize in Process & Chemical Engineering

Presented by-
Gary Crowley Site Director, AbbVie.
In Attendance:-
Michael McCarthy Engineering Manager

Founded in 2013, AbbVie is a global, research-driven biopharmaceutical company committed to developing innovative advanced therapies for some of the world's most complex and critical conditions. The company now employs ~2,600 people across eight sites in Ireland.
AbbVie has been listed as one of the best places to work in Ireland for nine consecutive years and named a Best Workplace for Women for the past four years in a row.

The company's mission is to use its expertise, dedicated people and unique approach to innovation to markedly improve treatments across a number of therapeutic areas, including immunology, oncology, virology, aesthetics, neuroscience and eye care.
We harness Irish expertise in complex chemical and biological research, testing discoveries through clinical trials as well as manufacturing many of our medicines and devices here in Ireland.
This award, in recognition of Abbvie's commitment to sustainability and sustainable production, and the importance of sustainability in every facet of their work is an individual award given on the basis of a selection of continuous assessment work taken throughout the module: PE3011 Sustainability and Environmental Protection I.

This third year module includes topics such as life cycle assessment, water & wastewater treatment, air pollution control and solid waste treatment, as well as consideration of the human impact on the natural environment, the UN Sustainable Development Goals, values, ethics and framings around sustainability and sustainable development and integrative and systems thinking approaches to sustainability.
The award coheres with imperatives of our discipline, as well as those of UCC and the engineering professional bodies around incorporating sustainability and associated values into our programme, and it helps promotes the formation of sustainability literate as well as ethically informed contemporary graduate engineers.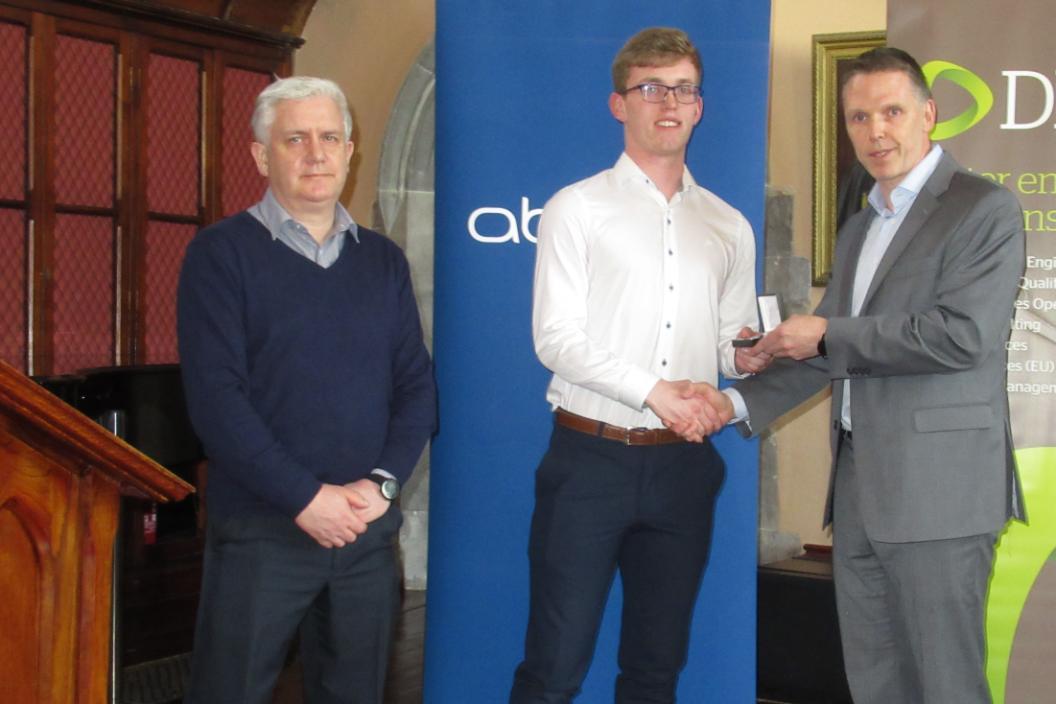 2021-22 Winner - Gerard Murphy (3rd Year)

Gerard wholeheartedly and expertly engaged with all aspects of his 'Sustainability and Environmental Protection' module, and indeed with sustainability aspects of his programme more generally.
In his work he has reflected upon the choices facing engineers and their companies to become "involved in 'use value' economics, that is, producing functional, durable products that provide substantial societal benefit with negligible ecological impact", as opposed to simply "producing goods to solely drive sales and increase profits".
Indeed, this is a challenge for our students and graduates to face up to, and indeed one that the companies here tonight and their engineers and leadership rightly aspire to, not least award sponsors, AbbVie.
Gerard Murphy is a well deserving recipient of the 2022 AbbVie Sustainability Award.

Award:- A specially minted medal to the value of €150 and a cheque for €300