History & Alumni
History & Alumni

History of Process & Chemical Engineering in UCC
Process & Chemical Engineering in UCC has its origins in 1927 as the Department of Dairy Engineering which provided service courses for the then B.Sc. (Dairying) degree. The School of Engineering continues to supply service courses to the BSc degree in Food Science & Technology.
As the role of the Department has changed so also has its title. The original name of "Dairy Engineering" evolved through "Dairy & Food Engineering" to "Food Engineering" In 2000 the Department name changed to "Process Engineering" before finally reaching the present title of Process & Chemical Engineering in 2005.
From 1993 - 2000 the Department offered a BE degree in Food Process Engineering, accredited by Engineers Ireland. The final year of students of this course graduated in 2004.
Since 2000 The Department has taught a BE degree in Process & Chemical Engineering accredited by both Engineers Ireland and the IChemE. The first class graduated in 2005 and since then there have been over 200 Graduates in Process and Chemical Engineering from UCC.
In May 2009, The Department of Process and Chemical Engineering became a part of the newly formed UCC School of Engineering.
Alumni
Welcome to the Alumni Page for both the BE in Food Process Engineering (1997-2004)
and the BE in Process & Chemical Engineering
These links provide a definitive list of all 105 BE graduates in Food Process Engineering over the 11 year period of the programme from 1993 until 2004 as well as the BE graduates of Process & Chemical Enginering fom 2005 to date.
Where known, we have also listed their present employment. If you are a graduate of the department and have more up to date information please email us with details on processeng@ucc.ie and we will update your profile.
BE Food Process Engineering (1997-2004)
BE Process & Chemical Engineering 2005

| | |
| --- | --- |
| Rita Ahern | Parsons Engineering, Cork Airport Business Park; CSL Melbourne, Australia; Biomarin Pharma Inc., Ringaskiddy |
| Shane Baker | The Central Bank of Ireland, Dublin |
| Jane Beecher (Dixon) | WorleyParsons - Infrastructure & Environment, Perth, Australia; John Holland Pty Ltd - Water Division, Australia |
| Catherine Begley | BOC Gases, London, England; BOC Cork, Ireland |
| Kevin Bolger | Elan Corp; GHD, Palmerston, New Zealand; New Zealand Pharmaceuticals Ltd. |
| David Brennan | Bristol Myers Squibb, Swords, Co. Dublin; GSK, Cork |
| Simon Carroll | PM Group; Pfizer at DPS, Pfizer Puurs, Belgium; Janssen Biologics BV, Amsterdam, The Netherlands |
| Jason Creagh | PharmEng, Little Is., Co. Cork; Boston Scientific, Galway, Tornier, Cork |
| Orla Cronin | Parsons Engineering, Cinncinnati, Ohio, USA, then Cork; Eli Lilly Cork; Abbott; AbbVie, Cork |
| Barry Curtin | Fournier, Carrigtwohill, Co. Cork; GSK Dungarvan, Co Waterford |
| Michael Dermody | Parsons Engineering, Cork Airport Business Park |
| Patrick Dunphy | SkidTech, Charleville, Co Cork |
| Niall Ferguson | Bristol Myers Squibb, Swords, Co. Dublin; GSK; Corden Pharma; Medtronic Vascular; Merck, Carlow |
| Louise Foley (Dunne) | Intel Ireland, Leixlip, Co Kildare; Intel Inc., Portland, OR, USA |
| John Harnett | Pfizer, Cork |
| Mark Hodnett | Integrated Process Design Consultants (IPDC), Cork |
| Brian McMahon | Wyeth, Dublin; Pfizer Biopharma |
| Alana Murphy (Cox) | Unilever, Poland; Unilever R&D Liverpool, UK |
| Bernadette O'Connor | ProsCon, Carrigtwohill, Co. Cork; Janssen Biologics Cork; PACIV, Cork; Gilead Sciences, Cork |
| John O'Donnell | Intel; Merck Sharp & Dohme, Co. Tipperary; Novartis |
| Thomas O'Dwyer | Schering Plough, Co. Wicklow; BioPharma Engineering Ltd, Cork |
| Andrew O'Leary | GE Healthcare, Carrigtwohill, Co. Cork; RPS Group; Jacobs Engineering, Cork |
| Christine O'Sullivan | ProsCon; Rottapharm, Mulhuddart, Dublin 15 |
| Brian Russell | Elga Process Water; Schering Plough, Brinny, Co. Cork; Merck - MSD Brinny |
| Kieran Tobin | Earth Tech Ireland Ltd / AECOM Ireland, Citywest Business Park, Dublin |
| Maria Twomey (O'Sullivan) | Pfizer; ProsCon, Synertec; CSL, Melbourne, Australia; BioMarin; Janssen Biologics, Cork |
| Sean Twomey | Corix Water Systems, British Columbia, Canada |
BE Process & Chemical Engineering 2006

| | |
| --- | --- |
| Owen Bourke | Diageo, Singapore; Diageo, Australia |
| Peter Brophy | GSK, Ringaskiddy, Co. Cork; Abbott Vascular, Clonmel; Merck, Carlow; PM Group, Cork; Aroa Biosurgery, New Zealand |
| Cillian Buckley | Project Management Group, Cork |
| Darragh Cunningham | FDT Consulting Engineers, Walkinstown, Dublin |
| Ronan Dineen | Pfizer, Ringaskiddy, Cork; Novartis Ringaskiddy, Cork |
| Catherine Everett | Takeda Ireland Ltd., Bray, Co. Wicklow; PM Group; MSc Applied Statistics, University of Oxford; Paddy Power, Dublin |
| William Horgan | MSc (Operations Research & Management Science), U. Edinburgh; Bedacom S.A. de C.V. |
| Adam Jones | RPS Group; Cordis; Beckman Coulter, Clare |
| Colin McKeown | Skidtek, Charleville, Co. Cork; Rockwell Automation; ONEIRA Corp, Toronto, Canada; PM Group, Cork and Boston, USA |
| Cian McLeavy Reville | Delta Energy & Environment; EDF Energy, Edinburgh, Scotland, now London, UK |
| Justin Molina | GSK; Creganna Medical Devices, Galway; DePuy Orthopaedics |
| Denis Murphy | Fehily, Timoney & Company, Cork; Colaiste Mhuire, Crosshaven, Co Cork |
| Una Nagle | Pfizer, Ringaskiddy, Cork |
| Paul O'Donovan | Student at Danmarks Tekniske Universitet; GSK |
| John O'Flynn | Graduate Entry Medicine, RCSI |
| Niall O'Gorman | Masters Business Development, Waterford IT; OGO Oils; Owner, MEDRAV Ltd.; Audit Senior, Deloitte Ireland |
| Eoin O'Keeffe | Irish Distillers, Midleton, Co. Cork |
| Padraig O'Maolcatha | MEngSc, Cork IT; Associated British Foods, UK |
| Shane O'Sullivan | Project Management Group, Cork |
| Pierce Power | ABB Ltd., Queensland, Australia (QCLNG CSG Project); Schneider Electric, Brisbane, Australia; GE, Brisbane, Australia |
| Philip Purcell | Masters in Sustainability, University of Sydney, Australia; Leopold Kostal; WAYS Fundraising, Sydney, Australia |
| Christopher Ryan | DPS Engineering, Little Island, Co Cork |
| Colum Twomey | Parsons Engineering; BCD Engineering; Pilz; PM Group; Henkel, Merck Millipore |
| Kathryn Vaughan | DPS Engineering, Little Island, Co Cork; Eli Lilly, Cork |
BE Process & Chemical Engineering 2007

| | |
| --- | --- |
| Aidan Culhane | BCD Engineering Ltd., Charleville, Co. Cork; AbbVie |
| Peter Dann | Diageo Global Supply |
| David Foley | Lafarge Cement, Edinburgh, UK |
| Mary Lafferty | SkidTek Engineering Ltd.; BCD Engineering, Charleville, Co. Cork |
| James McMahon | |
| Eimear McCarthy | Project Management Group, Cork |
| David Morrissy | |
| Michael Murphy | Project Management Group, Cork |
| Sean Murphy | Glaxo Smith Kline, Dartford, Kent, England; New Delhi, India; Philadelphia, USA; GSK Stiefel, Sligo |
| Conor O'Brien | Eli Lilly, Dunderrow, Kinsale, Co. Cork |
| Eilis O'Callaghan | Irish Cement, Limerick; Pfizer, Cork |
| Aisling O'Connor | Chris Mee Safety Engineering, Carrigaline, Cork |
| Shane Healy | |
| Mairead O'Leary | |
| Cian O'Mahony | Glaxo Smith Kline, Crawley, Sussex, England |
| Robin O'Shea | Pfizer, Ringaskiddy, Co. Cork |
| James Ryan | Medite-Europe |
BE Process & Chemical Engineering 2008

| | |
| --- | --- |
| Paul Barrett | Syngenta, Grangemouth, Scotland |
| Jennifer Boland | Dairygold, Co. Cork; Boston Scientific, Clonmel, Co. Tipperary |
| Karen Brick | PepsiCo, Little Island, Co Cork |
| Niamh Casey | Pfizer Ireland Pharmaceuticals, Ringaskiddy, Co Cork; Glaxo SmithKline, Ringaskiddy, Co Cork |
| Aindrias Corcoran | Pharma-Bio Serv (agent), based at DePuy Orthopaedics, Ringaskiddy, Co Cork |
| Michelle Cronin | Intel, Leixlip, Co. Kildare |
| Bryan Crowley | Eli Lilly, Dunderrow, Kinsale, Co. Cork |
| Fintan Goold | ConocoPhillips, Whitegate Oil Refinery, Co. Cork; Eli Lilly, Dunderrow, Kinsale, Co. Cork |
| Kevin Hanley | PhD, Process & Chemical Engineering; Post-doc, Imperial College London; Lecturer/Fellow, The University of Edinburgh |
| Elaine Higgins | Irish Cement, Drogheda, Co Louth; DePuy Orthopaedics, Ringaskiddy, Co Cork |
| Stephen Hodnett | Centocor Biopharma Ltd, Co Cork |
| Vincent Irwin | Masters in Environmental Engineering; Pfizer Ireland Pharmaceuticals, Ringaskiddy, Co Cork |
| Conor Jones | Intel, Leixlip, Co Kildare; Dairygold Food Ingredients; TQS Integration Ltd, Dungarvan, Co Waterford; BMS, Cruiserath, Dublin |
| Ciara Keohane | ConocoPhillips, Whitegate Oil Refinery, Co Cork; DePuy, J&J, Switzerland; LifeScan, Switzerland; DePuy Orthopaedics, Ringaskiddy; Eli Lilly, Dunderrow, Kinsale, Co Cork. |
| James McSweeney | Guinness, St. James Gate, Dublin for DIAGEO; St Francis Abbey, Kilkenny for DIAGEO; Takeda Ireland Ltd; Pfizer Ireland Pharmaceuticals; Jacobs Engineering |
| Stephen Nation | UCC Plus+ Programme, Apple, Travelling; Zenith Technologies, Cork; Zenith Technologies, Belgium, Zenith Denmark, Zenith Switzerland. |
| David O'Meara | GlaxoWellcome; Tipperary Energy Agency; Pharma-Bio Serv working at DePuy Orthopaedics, Ringaskiddy |
| Killian O'Meara | ESR Technology, Warrington, UK; Det Norske Veritas, Manchester, UK; Fleming Professional Limited, Cork |
| Shane O'Neill | Innovation Centre, DePuy Johnson & Johnson, Ringaskiddy, Co Cork; Advisory Associate, PwC |
| Cormac Quaid | Rottapharm, Dublin; Ecotherm Insulation (part of the Kingspan Group), London; Oceaneering, Rosyth, Scotland |
| Andrew Sammon | Glanbia, Ballyragget, Co. Kilkenny; Vistakon, Limerick; Kerry Group; Stryker, Co Cork |
| Donal Stack | CSP - Containment Service Providers, Cork |
| Donncha Walsh | Reflexite Ltd., Waterford |
| Rebecca Wolfe | Graduate Medicine Programme, RCSI, Dublin 2 |
BE Process & Chemical Engineering 2009
‌
| | |
| --- | --- |
| Philip Colgan | Boston Scientific Clonmel; Graduate Veterinary Medicine, Szent Istvan University, Budapest |
| Marian Crowley | Kerry Group, Coleraine, Co. Derry, Northern Ireland; DePuy Orthopaedics |
| Eoin Hayes | UCC SU President 2009-2010; MSc Management, London Business School; Management Consultant, The Alexander Group, NY, USA; Palantir Technologies, NY, USA |
| David Hennessy | BCD Group Charleville; PepsiCo, Cork. |
| Aoibheann Hurley | Nestlé Graduate Programme, Tutbury; Nestlé Fawdon, Newcastle Upon Tyne, UK; Horizon Controls Group, PA, USA |
| Hugh Kane | MEngSc (Food Engineering), UCD; DPS Engineering, Little Island, Cork |
| Tim Keady | Graduate Medicine in UCC |
| Brian Kelly | MSc (Mechanical Engineering), Loughborough University, UK |
| Gina Lynch | Eli Lilly, Dunderrow, Co. Cork |
| Rachel Morley | PG Dip Applied Building Repair Conservation, TCD; HLF Internship with Institute of Conservation, UK; Hirst Conservation, UK |
| Daniel Mullamphy | Northern Foods, Uttoxeter, England; Kraft Foods (Mondelez Intl), Dublin |
| Colyn Murphy | Boston Scientific, Cork |
| Eamon Murphy | Weetabix Ltd, Kettering, England |
| Richard O'Brien | MSc in Sustainable Energy Systems , U. Edinburgh; Atkins Aberdeen; Atkins Texas; Atkins United Arab Emirates |
| Thomas O'Connell | Boston Scientific, Clonmel, Co. Tipperary; Bausch & Lomb, Waterford; Abbott Ireland |
| Wayne O'Grady | MSc Corporate Finance UCC; Standard & Poor's |
| Aisling O'Leary | Glaxosmithkline, Worthing, West Sussex, UK; Pilz Ireland |
| Grace O'Mahony | Abbott Ireland, Sligo; AbbVie, Sligo; Elanco, Sligo |
| James O'Mahony | GE Healthcare, Carrigtwohill, Co. Cork; PhD Magnetic Particle Synthesis & Bioseparations, UCD; Sphere Medical, Cambridge, UK |
| Sean Peyton | St Francis Abbey Brewery (Kilkenny) for DIAGEO; Guinness, St. James Gate, Dublin for DIAGEO; London (UK) and Nairobi (Kenya) for DIAGEO; MSc Petroleum Engineering, Imperial College London; Chevron, Aberdeen, Scotland |
| Eamonn Power | Masters in Environmental Science & Engineering at KAUST - King Abdullah University of Science & Technology, Saudi Arabia; Dairygold Food Ingredients; Guinness, St. James Gate, Dublin for DIAGEO |
| Brian Scanlon | Genzyme, Waterford; Pfizer, Dublin; Amgen, Dublin |
| Michael Spitere | BBA Waterford (Waterford Brewery) for DIAGEO; Guinness, St. James Gate, Dublin for DIAGEO |
BE Process & Chemical Engineering 2010
‌
| | |
| --- | --- |
| Per Julian Becker | PhD Lyon; IFP Energies Nouvelles, Lyon; IMPAC Ingenierie, Lyon |
| Aaron Collins | Merck Serono, Vevey, Switzerland; Sanofi Aventis, Paris, France; Jacobs Engineering, Dublin |
| Lorcan Cosgrave | MEngSc Biopharmaceutical Engineering, UCD; PM Group |
| Donal Costello | Masters in Energy Systems Engineering, UCD; Zenith Technologies Ltd., Ringaskiddy, Co Cork |
| Mark Coughlan | Pfizer, Loughbeg, Co. Cork |
| Orla Cribbin | Merck Serono, Vevey, Switzerland; Sanofi-Aventis, Paris; Bristol-Myers Squibb, Dublin |
| Colm Crowley | Glanbia, Kilkenny; Glanbia Nutritionals, California |
| James Feeney | Merck Serono, Vevey, Switzerland |
| Pat Fitzgerald | Pfizer; Kenny-Whelan & Associates; Pfizer (CPL) |
| Joseph Gimblett | Amazon, Cork |
| John Hannon | PM Group, Cork |
| Cian Kearney | Pfizer, Loughbeg, Co. Cork; GSK, Cork |
| Eoin Keegan | Management Consultant with Alliance Boots; Accenture; YouView.com |
| Daragh Mansfield | Masters in Management, UCD |
| Tim McMahon | Masters in Management, QUB |
| Niall McNamara | Merck Serono, Vevey, Switzerland; Sanofi Aventis, Paris, France |
| Ciara Moriarty | Teaching English in South Korea; Clough; QGC; Macmahon, Sydney, Australia |
| Neil O'Carroll | Lisheen Mine, Co. Tipperary |
| Neil O'Donnell | Merck Serono, Vevey, Switzerland; Zenith Technologies, Cork |
| Mary O'Mahony | Conoco Philips; Phillips 66; BioMarin Ringaskiddy, Cork |
| Jonathan O'Sullivan | PhD in Engineering, University of Birmingham; Kerry Ingredients, Birmingham, UK; Mondelez Int'l, Univ of Birmingham; UCC; Unilever, UK |
| Brian Schafer | Conoco Philips; Philips 66; GSK, Cork |
BE Process & Chemical Engineering 2011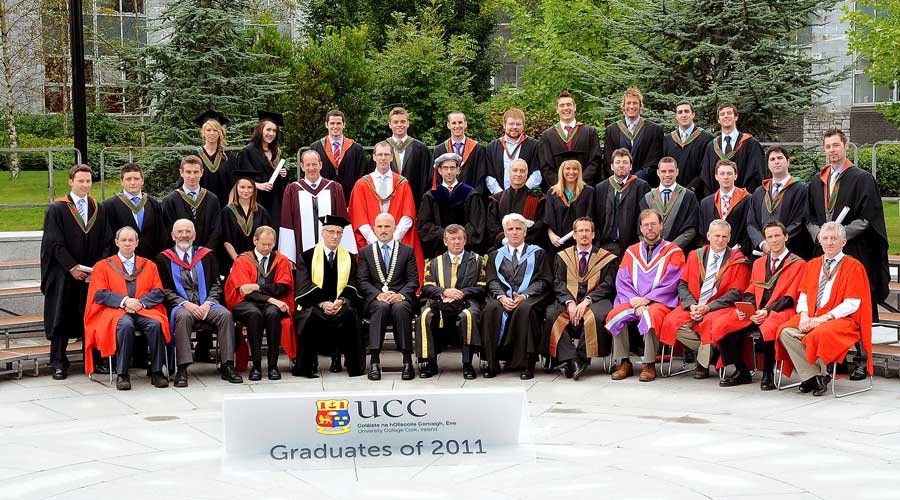 | | |
| --- | --- |
| Con Breen | Graduate Medicine, UL |
| Dylan Burke | Pfizer, Ringaskiddy, Co Cork |
| Daniel Cooke | Saint-Gobain, Caven; Merck, Sharpe & Dohme, Carlow |
| Niall Courtney | |
| Michael Cronin | |
| Theo Cullinane | Pfizer Ireland Pharmaceuticals; DIAGEO |
| Janet Deasy | AGAT Laboratories, Calgary, Alberta, Canada |
| Philip Donnellan | PhD, Process & Chemical Engineering, UCC; Postdoctoral Research Engineer, UCD; Lecturer, UCD |
| Andrew Doyle | Janssen, Cork; Irish Cement (CRH), Co Louth; Premier Periclase (RHI A.G.), Co Louth; Bausch & Lomb, Waterford. |
| Kevin Gibson | GE Healthcare, Co Cork; Ipsen Biopharma, UK; PM Group, Cork |
| Mark Hayden | Glanbia, Ballyragget, Co Kilkenny; Glanbia, Gooding Idaho, USA |
| Fionnuala Hayes | Merck, Sharpe & Dohme |
| Robert Kennedy | Phillips 66, Whitegate, Co Cork; Pfizer Ireland Pharmaceuticals, Cork |
| Eoin Kiely | Zenith Technologies Ltd. |
| Caroline Murnane | Phillips 66, Whitegate, Co Cork; Pfizer Ireland Pharmaceuticals, Cork; GSK, Cork |
| Robert O'Donoghue | KPC International, Hungary and France; Akka Technologies, France; Morgan Sindell Professional Services, Switzerland |
| Donncha O'Donovan | Glanbia, Ballyragget, Co Kilkenny; Glanbia, New Mexico, USA |
| Conor O'Sullivan | Kerry Group, Listowel, Co Kerry; Danone Baby Nutrition, Wexford |
| Seamus Scanlon | MEngSc Mechanical Engineering, UCC |
| Shaun Shanahan | BCD Engineering, Co Cork, Pfizer (CPL), GSK, Cork |
| Laura Sheehan | Royal Bank of Scotland, London |
BE Process & Chemical Engineering 2012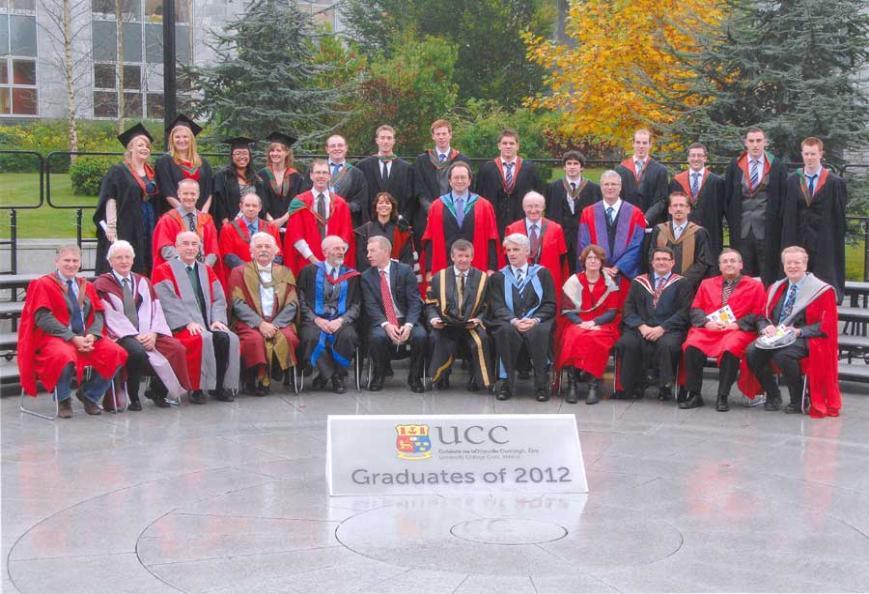 | | |
| --- | --- |
| Brian Boland | Flow Technology Ltd, Cork; Pfizer Ringaskiddy; CeloNova BioSciences Inc., Germany |
| Hugh Boylan | ADTI, Aberdeen, Scotland; Zenith Technologies, Cork |
| Aisling Burke | Irish Distillers Pernod Ricard, Midleton, Co Cork |
| Sean Curtin | Philips 66, Whitegate, Co Cork |
| Eoin Keane | Merck, Tipperary; Sulphur Experts, Calgary, Canada |
| Clodagh Kelleher | PhD Research Student at Teagasc Moorepark |
| Ben Martin | Jacobs Engineering |
| Stephen Murphy | Glanbia, Kilkenny |
| Denis O'Brien | Rugby Farm |
| Ronan O'Brien | Zenith Technologies; MEngSc Mechanical Engineering, UCC; Boston Scientific, Cork |
| Kate O'Sullivan | Merck |
| Thomas O'Sullivan | Zenith Technologies, Cork |
| Jahziel Pasco | PM Group |
| Niamh Tobin | FMC BioPolymer, Belgium; Pfizer, Ringaskiddy |
BE Process & Chemical Engineering 2013
| | |
| --- | --- |
| Eamonn Butler | PM Group |
| Karen Cotter | Irish Distillers Pernod Ricard |
| Alan Crowley | Pfizer |
| Sean Daly | Pfizer |
| Emma Deignan | Hovione Ringaskiddy; Hovione Canada |
| Brian Dineen | Novartis Ringaskiddy; PM Group |
| Darren Griffin | ME Energy Systems Engineering, UCD; ESB International |
| Eoghan Harnedy | Irish Cement |
| Michael Long | |
| Michael Lucey | Jacobs Engineering; MSD Ballydine |
| Ciaran McBride | Eli Lilly |
| Conor McCarthy | Glanbia Kilkenny |
| Sinead McCarthy | BioMarin Pharmaceuticals; Zenith Technologies |
| Rory Furney McSweeney | Masters-Michael Smurfit Graduate Business School UCD; DPS Engineering, Little Island, Cork |
| Mark Menton | Jacob's Engineering |
| Conail Murphy | Zenith Technologies; PSE Kinsale Energy; BioMarin |
| Sarah Murphy | Bristol-Myers Squibb |
| Stephen O'Brien | UCB; Zenith Technologies; Eli Lilly; BioMarin |
| Kevin O'Keeffe | Burt Process Equipment Inc.; CT, USA; Engineering, Science & Technology Entrepreneurship Excellence Masters (ESTEEM), University of Notre Dame, In, USA; Maxx Start |
| Aisling O'Riordan | Glanbia Kilkenny; MSD Ballydine |
| Ciaran O'Shea | Zenith Technologies |
| Mairead Rice | Merck Sharp Dohme (MSD) Brinny; MSD Dublin |
| Ross Slevin | DPS Engineering |
| Laura Tobin | Sanofi Genzyme, Waterford; Fisher & Paykel Healthcare, Aukland, New Zealand |
| Emily Woods | PepsiCo; MRes Biomedical Engineering; The App Business |
BE Process & Chemical Engineering 2014
| | |
| --- | --- |
| Katherine Condon | Irish Distillers Ltd. |
| Ailbhe Connolly | Zenith Technologies, Cork; Zenith Philadelphia, PA; Zenith San Diego, CA U.S.A. |
| Stephen Fahy | Zenith Technologies, Cork; Pfizer, Cork; DPS Engineering, Carlow |
| John Leonard | Pfizer, Ringaskiddy |
| Geoffrey Lodge | Bristol Myers Squibb, Dublin; SK biotek Ireland Ltd, Dublin |
| Peadar Mac Fheorais (Peter Bermingham) | PM Group |
| Shane McCarthy | DPS Engineering |
| Fiona O'Brien | PM Group |
| Craig O'Connor | Zenith Technologies |
| Aindrias O'Muimhneachain | Pfizer, Ringaskiddy |
| Ciarán O'Sullivan | RDS (div of KCA DEUTAG Drilling Ltd., London); PM Group, Cork; GSK, Ontario, Canada |
| Dónal Scanlan | Hops Connect - Hop Trading Company, Canada; Masters with Volvo Car Group, Sweden; Zenuity, Sweden |
| John Sullivan | Masters (ME) Energy Systems Engineering, UCD |
BE Process & Chemical Engineering 2015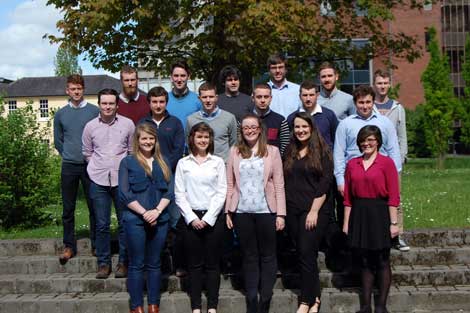 | | |
| --- | --- |
| Conor Barry | PM Group |
| Thomas Collins | Jacobs Engineering |
| James Connolly | Pfizer Ireland Pharmaceuticals; Regeneron |
| Anna Cremin | Eli Lilly |
| Tim Cummins | PM Group |
| Rachel Jennings | MSD Ballydine |
| Daniel Keating | |
| Michelle Leahy | Irish Distillers Pernod Ricard |
| Valerie McCarthy | Regeneron |
| Ross McNulty | Regeneron |
| Jeremy Moloney | PM Group |
| Paul Murphy | PM Group |
| Darren Mythen | MSD Ballydine |
| Aibhin O'Brien | Eli Lilly |
| Christopher O'Brien | PM Group |
| Eamonn O'Regan | GSK |
| Denis O'Riordan | PM Group |
| Brian Twomey | Eli Lilly |
BE Process & Chemical Engineering 2016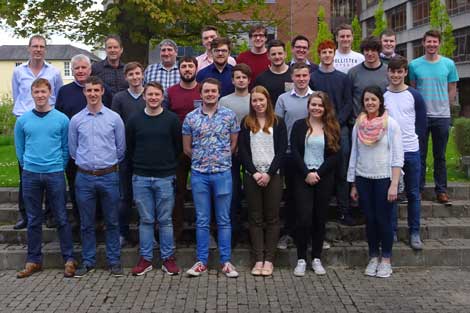 | | |
| --- | --- |
| Henry Donnelly | Irish Distillers Pernod Ricard (Jameson) |
| Gearoid Finn | Eli Lilly |
| Sam Harrington | Pfizer |
| Daniel Healy | PM Group |
| Eoghan Kelleher | PM Group |
| Eoin Keller | PM Group |
| Grace Kevany | PM Group |
| Fergal Lalor | BioMarin |
| Sean Looney | Pfizer |
| Adam Mc Gee | MSD Ballydine, Co Tipperary |
| Brian Mullally | Glanbia Ingredients, Co Kilkenny |
| Jack Murphy | Eli Lilly |
| Niamh Murray | Pfizer |
| Emma O'Brien | PM Group |
| Killian O'Brien | BioMarin |
| Calvin O'Callaghan | Zenith Technologies |
| Robert O'Connell | MSD Ballydine, Co Tipperary |
| James O'Connor | PM Group |
| Conor O'Donovan | PM Group |
| Andrew O'Regan | PM Group |
| David O'Sullivan | MSD Brinny, Co Cork |
| Cian Spriggs | Pfizer |
BE Process & Chemical Engineering 2017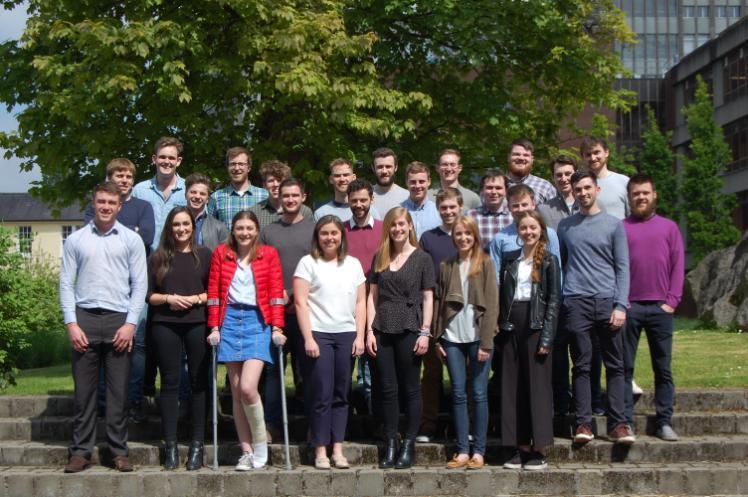 | | |
| --- | --- |
| Name | Organisation |
| Brendan Collins | Zenith Technologies |
| Oisín Collins | Zenith Technologies |
| Kevin Creagh | GSK, Curabinny |
| Marc Cudmore | |
| Conor Daly | Pfizer, Ringaskiddy |
| Killian Davin | PM Group |
| James Herlihy | Pfizer, Ringaskiddy |
| Peter Kelleher | Eli Lilly, Kinsale |
| Seán Kerrigan | MSD Ballydine |
| Rowen LaMere | BioMarin, Ringaskiddy |
| Edel Linehan | MSD Ballydine |
| Seán Lovett | PM Group (based in MSD Brinny) |
| Brian Mc Auliffe | Emerson Engineering, Romania |
| Fionn Mc Cleane | |
| Shane Mc Donald | PM Group, Cork |
| Davoren Murphy | Janssen Biologics, Barnahely |
| Nessa Murphy | Abbvie, Carrigtwohill |
| Cormac O'Connell | MSD Brinny |
| Aaron O'Donovan | Depuy Synthes, Ringaskiddy |
| Alan O'Donovan | |
| Jean O'Driscoll | EMBL-EBI Cambridge for 6 month internship; Lilly from December 2017 |
| James O'Flynn | Master Engineering, Cork |
| Fiona O'Keeffe | Janssen Biologics, Barnahely |
| Seán O'Sullivan | MSD Brinny |
| Jerry Roche | |
| Eimear Twomey | Irving Oil, Whitegate Oil Refinery |
| Brigid Walsh | Pfizer, Ringaskiddy |
BE Process & Chemical Engineering 2018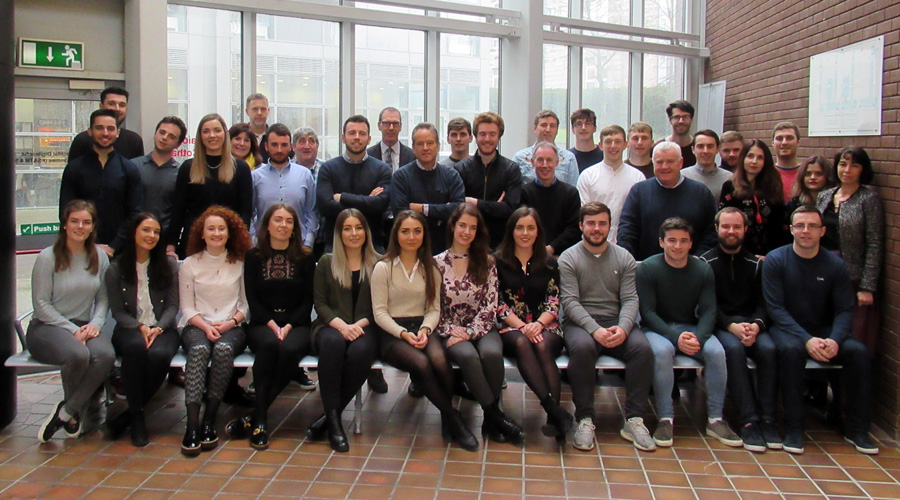 | | |
| --- | --- |
| Cormac Fleming | Irving Oil, Whitegate |
| Luke Garvin | Pfizer, Ringaskiddy |
| Shane Peeren | Postgraduate, DIT |
| Meadhbh Campbell | Pfizer, Grangecastle |
| Killian Egan | Kerry Group |
| Billy McConville | PM Group, Mahon |
| Peter Stokes | Jacobs Engineering, Mahon |
| Mícheál Ó Lionáird | Pfizer, Ringaskiddy |
| Cormac Dineen | Postgraduate, UCC |
| Shane Lordan | Pfizer, Little Island |
| Eoin Long | Jacobs Engineering |
| Cian O'Regan | BioMarin, Ringaskiddy |
| Luke Kelly | PM Group, Mahon |
| Kevin Holland | Eli Lilly, Kinsale |
| Chris Dowling | Postgraduate, NUIG |
| Eoin Doyle | MSD, Ballydine |
| Ruth Murphy | BioMarin, Ringaskiddy |
| Eimear O'Shea | Jacobs Engineering, Mahon |
| Ailbhe McKiernan | Pfizer, Grangecastle |
| Ellen O'Driscoll | Pfizer, Ringaskiddy |
| Kayleigh Tobin | PM Group, Mahon |
| Catherine Harty | MSD, Ballydine |
| Carla Reinhardt | Postgraduate, UCC |
| Molly Henchion | MSD, Brinny |
| James Greene | Jacobs Engineering, Mahon |
| Tiernan Guinée | DPS Engineering, Little Island |
| Jack Divane | DePuy Synthes, Ringaskiddy |
| TJ Murphy | DePuy Synthes, Ringaskiddy |
BE Process & Chemical Engineering 2019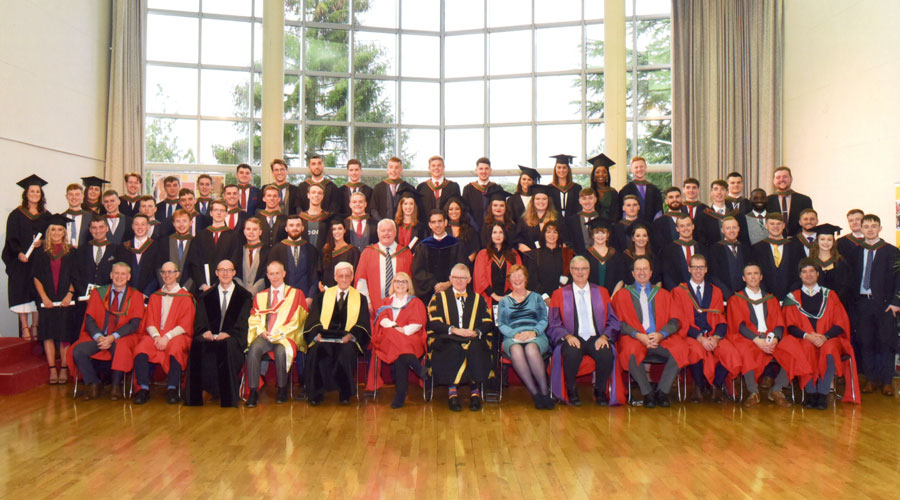 | | |
| --- | --- |
| Sara Abu Selmia | |
| Vivienne Eibhlin Barry | |
| Paul Francis Burke | |
| Cáit Elizabeth Burns | |
| Vincent Henry Collins | |
| Maria Noelle Costello | |
| Patrick Neil Cronin | |
| Patrick Edward Crosbie | |
| Mark Thomas Dilworth | |
| Voke Christine Dortie | |
| Killian Patrick Doyle | |
| Eimear Marie Duggan | |
| Donal English | |
| Shane Gonley | |
| Timothy Healy | |
| Gavin Joseph Hicks | |
| Michael Hourihan | |
| Edvinas Jablonskis | |
| Dean Kearney | |
| Dan Patrick Lenihan | |
| Hannah Jane Looney | |
| Áine Frances MacSeoin | |
| Colin McCarthy | |
| Oisín Michael McHugh | |
| James Clark Mulcahy | |
| Claire Murphy | |
| William Nicholas Murray | |
| Orlaith Nation | |
| Christopher William O'Brien | |
| Kyle Anthony O'Brien | |
| Jordan Patrick O'Callaghan | |
| Odhran John O'Callaghan | |
| David Joseph O'Connor | |
| Ross O'Donoghue | |
| Elsie Sabine O'Gorman | |
| Gary O'Leary | |
| Sean Padraig O'Leary | |
| Conor Denis O'Mahony | |
| Aidan O'Sullivan | |
| Conor Neil O'Sullivan | |
| Peter John O'Sullivan | |
| Ryan Patrick O'Sullivan | |
| Ireoluwa Praise Olajitan | |
| Nicola Anne Roche | |
| Jack Ryan | |
| Kate Mary Scally | |
| Michael Richard Sheahan | |
| Kevin John Twomey | |
| Heraldas Vaivada | |
| Alysha Walsh | |
| Gavin Padraic Walsh | |
| Lee Andrew Walsh | |
| Donncha Tadhg Ó'Muimhneacháin | |
BE Process & Chemical Engineering 2020
| | |
| --- | --- |
| Seán Michael Ahern | |
| Daniel Tadhg Begley | |
| Seán Patrick Bracken | |
| Aisling Máire Broderick | |
| Shauna Buckley | |
| Caoimhe Coleman O'Connor | |
| Aoife Therese Costello | |
| Eoghan Daniel Cronin | |
| Anna Patricia De Jesus | |
| Jack Fielding | |
| David James Fogarty | |
| Seán Foley | |
| Ciara Marie Hartnett | |
| James Hayes | |
| Mike Henchion | |
| Alannah Hill | |
| Cillian Seán Houlihan | |
| Sarah Christina Kelly | |
| Natalia Konstantinidou | |
| Ciara Elaine Leonard | |
| Mark Seamus Lordan | |
| Florence Lyden | |
| Colm Jack McBride | |
| James Martin Mullins | |
| David Murphy | |
| Eoghan Murphy | |
| Peter Thomas O'Connell | |
| Liam Patrick O'Connor | |
| David Michael O'Donoghue | |
| Gearóid Denis O'Donoghue | |
| Dara John O'Donovan | |
| John Francis O'Dwyer | |
| Luke George O'Kelly | |
| Aaron O'Regan | |
| Sean Patrick O'Rourke | |
| Timothy Gerard O'Sullivan | |
| Colm David Power | |
| Fionn Patrick Roche | |
| Conor William Ryan | |
| Thomas Francis Stephenson | |
| Emer Juliann Twohig | |
BE Process & Chemical Engineering 2021
| | |
| --- | --- |
| Caoimhe Chantel O'Brien | |
| Sarah Louise O'Leary | |
| Catherine Ellen Tobin | |
ME Process & Chemical Engineering 2021
| | |
| --- | --- |
| Seán Edmund Atkinson | |
| Ronan Carey | |
| Sarah Renate Cooke | |
| Eoin Jeremiah Curtin | |
| Liam Cornelius Dineen | |
| Niamh Leanne Dineen | |
| Josephine Ann Fennell | |
| Daniel Michael Griffin | |
| Eoin Joseph Hegarty | |
| Strahinja Macura | |
| James Aaron McDonnell | |
| Liam John Meagher | |
| Claire Lousie O'Brien | |
| Ben Simon O'Connor | |
| Jack Robert O'Grady | |
| Fionn O'Leary | |
| Dean O'Sullivan | |
| Seán Ritchie | |
| Bill Sheehan | |
| Choice Osaretin Solomon | |
| Brian James Stokes | |
| Shane Desmond Whelan | |
BE Process & Chemical Engineering 2022
Martin Collins
Emily Crowley
Cathal Daly
Mick Devine
John O'Callaghan
Oran O'Flynn
Ashling O'Riordan
Jack Sheehan
Simon Walsh
ME Process & Chemical Engineering 2022
Katie Aherne
Olivia Benson
Marc Burke
Jack Carroll
Barry Cripps
Daniel Cullinane
Diarmuid Curtin
James Daly
Rebecca Dineen
Patrick Donoghue
Sarah Donohue
Ross Dunphy
Brian Fox
Tom Gleeson
Joseph Golden
Stephen Keane
Sarah Kelleher
William Kelleher
Niamh Kelly
Sean Kelly
Brian Leahy
Colin Looney
Tara Lynch
Daniel Maguire
Thomas Marnell
Anshul Nama
Brian O'Callaghan
Michael O'Connell
Ciarr O'Connor
Kieran O'Doherty
Darren O'Dwyer
Breana O'Gorman
Eoghan O'Leary
Eoghan O'Leary
Julian Power
Séamus Quinlan
Eoin Ryan
Abbie Scannell
Aiden Sheehan
Cathal Shine
Umur Sobayo