News
News
UCC student team win IChemE Macnab-Lacey Prize
Congratulations goes to the UCC design project student team of Ross Dunphy, Sarah Kelleher, Daniel Maguire, Anshul Nama, Sarah O Leary, Malik Zaidan, who have been announced as winners of the Institution of Chemical Engineers Macnab-Lacey Prize for their project Food Waste to Bio-Products: Food Waste to Biogas. They are joint winners with a team from the University of Manchester, and are the first winners from the island of Ireland.
The prize is awarded to the undergraduate student design project team whose design project submission best shows how chemical engineering practice can contribute to a more sustainable world.
Congratulations go to their supervisor and module coordinator, Dr Elena Tsalaporta, and Dr John Fitzpatrick and Prof. Edmond Byrne, who together support the sustainability section of the design project, and indeed to all who have supported the students on their programme.
26 Oct 2021

It's not all theory in the ME programme. In October, Mark Ivors, process safety director for Merck worldwide, led a half-day workshop as part of the Advanced Process Safety module. Under Mark's guidance, the ME students worked through actual cases, identifying the hazards in a process and designing safeguards to address them. How many safeguards do you need and how confident are you that they'll all act correctly if called on in anger? Such practical contributions from industry really enlivens the material for students and is much appreciated.

Photo shows Dermot O'Sullivan and Mark Ivors (Merk Worldwide) with MEng students

Read more

01 Apr 2021

Process and Chemical Engineering staff have been recognised with two professorial promotions; that of Professor Jorge Oliveira and Professor Maria de Sousa Gallagher.

This brings to three the number of professors in the discipline for the first time since it was founded in 1927 (it has only had four to date). Professor Oliveria also leads UCC School of Engineering and Architecture as Head of School, and the first Chemical Engineer to do so.

Warmly welcoming the news, Professor Ed Byrne reflected that it is testament to the hard work and commitment of the successful colleagues, while noting that it is serves to underline the strong growth of Process & Chemical Engineering in both student and staff numbers over the past number of years.

Read more
Eli Lilly lectureship in Process & Chemical Engineering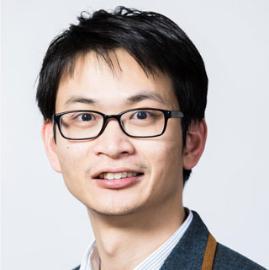 Dr Xizhong Chen has just taken up the Eli Lilly lectureship in Process & Chemical Engineering, starting October 2020. Dr Chen has come to UCC from the University of Cambridge, having also previously worked at the University of Edinburgh as a Marie Curie postdoctoral researcher.
He holds a BSc degree in Chemical Engineering from Xiamen University and a PhD from the Institute of Process Engineering, Chinese Academy of Sciences.
His research expertise and interests span areas of formulation engineering & particle technology, multiphase modelling with pharmaceutical applications, multiscale simulation & data analytics, and smart manufacturing & artificial intelligence.
Professor Edmond Byrne, Chair of Process & Chemical Engineering has welcomed the appointment of Dr Chen to the Eli Lilly lectureship in Process & Chemical Engineering:
"We are delighted to warmly welcome Xizhong to UCC Process & Chemical Engineering at this time. The generous support of Eli Lilly in facilitating this appointment means that we now have a core team of Lilly supported academics who will appreciably and significantly contribute to our goals of maintaining the delivery of appropriately accredited programmes, as we welcome our first batch of 5 year ME graduates in 2021, and further developing research capacity in the strategically important area of bio/pharmaceutical engineering in line with School, College and UCC imperatives."
3rd Years Visit Hovione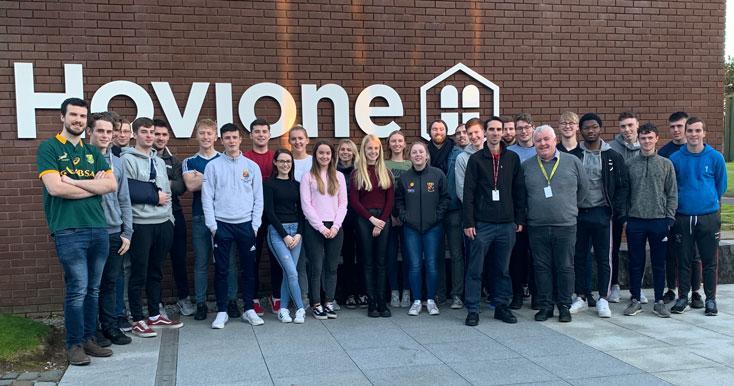 Third year Process & Chemical Engineering students from UCC studying PE3009 Pharmaceutical Engineering visiting Hovione with their lecturer Dr Denis Ring. The students were given a fantastic overview of a dynamic pharmaceutical production facility, visiting Production buildings 01 and 10. The site boasts an impressive array of state of the art equipment including, Cryogenic (Volume 8000L to 10,000L, Temperature Range -150 to 120ºC), Hydrogenation (Volume 2500L to 6000L, Pressure Rating 6 to 12 bar), Large scale spray drying (PSD5) and Pyrophoric compound handling (2 stations)
Conducting the tour and technical presentations were:-
Curtis Elcoate - API Technical Lead
Bryan Nolan B10 - Production Manager
Lorraine Gustafsson - Commercial Products Manager
Bryan Mulcahy – QA Validation Lead
Michael Lynch - Ops Trainer
Donnacha Ryan Site - Training Coordinator
Eli Lilly lecturship in Biochemical / Biopharmaceutical Engineering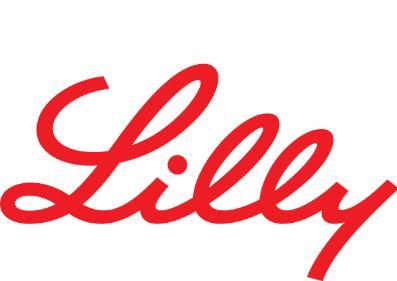 UCC Process & Chemical Engineering are delighted to welcome Dr Fatemeh Kavousi as the newest addition to our academic staff. Dr Kavousi joins UCC as Eli Lilly lecturer in Biochemical/Biopharmaceutical Engineering in October 2019, having previously worked at UCD's School of Chemical & Bioprocess Engineering as Assistant Professor.
Fatemeh obtained her BE and ME in Chemical Engineering from Iran University of Science and Technology (IUST) in 2007 and 2011, respectively. Having worked in the polymer industry and at various research institutes, she then undertook her PhD at UCD from 2012 under the supervision of Prof. Eoin Casey. Her role at UCC will involve helping develop and support biopharmaceutical engineering teaching and research in collaboration with others, following the generous support of Eli Lilly. She will do this by building on her principal research areas to date on fluid dynamics and membrane separation processes with a particular focus on biochemical and biopharmaceutical processes.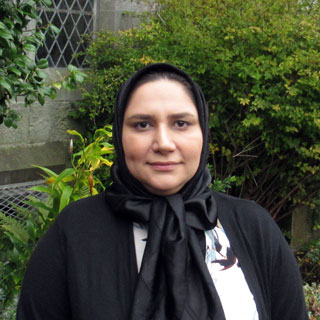 Prof. Edmond Byrne, Chair of Process & Chemical Engineering welcomed Fatemeh into UCC Process & Chemical Engineering and to the Eli Lilly Biochemical/Biopharmaceutical Engineering lectureship post stating: "We are delighted to welcome Fatemeh into this vitally important role as we seek to further develop and strengthen the quality of our programmes and graduate pipeline and our research competences, in particular in the biopharmaceutical engineering space, and sincerely thank Eli Lilly for their generous support in facilitating the establishment of this post. Eli Lilly's visionary support for this post and others in the area represents a real and practical manifestation of a strong, developing and multifaceted symbiotic partnership between Eli Lilly and UCC
New Lecturer, Dermot O'Sullivan appointed in Process & Chemical Engineering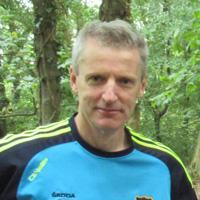 Dermot O'Sullivan has taken up a positon as Lecturer in Process & Chemical Engineering from April 2019, in a post which includes responsibility for developing, coordinating and teaching across process safety and control.
Dermot is a chemical engineer with extensive technical knowledge and industrial experience and in the energy industry, from his work at the Whitegate Refinery.
There he led a team of over two hundred as plant Operations Manager, while also acting as Director, and was part of the sales team which sold the plant to Irving Oil in 2016.
His appointment will help bolster the industrial and safety base and expertise across UCC Process & Chemical Engineering, and will materially assist in maintaining relevant accreditation statuses, as well as develop a new five year integrated ME programme.
4th All Ireland Chemical Engineering Sports Day
On Friday 2nd November UCC's Process & Chemical Engineering Department hosted the fourth ever All Ireland Chemical Engineering Sports Day in the Mardyke Arena. It was a great day with over 250 students taking part form University College Cork, Cork Institute of Technology, University of Limerick and University College Dublin.
It was a highly successful event with the students enjoying participating in various sporting events, while also making new friendships! It is also with great delight that we can say that UCC managed to retain the cup once again.
Big thanks to MSD, AbbVie and IChemE for sponsoring the event and providing the students with plenty of goodies on the day!
Class of 2009 Graduate, Sean Peyton talks to Final Years
On the 12th of October, Process & Chemical Engineering (2009) Graduate Sean Peyton provided a lecture to students studying PE4001 Advanced Process Design with Dr. Denis Ring on the range and scope of process and design applications in the upstream oil and gas exploration and processing.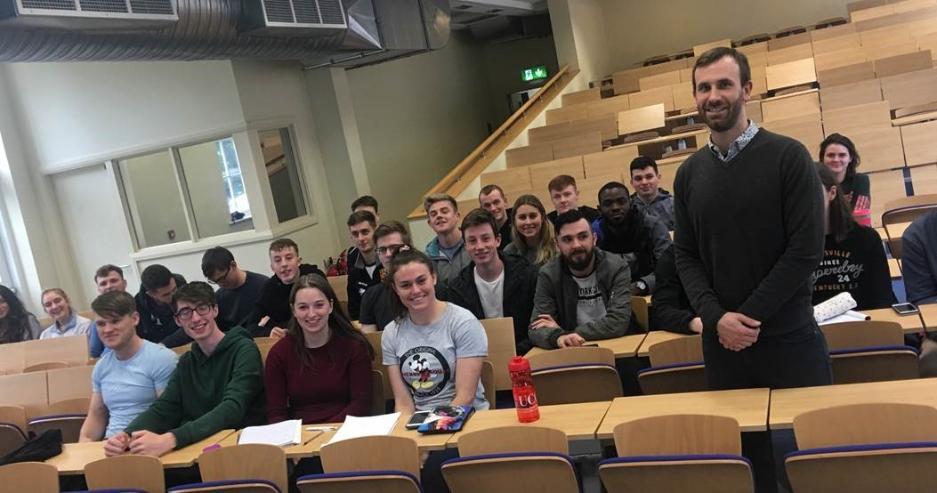 Process & Chemical Engineering 2nd Years through to All-Ireland Case Study Challenge 2018!
Two second year Process & Chemical Engineers made the team to represent UCC in the All-Ireland Case Studies Challenge in Dublin in November.
On Friday October 12th, second-year Process Engineers took part with Electrical, Civil and Energy Engineers plus Finance students in the EBS-sponsored Case Studies challenge, run by Blackstone Launchpad in the Creative Zone of the Boole Library. Divided into mixed teams of engineering and finance students, each team had eight hours to develop their proposals to transform ESB from an exclusively energy supplier to a multi-service supply company and pitch their ideas Dragon's Den-style to a team of ESB and industry judges. Two of the class, Julian Power and Eoin Ryan were selected for the team to represent UCC in an All-Ireland inter-colleges event in November, with the winners from that going through to an international event in Canada in February next year.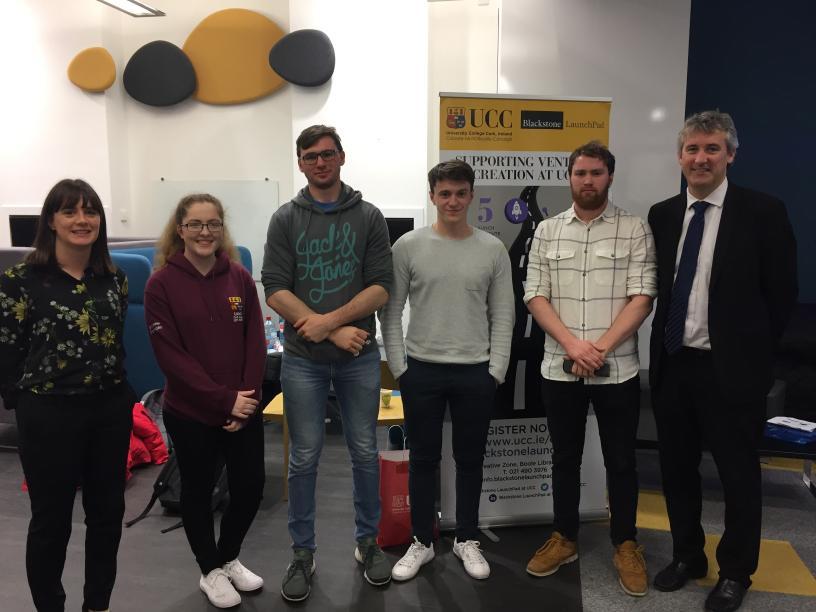 The team is:
Gráinne Donegan (Civil Engineering), Eoin Ryan (Process & Chemical Engineering), Pádraig Murphy (Finance), Julian Power (Process & Chemical Engineering)
Also in the photo are Sinéad O'Donnell, ESB, and Peter Finnegan, Blackstone Launchpad.
Congratulations and the very best of luck to the team! We are all behind you :-).
Gina Lynch, Class of 2009 and Eli Lilly talks to Final Year Class
On the 8th of October Process & Chemical Engineering, Class of 2009 Graduate, Gina Lynch provided a lecture to students studying PE4001 Advanced Process Design with Dr. Denis Ring on the range and scope of process and design developments in Continuous Manufacturing (CM). Gina is a Chartered Chemical Engineer working with Eli Lilly with extensive engineering expertise in the field of CM in the pharmaceutical industry.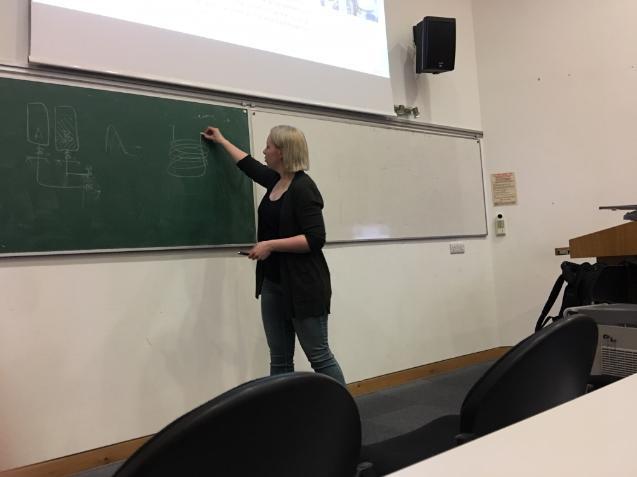 PM Group Engineers come and speak with Process Final Years
On Monday 24th of September, PM Group gave a technical developments lecture to 4th year Process & Chemical Engineering Students studying PE4001 Advanced Process Design on the latest advances in buffer preparation systems, an area where PM Group are a leading partner in process design changes.
Buffer preparation is an area of focus in the industry at the moment. PM Group are currently working with BPOG (BioPhorum Operations Group) to design a new type of preparation skid to overcome some of the challenges with buffer prep faced by manufacturers today. BPOG is a collaboration of manufacturers, suppliers and Engineering Firms (PM Group being one of them) from the Biopharmaceutical industry. The intent is to focus on key challenges in the biopharmaceutical industry to resolve common issues and accelerate change in the industry.
Presenting from PM-Group were:-
Kevin Gibson Process Engineer, UCC Process & Chemical Engineering Class of 2011
Tara Murphy Senior Process Engineer
Grace Kevany Graduate Engineer, UCC Process & Chemical Engineering Class of 2016