News
News
4th School of Engineering Industry & Open Day, Friday, 11th March 2016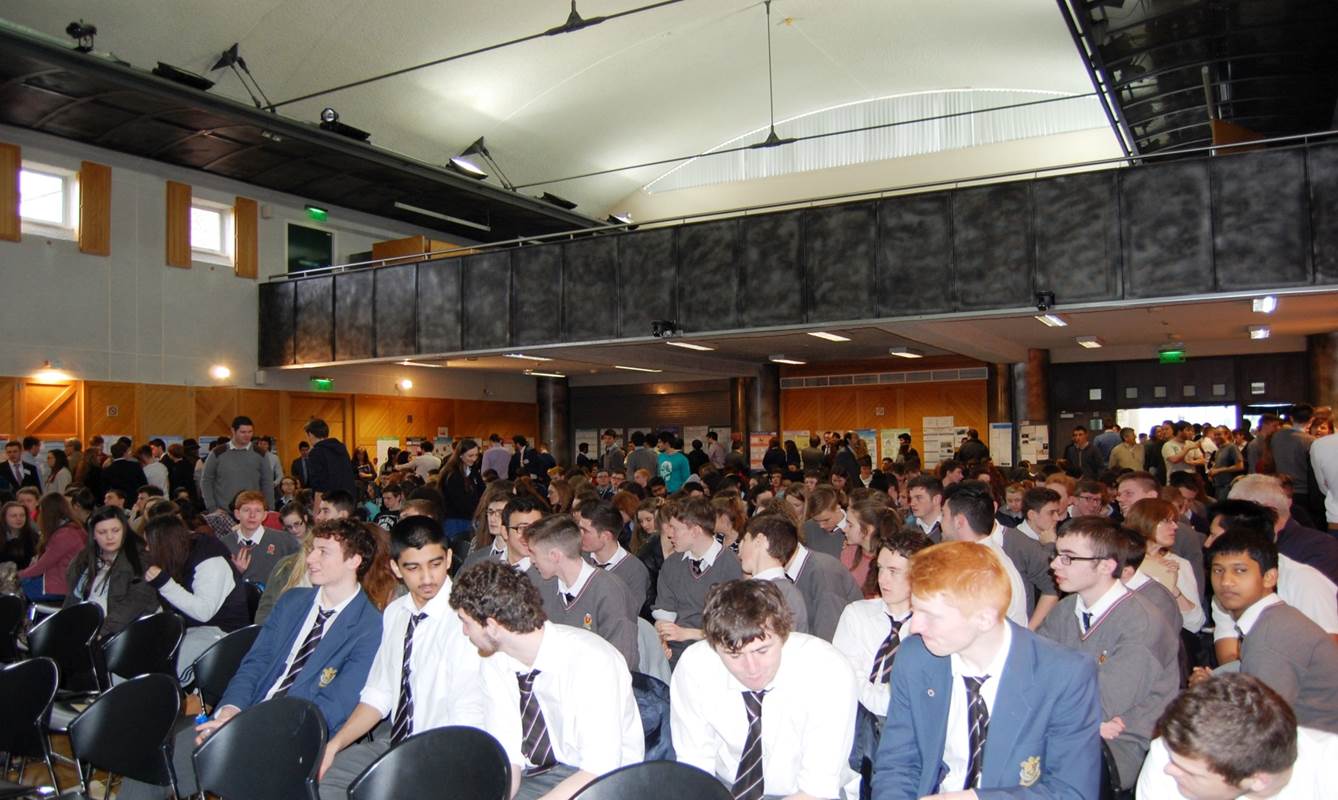 Following from the success of last year's event, which attracted 420 pupils from over 40 secondary schools in Munster, we are delighted to invite you to our Fourth School of Engineering Industry and Open Day on 11th March 2016 in Devere Hall, UCC. If you are interested in attending, please contact Anne-Marie McSweeney (Industry) at a.mcsweeney@ucc.ie or Ralph O'Flaherty (Schools) at r.oflaherty@ucc.ie to register.
As noted below we will have speakers with expertise across the engineering spectrum from technology to energy to biotechnology and pharmaceuticals to construction of a nuclear power plant. We look forward to interesting and informative presentations and some lively debate to follow.
4thSchool of Engineering Industry and Open Day
10:30 am – 1:00 pm, Friday March 11th, 2016
DeVere Hall,
Áras na Mac Léinn, UCC
Event Program:
9.30 – 10.30: Registration
Final Year Project Poster Session featuring the Electrical and Electronic, Energy, Civil, Structural and Environmental and Process and Chemical undergraduate students.
10.30 – 10.40: Introduction
Chair Professor N. Riza (Head of the UCC School of Engineering)
10.40 – 12.30: Engineering Challenges Session Chair: Judy Rea, MarEI Beaufort
Invited Speakers and Topics:
10.40 – 11.00: - Leonard Hobbs, Director Global Public Affairs, Intel Ireland
World Leading Edge Technology in Ireland – a 150 years story
11.00 – 11.20: - Liz Dooley, Director Operations (Biologics), Janssen
The Importance of Engineering in the Biotech Industry
11.20 – 11.40: - Majella Henchion, Group Resourcing Lead, ESB
Engineering Innovation in the Energy Sector
11.40 – 12.00: - Carl Devlin, Programme Director, Horizon Nuclear Power Ltd.
Developing a Nuclear Power Station in the World of Today – The Engineering Challenges
12.00 – 1.00: - Panel Discussion
Speaker Bios
Nabeel A. Riza (Fellow IEEE, IET, EOS, OSA, SPIE) holds a Ph.D. in electrical engineering from the California Institute of Technology (Caltech). His awards include the 2001 International Commission for Optics (ICO) Prize and 2001 Ernst Abbe Medal from Carl Zeiss Foundation-Germany. Nabeel Riza has held positions at General Electric Corporate Research & Development Center (Schenectady, New York), Nuonics and CREOL, USA. In August 2011, he was appointed Chair Professor and Head of the Department of Electrical and Electronic Engineering (EEE) and Associate Member Tyndall National Institute, University College Cork (UCC), Ireland. In June 2013, he was appointed Head of the School of Engineering, UCC. In January 2013 he authored his first textbook Photonic Signals and Systems: An Introduction, McGraw Hill, a book for undergraduate students in science and engineering. He has published over 144 international journal papers, 165 conference papers, and holds 45 US Patents.
Judy Rea is the Electrical Research Lead at MarEI Beaufort and a former acting Director of IMERC. She graduated from University College Cork with a B.E. in Electrical and Electronic Engineering and has 10 years of industry experience as an analog design engineer in the microelectronics industry. In 2009 she completed a MEng in Sustainable Energy on the topic of "Dynamic Modelling Techniques for Offshore Wind and Wave Energy Devices". Since then, she has worked Hydraulics and Maritime Research Centre in UCC.
Her area of research includes methods of electrical power take off from Ocean Energy Convertors focusing on device modelling and control law optimization. Other areas of interests include micro-grid and distributed generation studies and wind farm consultancy work. She is currently lecturing on Electrical Power Systems in UCC. In addition, she engages in out-reach to second level students on behalf of the School of Engineering.
Leonard Hobbs is Director Global Public Affairs at Intel Ireland. He graduated from University College Cork Ireland in 1986 with a 1st class honours degree in Electrical Engineering and was also awarded the title of 'graduate of the year' by the college. He completed a Masters degree at the NMRC (now called Tyndall), at UCC in 1988. From 1988 to 1991 he worked as a research scientist at IMEC, in Leuven, Belgium. In 1991 he joined Intel and held various roles in Process Engineering. In 2008 he established Intel Ireland's Silicon Research team who worked with Irish universities and European consortia. In 2014 he was appointed to his current position.
Liz Dooley is Operations Director at Janssen Biologics in Cork. Liz is a graduate of UCC with a Masters in Biotechnology. She has over 20 years' experience in the biopharmaceutical Industry with Merck (formerly Schering Plough) & more recently with Johnson & Johnson. During her career Liz has had 9 different roles across an array of functions. In her previous role as Director of Engineering with Janssen Supply Chain Ireland (one of the companies in the Johnson & Johnson group) Liz had responsibility for Capital Project Investments at the Irish supply Chain sites and also the introduction of new technologies and products. As Director of Operations she has responsibility for all Operations activities at Janssen Biologics, Cork, as part of Janssen Supply Chain Ireland. This responsibility includes biologics manufacturing (Cell Culture and Purification), replenishment and operations support activities. The biologics manufacturing activities cover existing commercial products and new commercial products to be launched over the coming years. Liz is also responsible for clinical manufacturing suites supporting the clinical supplies program with multiple new products and technology transfers on an annual basis. Liz's career has taken her to the US, Middle East and Europe - she is now based at the Janssen Biologics facility in Cork. Liz is a member of IChemE, International Society for Pharmaceutical Engineers (ISPE) and the Biophorum Operations Group (BPOG) where she has regularly contributed articles to Bioprocess International Magazine. Liz also acts as a project technical evaluator with Enterprise Ireland.
Majella Henchion is the Strategic Human Resources Projects Manager for ESB. A mechanical engineer who graduated from UCD in 1990 and started working in the Generation end of the ESB that same year, she has worked in a wide variety of technical, managerial and strategic roles in the last 25 years while also receiving a Masters in Maintenance Management from Manchester University in 1994, becoming a Chartered Engineer in 1997 and becoming a Fellow of Engineers Ireland in 2011. In recent years she has held roles as varied as Plant Manager of Turlough Hill and Liffey Stations (a pumped storage station located at the Wicklow Gap and three hydro stations on the Liffey), Generation Health and Safety Manager and her current role in HR. Her latest project is focused on ensuring that ESB has the right mix of people to tackle the exciting energy challenges of the future.
Carl Devlin is Programme Director at Horizon Nuclear Power Limited. He graduated from UCC in 1991 with a first class honours degree in Civil Engineering. He commenced his career working for John Brown Engineering in London working on design and construction projects in the North Sea. In 1993, he joined Bechtel, a global Engineering and Construction firm, where he worked on a wide variety of projects in both the global onshore oil & gas markets and the UK infrastructure and transportation sectors. During this time, he progressed from being a design engineer through construction management to being a Client Project Manager on the £4bn Channel Tunnel Rail Link Project. In 2003, he moved to Heathrow Terminal 5 as a member of the BAA Leadership Team and delivered keys projects across the rail, infrastructure and building portfolios. He has held executive positions at Westfield (developer), Capita (consultant) and Laing O'Rourke (contractor). In 2013 he joined London Underground to lead the delivery of a £5bn modernisation of the Sub-Surface Railway, being a train, signalling and system upgrade of 40% of the underground network and the oldest part of the network. He joined Horizon in November 2015 where he is accountable for the development and delivery of the Wylfa Newydd Power Station on Anglesey Island in Wales.