PM Group 2019
PM Group 2019
PM Group, Design Award (Individual) presented by:-
Tara Murphy Senior Process Engineer
Kevin Gibson Senior Process Engineer
In Attendance:-
Established in 1973, for over 46 years PM-Group have built expertise in pharma, food, data and medical technologies, with over 2,700 employees across a global network of offices.
PM-Group specialise in, Project Management, Strategic Planning Architecture, Engineering Consultancy, Procurement, Construction Services, Commissioning & Qualification, EH&S, Managed Services, Sustainability and Outsourced Technical Services.
The PM-Group award is presented to the student with the best individual design memo from PE4006 Design Project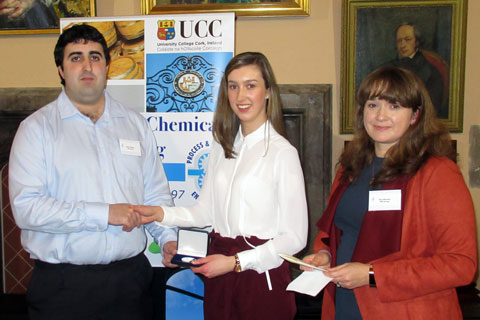 2019 Winner is Vivienne Barry (Graduated 2019)
Vivienne Barry worked in a group that propose a design for manufacturing non-egg based influenza vaccines. In addition to her contribution, she also prepared a detailed design of one of its core unit operations, a buffer preparation station, for the production of sufficiently pure product.
More specifically, Vivienne underlined the mechanical principles involved in the design of the buffer preparation vessel and the plate heat exchanger, simulating, optimising and costing the entire buffer preparation line.
She also prepared a detailed mapping of the instrumentation, control and operability involved in the buffer preparation line.
Award:-
A specially minted medal to the value of €300 and a cheque for €1,000