News
News
Katherine Condon is awarded the Joe Gantly Prize for Engineering at the UCC Annual Prize Giving 2014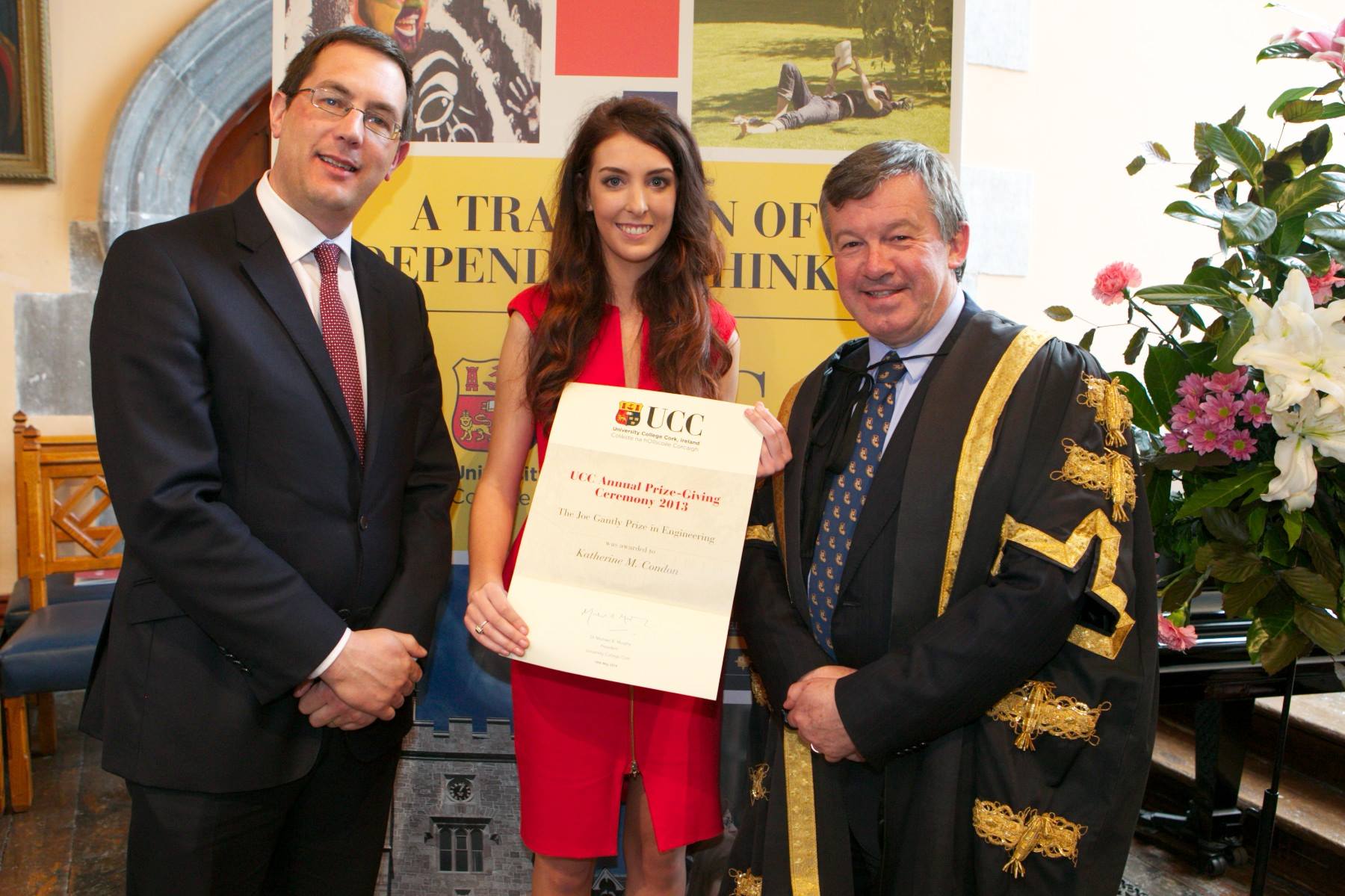 The late Joe Gantly, who was a Civil Engineering graduate of Trinity College Dublin, made a significant contribution to industry and education in the Cork area. He served as Director of European Operations at Apple Computers, President of Cork Chamber, Chairman of the Cork Airport Authority and as a Governor of UCC.
In order to commemorate his contribution to Cork's business community (and to UCC), Cork Chamber has kindly donated a sum of €1,500 per annum to establish the Joe Gantly Prize in Engineering. The prize will be awarded each year to the Best Student(s) on the Work Placement module in the BE (Hons) programmes at UCC.
In 2013, the students nominated from each of the four BE programmes were: Laura Ryan BE (Energy Engineering), Katherine Condon BE (Process & Chemical Engineering), Alison O'Shea BE (Electrical & Electronic Engineering), and Niall Dennehy BE (Civil & Environmental Engineering). On Monday, 18th November 2013, each made a 15 minute presentation to the panel of judges, which comprised Conor Healy, CEO of Cork Chamber, Professor Patrick Fitzpatrick, Head of College, SEFS and Professor Nabeel Riza, Head of School of Engineering.
On Monday, 19th May 2014, Katherine Condon (Process & Chemical Engineering IV) was officially presented with the Joe Gantly Prize by President Michael Murphy and Conor Healy, CEO of Cork Chamber.
Congratulations Katherine!