News
News
FUNDED PhD Position Available - apply now!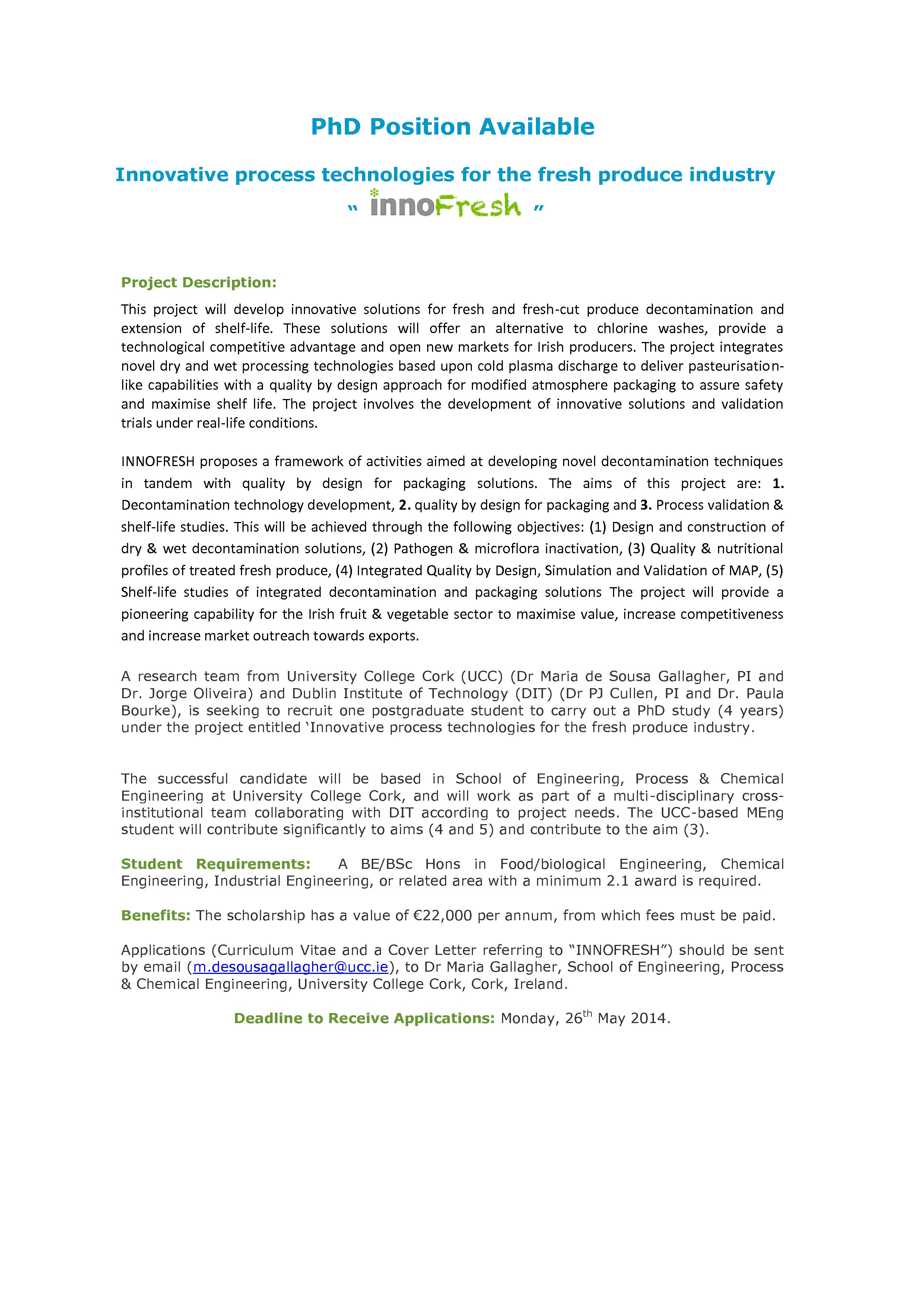 PhD Position Available - Innovative process technologies for the fresh produce industry "innoFresh"
Project Description:
This project will develop innovative solutions for fresh and fresh-cut produce decontamination and extension of shelf-life. These solutions will offer an alternative to chlorine washes, provide a technological competitive advantage and open new markets for Irish producers. The project integrates novel dry and wet processing technologies based upon cold plasma discharge to deliver pasteurisation-like capabilities with a quality by design approach for modified atmosphere packaging to assure safety and maximise shelf life. The project involves the development of innovative solutions and validation trials under real-life conditions.

INNOFRESH proposes a framework of activities aimed at developing novel decontamination techniques in tandem with quality by design for packaging solutions. The aims of this project are: 1. Decontamination technology development, 2. quality by design for packaging and 3. Process validation & shelf-life studies. This will be achieved through the following objectives: (1) Design and construction of dry & wet decontamination solutions, (2) Pathogen & microflora inactivation, (3) Quality & nutritional profiles of treated fresh produce, (4) Integrated Quality by Design, Simulation and Validation of MAP, (5) Shelf-life studies of integrated decontamination and packaging solutions The project will provide a pioneering capability for the Irish fruit & vegetable sector to maximise value, increase competitiveness and increase market outreach towards exports.
Student Requirements: A BE/BSc Hons in Food/biological Engineering, Chemical Engineering, Industrial Engineering, or related area with a minimum 2.1 award is required.
Benefits: The scholarship has a value of €22,000 per annum, from which fees must be paid.
Applications: (Curriculum Vitae and a Cover Letter referring to "INNOFRESH") should be sent by email (m.desousagallagher@ucc.ie), to Dr Maria Gallagher, School of Engineering, Process & Chemical Engineering, University College Cork, Cork, Ireland. Deadline to Receive Applications: Monday, 26th May 2014.