News
News
BCD Engineering presents Specialised Learning Toolkit to Process & Chemical Engineering, UCC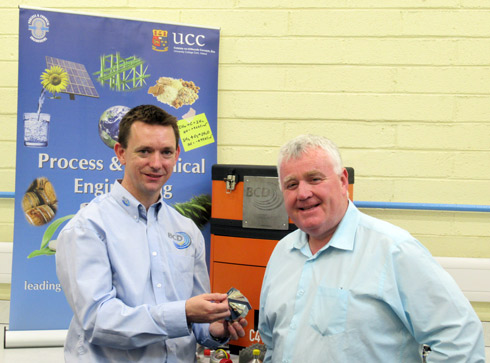 BCD Engineering Links up with UCC to encourage hands-on learning
Building on a tradition of developing innovative award-winning teaching, Process & Chemical Engineering (PCE), School of Engineering has collaborated with BCD Engineering to develop a specialised hands-on learning toolkit.
Founded in 1983, BCD (www.bcd.ie) delivers vessels and process systems worldwide to the Pharmaceutical, Biotechnology, Food, Beverage and Chemical industries. BCD has extensive expertise in applications such as Product Formulation, Buffer Preparation and Buffer Hold Systems, Clean-in-Place, Clean Utilities and Thermal Treatment. BCD's team of Process, Mechanical, Electrical and Automation Engineers deliver integrated process solutions from conceptual design through to commissioning and qualification.
Mr. Mark Lee (B.E. Food Process Engineering, 1994, CEng, MIEI), Technical Manager at BCD worked closely with the staff at PCE, Professor Edmond Byrne, Dr. Denis Ring, Dr. Kevin Cronin and Mr. Paul Conway together with final year student Fionn McCleane to create this toolkit of process components, pipe fittings and instrumentation which is supported by technical documentation. The toolkit gives students the opportunity to investigate up-close a wide variety of specialised process engineering components, to contextualise their application and visualise how elements of a P&ID (Process and Instrumentation Diagram) relate to physical equipment. Students will be given the opportunity to investigate at first-hand design features such as:
- Mechanical design (pressure & temperature ratings, surface finish, materials of construction etc.)
- Process design (design for product handling, design for cleanability and sterility).
- Electrical design (power requirements, communications protocols and ATEX considerations).
- Automation integration (positional feedback technologies, action on failure, etc.).
- Maintenance and life-cycle considerations (calibration, soft parts change-out, etc.).
- Validation and qualification considerations (component datasheets, material certification, surface finish certification, CE certification and IOM (Installation, Operation and Maintenance) manuals etc.).
For more on this story contact:
Anne-Marie McSweeney, School of Engineering - Process & Chemical at a.mcsweeney@ucc.ie