Student Placement Information
Student Placement Information
Student Placement Information
Use the menu below to access your placement details, rosters and area information. You must check your placement details regularly for updates or changes. Remember you will need your individual passwords to access each system. If you are having password difficulties contact the Allocations Office.
Rosters
PLEASE NOTE THAT ROSTERS ARE NOW LOCATED ON THE 'DOCUMENTS' TAB OF YOUR PLACEMENT AREA INFORMATION WITHIN ARC.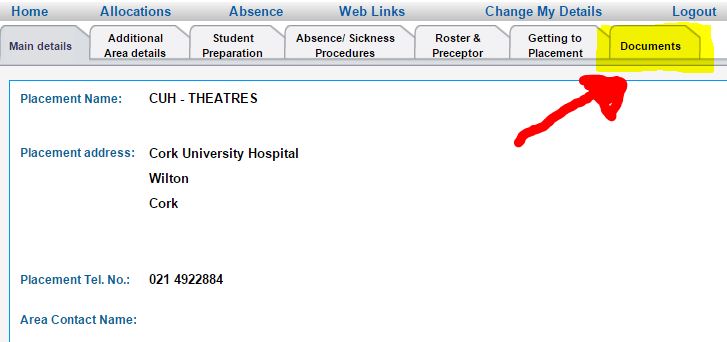 Note that not all placement areas provide a written roster (e.g. psychiatric nursing areas), please refer to the ARC web site to see details of how to obtain rosters for these areas.
If you have any difficulties locating your roster contact the Allocations Office
Bank Holiday Entitlements
Supernumerary students
If a bank holiday falls during your practice placement you are entitled to the bank holiday off*. Please record the bank holiday on your timesheet as 6 hours.
For the remainder of the bank holiday week you are only required to attend 24 hours of practice placement i.e. 2 x 12hr or 3 x 8 hrs.
Some practice placement areas that are not utilized on a regular basis may not be familiar with your bank holiday entitlements. Therefore you may need to indicate your bank holiday entitlements in advance when you discuss your roster.
* You can request to work the bank holiday if you prefer, however you are still only required to attend 24 hours of practice placement in the bank holiday week.
Internship students
Your entitlement to bank holidays is determined by the provisions of the Organisation of Working Time Act (1997) and the arrangements which already apply to Nurses and Midwives working in your health service provider.
Preferred Placements
Regardless of which health service provider (the hospital/health service you have been assigned to) or where you live, you will be required to travel to placements.
You will be asked to fill in a preferred placement form when you commence the course and this will be taken into account where possible when allocating you to areas outside of Cork city i.e. Cork county and Munster region. If your circumstances change following completion of this form, you must inform the Allocations Office immediately.
NB. Please note this is not a guarantee that you will be placed where you have requested.
Clinical Assessment Process
An explanation of the Steinaker and Bell taxonomy
Assessment of clinical competence is an essential component of any health related professional program. Clinical assessment in our school currently comprises of:
Each student being assigned a registered nurse/midwife clinical preceptor

Preceptor and student working together in clinical practice

Student and preceptor agreeing the number of competencies and level of attainment for each placement

Steinaker and Bell's (1979) experiential taxonomy (exposure, participation, identification and internalization) being used to assist in identifying the level of competency and skill attainment appropriate for each year of their program.
An On-Line Support Package for trained Preceptors (Registered Nurse/Midwife), Student Nurses and Student Midwives which Provides an Over-view of the Clinical Assessment Process supported by funding from NAIRTL.
"Assessment of learning in the clinical practice environment".
Useful resources / presentations:
Assessment of learning in the clinical practice environment
Dr Pam Parker - City University London (Author of text titled: Supporting Learning in Nursing Practice Palgrave press)
Preceptors' experiences of clinically educating and assessing undergraduate nursing students: an Irish context
Ms. Bridie McCarthy
Assessment of learning in the clinical practice environment: using an online tool to help students understand the abstract nature of Steinaker and Bell's (1979) experiential taxonomy
Professor Josephine Hegarty and Ms. Carol Condon
Formal launch of an On-Line Support Package for trained Preceptors: (Registered Nurse/Midwife), Student Nurses and Student Midwives which provides an over-view of the clinical assessment process