Professor Eugene Dempsey
Professor Eugene Dempsey
Preventing Preterm Brain Injury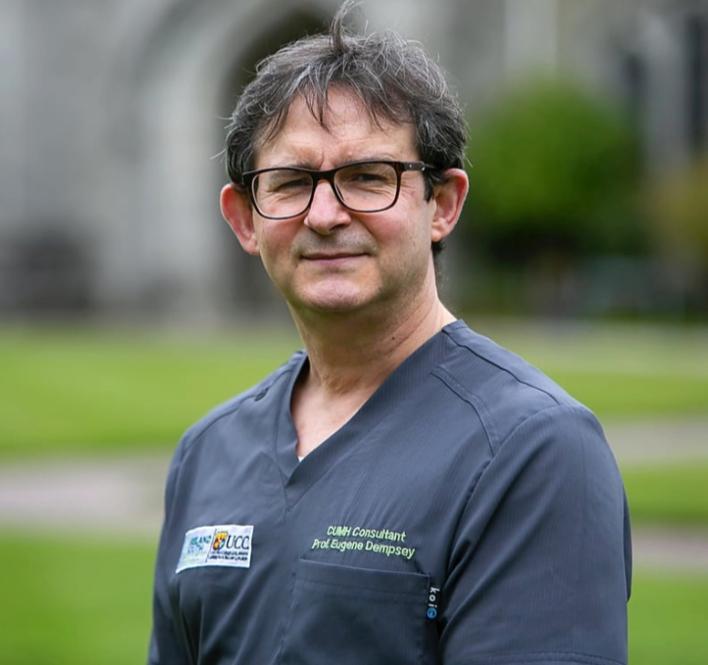 Date:
Wednesday 24th November 2021, 2pm - 3pm
Link: https://ucc-ie.zoom.us/j/95275447883?pwd=dG8raURxakU4T25GbUphMnBydUFlZz09
Summary
Neonatal care has witnessed significant progress over the last decade but preterm brain injury remains a significant problem. It can result in significant short and longterm complications including cognitive, motor and significant developmental challenges. In today's session I present the evidence for interventions that are associated with a reduction in brain injury including the role of delayed cord clamping, delivery room stabilisation and optimising management during the transitional phase of adaptation, focussing in particular on the role of cerebral near infrared spectroscopy monitoring of the preterm brain.
Bio
Professor Eugene Dempsey is a Consultant Neonatologist in the Cork University Maternity Hospital and Horgan Chair of Neonatology in the Department of Paediatrics and Child Health, University College Cork. He qualified from University College Cork in 1995, trained in the Coombe Women and Infants University Hospital, National Maternity Hospital Holles Street and Our Lady's Hospital Crumlin before moving to McGill University, Montreal where he completed subspeciality training in Neonatology at the Royal Victoria Hospital and Montreal Children's Hospital, McGill University (2002-2005). He returned to Ireland and worked as a Consultant Neonatologist in Coombe Women and Infants University Hospital and Our Lady's Hospital for Children Crumlin. He moved to his current post in Cork University Maternity Hospital in Nov 2007. Prof. Dempsey has a keen interest in clinical research and evidence based neonatology . He is a PI in The INFANT Centre: The Irish Centre for Fetal and Neonatal Translational Research. He is also supervising a number of ongoing clinical research studies and higher degrees in the NICU. Prof. Dempsey is a member of a number of national committees including the Faciulty of Paediatrics and Royal College Research Ethics Committee. He currently lectures at both the RCSI and the RCPI.
For more on Prof Dempsey, visit his UCC research profile or his other research profiles below.