Research Projects
Research Projects

Research Projects
In addition to the individual research activity of its staff and students, the School of English promotes collaborative research through its own research projects and involvement in interdisciplinary and interinstitutional initiatives. Past projects include the Munster Women Writers Website and Dictionary and "Making Books, Shaping Readers", a project focusing on the materiality of the text, and how the physical appearance of the text shapes and informs both authors and readers. Currently, the School is involved in the ongoing development of the Frank O'Connor Research Website, a joint project of the School of English, CACSSS, and staff from the Boole Library. School staff are also active in the Wales-Ireland Research Network and in the Frederick Douglass Research Project.

Performing Pericles, Prince of Tyre
The second ever performance of Shakespeare's critically-neglected play Pericles, Prince of Tyre in Ireland, and the first in Munster, is set to take place in Cork, as part of a project led by a UCC lecturer.
Dr Edel Semple, Lecturer in Shakespeare Studies in UCC's School of English is at the helm of the "Celebrating Shakespeare 400: Performing Pericles, Prince of Tyre" project, which comprises the staged reading at Cork's Unitarian Church on November 14th at 6pm and a symposium exploring the play at UCC on November 15th.
"Although unfamiliar to modern audiences, Pericles (c.1606) was hugely popular in Shakespeare's day. The play is simply a great story that offers something for everyone – the adventures of a young prince, a brave heroine, shipwrecks, pirates, true love, magic! I've long been a fan of Pericles and I'm delighted that we can introduce the play to a new audience," Dr Semple said.
Directed by Sinéad Dunphy, a UCC graduate and Festival Manager of the Cork International Choral Festival, the staged reading is a free but ticketed event. The project involves actors from UCC's Drama and Theatre Studies and the LittleShoes Productions drama group, as well as scholars from UCC, the UK, and USA.
The symposium exploring the play's sources and critical and performance history will feature guest speakers Dr Peter Kirwan from the University of Nottingham and Dr M. W. Booth from Harvard University. Those interested in attending should e-mail Dr Edel Semple at e.semple@ucc.ie
Funded by the Irish Research Council 'New Foundations' scheme, the project aims to inspire interest in Shakespeare's lesser-known drama and deepen understanding of his work, the world he lived in, and his legacy. The project is also supported by UCC's CACSSS Graduate School, the UCC Information Services Strategic Fund, and UCC's School of English.
The UCC-organised events are set to make a major contribution to the commemorative programme across the globe this year marking the 400th anniversary of Shakespeare's death. The staged reading and symposium will introduce his drama to new audiences in Ireland and enhance public understanding of Shakespeare.
From Eald to New
'From Eald to New: Translating Early Medieval Poetry for the 21st Century' is an IRC-funded project led by Dr Tom Birkett and Dr Kirsty March-Lyons, which aims to bring together academics and creative practitioners to advance our understanding of the practical, theoretical and socio-cultural aspects of the translation of early medieval poetry. The project was launched in June 2014 with a public poetry evening, which included readings from internationally renowned poets, and was followed by a graduate workshop on creative translation and a two-day conference bringing together academics and literary translators working with Old English, Old Irish and Old Norse poetry. The conference, which included plenary addresses from leading voices in the three disciplines under discussion, aimed to foster connections between these three closely linked traditions, to share best practice, and to bring poets and literary translators into a dialogue with those who teach medieval languages and who study these translations' effects. The outputs from the conference, including a website and blog (www.ealdtonew.org), conference reports in international peer-reviewed journals, and a planned volume of proceedings, will allow for the dissemination of the project's findings to a wide international audience, and have helped to situate UCC and the creative community in Cork at the centre of this emerging area of study.

‌
Ireland-Wales Research Network
The Ireland–Wales Research Network aims to explore the creative, cultural, and political relationships between Wales and Ireland.
The Network, a partnership between Cardiff University, Aberystwyth University and University College Cork , aims to develop a deeper awareness of the overlapping, complex and connected histories of Wales and Ireland.
The Network is managed by Professor Claire Connolly (School of English, University College Cork), Professor Katie Gramich (Cardiff School of English, Communication and Philosophy) and Dr Paul O'Leary (Department of History and Welsh History, University of Wales, Aberystwyth).
For information on previous and forthcoming events, please click here http://www.cardiff.ac.uk/encap/research/networks/wales-ireland/
The Frank O'Connor Research Website
The Frank O'Connor Research website is a critical online research resource on Irish writer Frank O'Connor. The site, which continues to develop, serves as a high-standard source for primary and secondary material for academics and students. It also provides information on current UCC research projects on O'Connor.
The website is funded by the College of Arts, Celtic Studies and Social Sciences in UCC, and was created in collaboration with UCC's Boole Library and School of English. It is designed to deliver accurate information about O'Connor's life and publications, and about O'Connor Studies at local, national and international levels. The site also provides rare photographs, audio recordings, video clips, news, and information on related online sites.
UCC is in the fortunate position of having a substantial and important Frank O'Connor Archive and the website details the archival collection, while also profiling correlating UCC Library collections.
For further information, please contact the Harriet O'Donovan Sheehy Research Fellow, Dr Hilary Lennon, at h.lennon@ucc.ie
Photograph by kind permission of Harriet O'Donovan Sheehy
Languages, Myths and Finds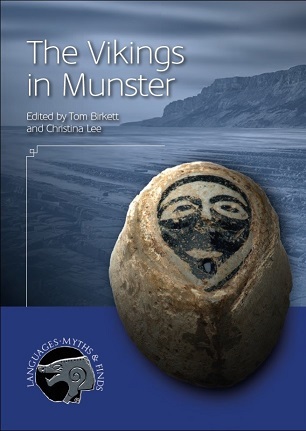 Languages, Myths and Finds: Translating Norse and Viking Cultures for the 21st Century is a skills development and heritage engagement project funded by a collaborative training grant from the AHRC. The project explores the different ways communities in the UK and Ireland engage with their Viking past, and brings together doctoral students and non-academic stakeholders in the co-production of targeted public-information resources. Cork was chosen as one of five localities for study, with Dr Tom Birkett leading a team of PhD researchers alongside Dr Christina Lee of Nottingham in an investigation of Viking heritage in Munster. The visiting PhD researchers from Oxford, Durham, Aberdeen and Dublin were hosted by the School of English in April 2014, and collaborated with local academics, heritage professionals, schools and museums to produce a booklet entitled The Vikings in Munster. Five hundred copies of this booklet – which was published by Nottingham University and launched at UCC in September 2014 – were distributed free to local schools, museums and tourist offices. The research team also ran an afternoon of workshops in Coláiste Choilm Secondary School in Ballincollig and produced resources for the project website at http://languagesmythsfinds.ac.uk/. A full-page write-up of the project was published in Cork's Evening Echo.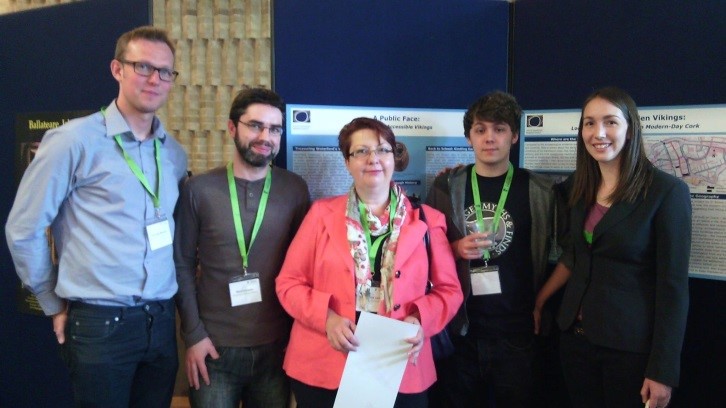 l-r: Dr Tom Birkett (UCC), Mark Kirwan (UCD), Dr Christina Lee (Nottingham), Alex Wilson (Durham) and Annemari Ferreira (Oxford).
Associated Research Projects
The Modernisms Research Centre was founded in 2011 by Dr Kerstin Fest, Dr Sarah Hayden, James Cummins and Rachel Warriner in order to promote and advance the study of modernisms in University College Cork. Drawing on the already rich body of work produced in UCC on modernisms from within the Schools of Languages, English, Philosophy and History, the centre runs events that appeal across disciplines and to researchers at all stages of their careers, as well as to interested people from outside the university. Our lecture series invites eminent scholars to Cork and hosts UCC researchers whose work enlivens debates around modernisms in all its forms.
Since 2011, the MRC has hosted guest lectures by Professor Denise Riley (Cornell/ Birkbeck), Professor David Lloyd (UC Davis), Professor David Ayers (Kent), and Dr Sabine Kriebel (UCC), and keynote addresses by Professor Janet Lyon (Penn State), Dr Sara Crangle (Brighton) and Dr Ruth Hemus (Royal Holloway). In 2012 and 2013, with the support of institutional and national, competitively-acquired funding, we organized two major international conferences:
Étant Donnés: Questioning the material and marginal givens of modernisms scholarship(April 12th-13th 2013)
'Étant donnés' aimed to provoke a critical (re)evaluation of the lines we draw around and between modernist practices. Embracing a chronologically broad conceptualization of literary, plastic and performative 'modernisms', it sought to generate self-reflexive scholarly investigations across disciplines. This symposiumn was made possible by an IRC 'New Foundations' Funding Grant awarded to Dr Sarah Hayden, under the mentorship of Dr Mary Noonan in the School of Languages, Literatures and Cultures, with further support from the School of English, School of Languages, Literatures and Cultures and Department of German at UCC.
Feminism: Activism: Modernisms (14th-15th September 2012)
This interdisciplinary conference sought to explore how feminist activism has intersected with modernism and postmodernism in the arts, examining the tensions, connections, and contributions made to modernisms by participants in the women's movement and by individual feminist activists. This conference was kindly supported by the CACSSS Strategic Research Fund, The Graduate School, School of English, School of History, School of Languages, Literatures and Cultures, Department of French and Department of History of Art at UCC.
We are currently planning the programme of events for 2013-2014.
Visit our Wordpress, Facebook and Twitter sites for more details:
http://modernismsresearchcentreucc.wordpress.com/
https://www.facebook.com/groups/107709162692218/?fref=ts
https://twitter.com/ModernismsUCC