Current Students
Current Students

First Year
First-Year Reading List 2021/2022
First Year Reading List 2021/2022
Documents for First Year Students
1st Year Essay Plagiarism Form 2020-21
Contact details for English Staff (15.09.2020)
First Year Booklet 2020-2021 (21.01.2021)
1st Year Extension Request form
CK109 Booklet and Documents
Important Information for Incoming BA students
In keeping with current public health guidelines, all English lectures will be recorded and will be available via Canvas. For the rest of semester 1, ALL seminars and tutorials will remain online in all circumstances.
CK109 BA in English First-Year Booklet 2020-2021 (updated 21.08)
Visiting Students Booklet
Visiting booklet 2020-21 (29.09.2020)
Visiting booklet (Spring 2021)
Visiting Student Extension Request Form
Skills Centre Sessions
If you are interested in improving your writing skills and developing related skills to help you with university study, such as note taking, time management, study skills, and exam preparation, you may be interested in the sessions offered by the Skills Centre, located in the Berkeley Centre, Q-1, Boole Library.
For details, visit: skillscentre@ucc.ie
Students can sign up here: http://skillscentre.ucc.ie/book-your-skills-session/
Important Information for Incoming Third-Years
In keeping with current public health guidelines, all English lectures will be recorded and will be available via Canvas. For the rest of semester 1, ALL seminars will remain online in all circumstances. In the event of any sanctioned return to the classroom in semester 1, some seminars may move to a hybrid model with participation mixed between in person and online.
Assessments and Examinations
The Department of English uses a variety of assessment methods, including take-home essays, in-class essays and end-of-year examinations. In seminar courses you may also be assessed on presentations, group projects and exercises such as journals. As a general rule, you will find that in second and third year, your year's work is in two parts. Lecture modules you take in Teaching Period 1 are assessed through one in-class test and one take-home essay. Lecture modules you take in Teaching Period 2 are assessed through an end-of-year exam in which, usually, you will answer two questions. If you are taking seminar courses, you may take your module in TP1 or TP2, or as a whole-year module. In seminar modules, attendance is compulsory and your participation will form part of your assessment and your overall mark.
Plagiarism Policy
‌Department OF ENGLISH PLAGIARISM POLICY
The Department of English operates a strict anti-plagiarism policy, in accordance with UCC's Plagiarism Policy
What is plagiarism?
Plagiarism is presenting another person's words or ideas as your own work. If you draw one someone else's words, be sure to put quotation marks around them and give the writer or speaker credit by acknowledging the source in a citation—otherwise you are plagiarising. If you paraphrase someone else's words or ideas without giving the author credit, you are also plagiarising. Plagiarism can occur in take-home essays, class presentations, or examinations: in every case, plagiarism will be penalised according to University policy.
Plagiarism includes the following:
Copying phrases, sentences, paragraphs, etc., without acknowledgement, from a published source (print or electronic) or from an unpublished source (i.e another student's essay or notes);
Presenting phrases, sentences, paragraphs, etc., with only slight changes, from the printed, electronic, or manuscript material of others as your own work;
Buying a paper from the Web or elsewhere and presenting it as your own work;
Paying someone else to write or modify your assignment;
Memorising someone else's material and reproducing it without acknowledging the original source.
Jointly writing an individual assignment is known as collusion and is not acceptable. If you allow someone to copy your work, this is also collusion, and both parties will be penalised.
Submitting work for assessment which you have already submitted, partially or in full, to fulfil the requirements of another lecture/seminar module or examination, is also unacceptable (this may be defined as autoplagiarism).
Incorrect referencing in assignments will also be penalised: you must use quotation marks to indicate precisely what you are quoting from secondary sources listed in your Works Cited.
If you are unsure about any aspect of this policy, please contact your tutor or lecturer prior to submitting any essays. You are responsible both for knowing what constitutes plagiarism and for ensuring that you have not plagiarised. You will be required to complete and submit a cover sheet with each essay declaring that your submitted work is in accordance with the plagiarism policy.
Cases of plagiarism will be penalised in accordance with UCC's Plagiarism Policy and may be referred by the Head of Department to the Student Records and Examinations Office: https://www.ucc.ie/en/media/support/recordsandexaminations/documents/UCCPlagiarismPolicy-November2017V1.0-CLEAN.pdf
Supports and Services
‌‌Year Committees and Staff-Student Meetings
Within the Department, it is the responsibility of certain staff members to oversee each year group and to ensure that the teaching and assessment for all the courses in each year is administered and delivered efficiently and effectively. The Year Committees also arrange for students to act as representatives for the year group by attending staff-student meetings. Staff-Student meetings are an important way for students to voice their opinion and give feedback so why not consider becoming a rep? And do always remember that you should find out who your reps are, and let them know of any issues you think are important and need to be brought to the attention of the Department.
First Year Committee: contact Dr Maureen O'Connor Maureen.OConnor@ucc.ie

Second Year Committee: contact Dr Tom Birkett t.birkett@ucc.ie
Third Year Committee: contact Dr Ken Rooney k.rooney@ucc.ie
Teaching Officer
Dr Heather Laird (h.laird@ucc.ie) is the Teaching Officer, and one of her responsibilities is to advise students who may be having difficulty with their studies due to illness, family circumstances, etc.
Disability Officer
Dr Maureen O'Connor (Maureen.OConnor@ucc.ie) is the Department's Disability Officer, and she liaises with Disability Support Services.
Help & Support
Within the university, there are also a number of places to find help and support:
Student Counselling and Development
Lowercase Second Hand Book Service
Student Services Support Tree
UCC has many different supports in place for students who might be struggling in these difficult times. Our Support Tree shows the services available to students.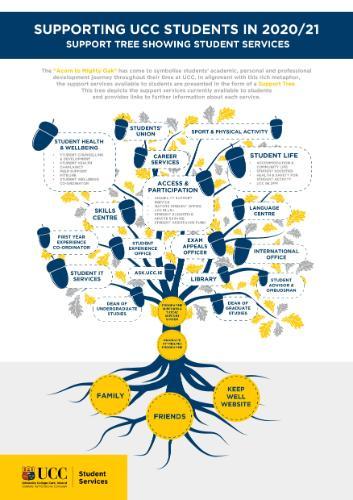 Click the link below to view an interactive Support Tree infographic with links to relevant services