Prospective STEM Students
Prospective STEM Students
There has never been such an exciting time to study STEM. Sustainability is at the heart of our programmes and our research, here in the College of Science, Engineering and Food Science. Together, we are the Scientists, the Technologists, the Engineers and the Mathematicians who are focussed on creating and delivering a sustainable future for us all. We are developing the innovative solutions to support a sustainable and environmentally responsible society. Our graduates have the skills and attributes to play their role in solving these key societal challenges. Come and join us – we want you to be part of that vision!
Degree Options From Our CAO Entry Programmes
Course Talks On Our CAO Entry Programmes
Work Placement Degree Programmes
A number of STEM degrees in UCC include accredited work placement that is managed by the work placement managers at UCC Careers.


Nurturing Bright Futures for Students
Nurturing Bright Futures is a six module course that has been designed to equip you with the information you need as you prepare to transition into third level education. We hope it will be especially helpful for those of you who cannot access our campus easily, for a range of different reasons. It is designed to be interactive and for you to engage with the material. It will create spaces for you to undertake self-reflective exercises and will stimulate conversations - with your friends, family, teachers and Guidance Counsellors - to optimise your university-readiness.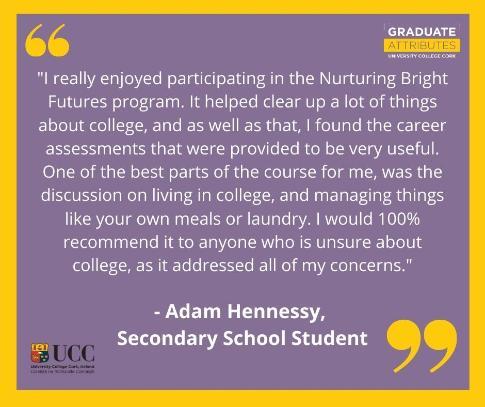 The Nurturing Bright Futures space will provide you with the opportunity to engage with the topic of your future, a potential college experience and many related themes and it will equip you with skills and tools that you can carry into your chosen degree when you start college. It will also help you to make the most of the resources around you such as your friends, family, Guidance Counsellors and teachers.
Through the use of video lessons, podcasts, articles, exercises, quizzes and other helpful resources, these six modules will give you the opportunity to engage with a variety of resources and introduce you to ways and approaches to college life and college degrees.
STEM Alumni Testimonials - Postgraduate Students