Study International
Study International
Angelica DeYott was an undergraduate student in the US when she heard of University College Cork (UCC). "I had a professor who received his PhD at UCC," she shares. "His successful career gave me the confidence that the degree I earned at UCC would also put me on a successful path."
She was right. As Ireland's first five-star university and in the top 2% of universities worldwide, UCC is well-used to providing an education that paves the way for innovation, change, and impact. Much of this has to do with its host of world-class educators — many of whom have not only contributed to groundbreaking research but led or been a part of real-world social change.
Take UCC's School of History. As one of the largest departments in the Arts and Humanities faculty, it offers a range of undergraduate and postgraduate programmes that span medieval, early modern, modern Irish, European and international history. Outside of this, it is a leading international centre for postgraduate research in international relations and European studies, as well.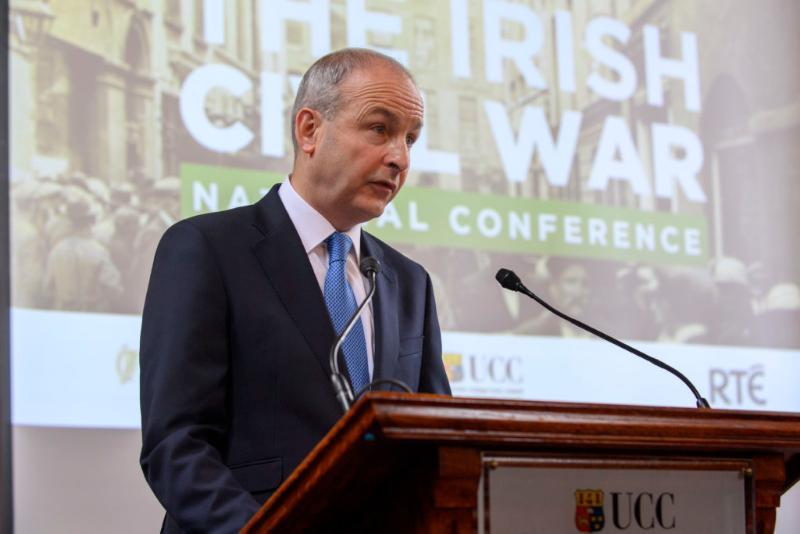 Angelica, a lover of European history, found this an enthralling prospect. After some research and guidance from her professor, she decided to pursue the MA in History at UCC, which she found "perfect for [her]".
This 12-month programme — or 24 months for part-time students — is composed of four separate historical themes: medieval, media, Irish and international. Here, students are grounded in a range of topics important to the development of our world as we know it. These include revolution and regime change, cultural heritage, Ireland's relationships and encounters with the wider world, identity and nationalism, radicalism and social unrest, war and pace, and more.
So far, Angelica is enjoying her time at UCC — which is in large part due to the opportunity to learn from such prominent historians. However, these same staff members make the same efforts to maximise every student's learning experience. They do so by adopting a student-centric approach to teaching through small class sizes and maintaining an approachable atmosphere about the school.
"UCC's School of History staff are wonderful and always willing to answer any queries," she shares. "I have really appreciated how involved they are in promoting history in the community."
Sheila Hanley a student at UCC, adds that it is this student-first approach that allows her to explore topics that stem from individual interests. "On a personal level, I wanted to be part of a collaborative environment where students are encouraged to pursue their academic interests," she says.
Sheila is pursuing the MA in International Relations. This is a one-year programme that explores the contemporary world through the lens of the past. It explores issues surrounding war and peace, the international order, international crises, counter-insurgency, terrorism and foreign policy.
"For those hoping to explore international relations theory in conjunction with broad, thematic consideration of contemporary affairs, the MA in International Relations offers a compelling course of study," says Peter Prindiville, a former student now working at Georgetown's Office of Government Relations as Manager of Strategic Initiatives.
"The combination of taught modules and dissertation also allows for practical application of course content to areas of particular interest. This range of intellectual activity over the course of only one year — theory, contemporary affairs, and research — makes for quite the fulfilling experience."
Career readiness is central to an education at the School of History. The MA in History offers students the option of work placement within media, heritage, or publishing roles in the private or public sectors. The MA in International Relations does so through a dissertation component, where students conduct research on a topic of their choice.
They are surrounded by a multicultural environment with bright-minded students from all over the world. "I appreciate being surrounded by peers who are working toward careers in the International Relations field," says Sheila. "My classmates come from a variety of academic and cultural backgrounds which adds to the invaluable learning experience."
Living in the heart of Cork city, listed in the "Lonely Planet" guide as one of the top 10 cities in the world to visit, enriches this experience further. At this "liberal, youthful and cosmopolitan place," "happily traditional" dimensions add loads of charm, from the Irish and the buildings likewise, to this bustling university city with no shortage of contemporary facilities.
The whole of Western Europe are just a short flight away from Cork's International Airport. The unspoilt landscape of the Wild Atlantic Way just minutes away from campus too.
The result of such great features? Happy, fulfilled graduates who go on to work in government and civil service, trade, industry, non-governmental organisations, investment, international organisations, diplomacy, the media, and academia.
"At UCC, I have the opportunity to greatly expand my International Relations knowledge," says Sheila. "With this increased understanding of the field, I will pursue professional positions in research organisations or private sector companies that are in need of my unique skill set combining Intelligence — which I studied at the undergraduate level — and International Relations."