New Collaboration between UCC, RTÉ and the Department of Culture, Heritage and the Gaeltacht
New Collaboration between UCC, RTÉ and the Department of Culture, Heritage and the Gaeltacht
New Collaboration between UCC, RTÉ and the Department of Culture, Heritage and the Gaeltacht
The War of Independence on RTÉ History is a new online project that commemorates the centenaries of key events in the conflict. Over the course of 2020 and 2021 the site will offer accounts and explainers for crucial events from the formation of the First Dáil and the Soloheadbeg ambush, through Bloody Sunday and the Burning of Cork City right up to the signing of the Treaty in 1921 accompanied by image galleries and interactive maps.
The project is the product of a partnership between RTÉ, University College Cork /Atlas of the Irish Revolution and the Department of Culture, Heritage and the Gaeltacht. Since its launch in Dublin in 2017 the Atlas of the Irish Revolution has been widely acclaimed nationally and internationally for the scope of its vision and its original approach to research on the revolutionary years in Ireland. One of the objectives of the Atlas of the Irish Revolution project from the beginning was to engage digital learners with ongoing and innovative research and this new partnership provides a perfect vehicle for achieving these aims. while adding another significant layer to its outstanding achievement in terms of public scholarship. Minister for Culture, Heritage and the Gaeltacht, Josepha Madigan acknowledged the importance of the partnership 'I am delighted to see the fruition of this project, building on the great success of the Atlas of the Irish Revolution…It is a great example of what can be achieved through collaboration and partnership invested with creativity, credibility and experience' .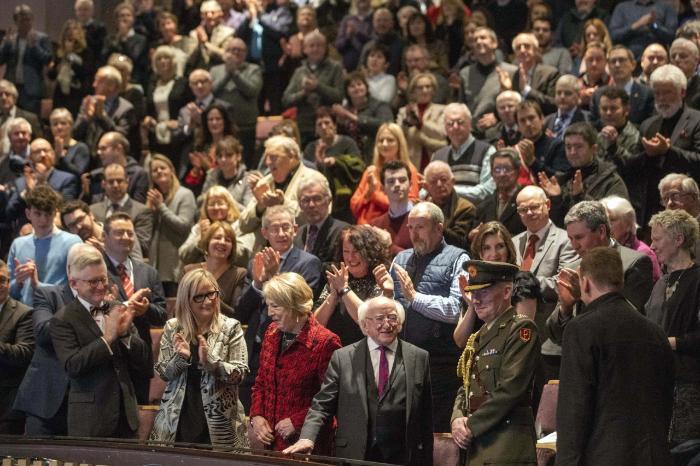 Fig. 1 President Michael D. Higgins and his wife Sabina, Patrick O'Shea, President of UCC and Dee Forbes, Director General RTÉ, attending a preview showing of the Cillian Murphy narrated three-part documentary series The Irish Revolution at Cork Opera House in 2019. The series was an RTÉ/UCC partnership.