HCI-Funded Sustainable Energy Courses
HCI-Funded Sustainable Energy Courses
UCC Taught PG programmes in Sustainable Energy for applicants with 'EU' fee status
At UCC we have a suite of postgraduate options available to Sustainable Energy applicants. Some options can be applied to via the Springboard+/HCI platform who currently provide 90%/100% funding to EU applicants who meet their eligibility criteria.
See our HCI page for more information.
It is possible to build on each route from Microcredential to PG Certificate, PG Diploma and MEngSc in Sustainable Energy:
Click here for more information on course content and eligibility requirements for these programmes.
The following tables and diagrams summarise and help to visualise all these options and the type of time effort that corresponds to the University credits being done (just note that the modules in the various cases are not necessarily all the same).
UCC Taught Postgraduate Programmes in Sustainable Energy
| | MEngSc in Sustainable Energy | PG Diploma in Energy Innovation for Zero Carbon |
| --- | --- | --- |
| Credits | 90 Credits | 60 Credits |
| Duration | 12 months full-time | 12 months full-time |
| Time Requirement | Approx. 40-50 hours per week | Approx. 33-45 hours per week |
| Attendance Requirement | Regular attendance required | Attendance required 1 afternoon/week |
| Research Project | Includes research project done in UCC | - |
| Work Placement | - | Includes 12 week work placement |
| Prerequisite Qualification | Level 8 degree (no Level 8 mathematical content requirement) | Level 8 Engineering or degrees with Level 8 mathematical content only |
| Fees | €6,500 (No HCI support) | €8,000 - HCI Covers 90% |
| Progression Options | - | Can progress to Masters in following year (respective fees required) |
| | PG Certificate in Offshore Renewable Energy | Microcredential in Wind and Ocean Energy Conversion |
| --- | --- | --- |
| Credits | 30 Credits | 10 Credits |
| Duration | 12 months part-time | 9 months part-time |
| Time Requirement | Approx. 13-25 hours per week | Approx. 7-8 hours per week |
| Attendance Requirement | 2 hours every other week | 2 hours twice per semester |
| Work Placement | Includes 12 week work placement | - |
| Prerequisite Qualification | Level 8 Engineering or degrees with Level 8 Mathematical content only | Level 8 Engineering or degrees with Level 8 mathematical content only |
| Fees | €5,000 - HCI covers 90% | €2,000 - HCI covers 90% |
| Progression Options | Progress to Diploma and Masters in following year (respective fees required) | Progress to Certificate and Diploma and Masters in following years (respective fees required) |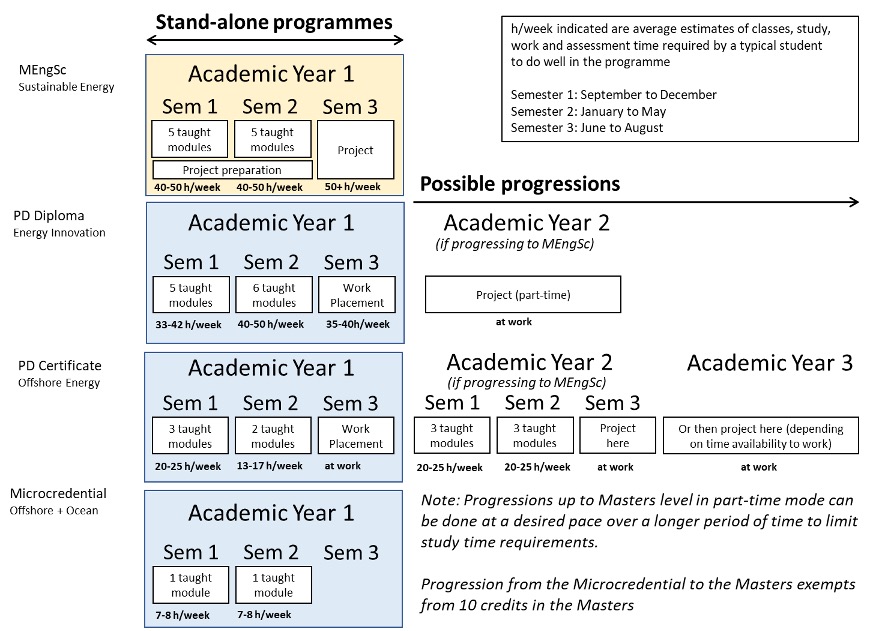 Contact
If you have any queries please contact me:
Jorge C. Oliveira, PhD, CEng, MIEI
Head of School of Engineering and Architecture
Useful Links