India
India
FAQ's for Indian students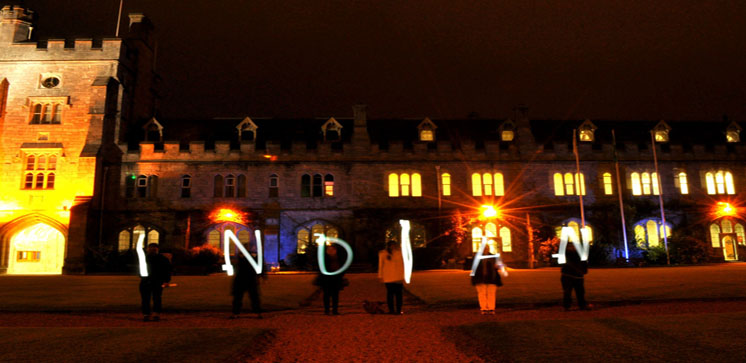 Why Choose Cork, Ireland?
Cork, Ireland's second largest city, is buzzing with energy, friendly with a cosmolitan flair that feeds great minds.
Ireland is the 9th most popular destination for US study abroad students and has been within the top 10 for several decades.
Ireland is the second largest exporter of computer and IT services in the world. With a highly creative and talented workforce, an open economy and a competitive corporate tax environment, Ireland has successfully attracted 8 of the top 10 global information technology companies to establish a significant presence here.
More Videos
Useful information about life in Cork, from flights, public transport, shopping, safety, entertainment can be found by clicking the International Office Website
Why Choose University College Cork, Ireland
Welcome to UCC
Established in 1845, University College Cork has a beautiful, intimate and vibrant campus. UCC is a place of history, as well as amazing facilities. It stands right in the heart of the compact city of Cork, with its 1,500-year cultural heritage and 21st century lifestyle. Both are safe, secure and have real edge, and provide the perfect environment to succeed and excel.
Some convincing reasons why you should consider Computer Science at UCC
University College Cork - 5 Times Irish University of the Year
An extensive range of highly ranked undergraduate and postgraduate courses

A highly respected university in the top 2% of universities in the world

Computer Science is based in the purpose built Western Gateway Building fitted out with modern laboratories with the latest hardware and software

A well rounded student experience with first class facilities and services

Excellent student services and peer to peer support throughout your time at UCC to ensure your success

Highly respected faculty and research staff, who contribute both nationally and internationally in their chosen research fields as well as representatives on national and international committees and boards

A truly international student and alumni community that you will be part of for life, with over 130,000 UCC alumni worldwide

Career guidance and support with an exceptionally high number of graduates securing employment within three months of graduation

A vibrant student experience, with over 100 sporting clubs and societies to choose from

A beautiful campus that is recognised by Tripadvisor's site, Flipkey, as one of the top-40 'must-see' universities in the world

Our performance across various global rankings and accreditations is testament to the quality of our degrees and calibre or our teaching, research and student experience
Postgraduate Programmes At University College Cork
Postgraduate Programmes at University College Cork
We offer the following internationally recognized 12-month MSc programmes, each of which consists of two semesters of taught graduate level courses followed by a major individual project/dissertation. You can find information on each course including entry requirements, modules, hours of study, assessment etc.
In addition, students can select the Higher Diploma in Applied Computing Technology as a route into industry or as a stepping stone to apply for one of our MSc programmes.
Semester Dates for 2019-20 including Christmas and Easter Recess can be accessed at: https://www.ucc.ie/en/registration/dates-procedures/
Entry Requirements, Fees, Scholarships and Visas
What are the entry requirements?
MSc Data Science and Analytics: 2H1
MSc Computing Science: 2H1
MSc Interactive Media: 2H2
UCC Bachelor of Arts/Science/Comerce/Professional Bachelor Degree grade required:
1H, is equivalent to:
a grade of 75%+ (where an Indian university first division is awarded at 60%) or a GPA of 3.7 / 4.0 or 8.5 / 10.0.
a grade of 80%+ (where an Indian university first division is awarded at 65%) or a GPA of 3.7 / 4.0 or 8.5 / 10.0.
2H1, is equivalent to:
a grade of 66-74% (where an Indian university first division is awarded at 60%) or a GPA of 3.2 /4.0 or 7.5 / 10.0.
a grade of 70-79% (where an Indian university first division is awarded at 65%) or a GPA of 3.2 /4.0 or 7.5 / 10.0.
2H2, which is equivalent to:
a grade of 60-65% (where an Indian university first division is awarded at 60%) or a GPA of 2.7 /4.0 or 7.0 / 10.0.
a grade of 65-69% (where an Indian university first division is awarded at 65%) or a GPA of 2.7 /4.0 or 7.0 / 10.0.
Further details at International Education Office
How do I apply for taught postgraduate programmes?
Apply via UCC's application system.
Do I need a visa to register as a student in Ireland?
Visa application
Indian students require a visa to come to Ireland. Visas can take up to 8 weeks to be approved if applying by post. The lead time is shorter if you live near an Embassy or Consul. Link to Embassy of Ireland - India. Ireland has also Honorary Consuls in Mumbai, Bangalore, Kolkata, Chennai and Colombo.
Further information can be found on the UCC International page: Before you arrive, Visa and Immigration
How will I know if I have received a place?
Once you have submitted all the relevant documentation, your file will be forwarded to the School of Computer Science and Information Technology for review; a decision is usually made within two to three weeks.
What are the fees and scholarships for Non-EU students (2020-21)?
Tuition Fee (2020-21): €18,130. https://www.ucc.ie/en/financeoffice/fees/
Scholarships
The International Student Merit Based Scholarship is automatically awarded to all students based on undergraduate grade awarded as follows:
€1,000 based on a UCC 2H2
10% off of tuition fee based on a UCC 2H1
20% off of tuition fee based on a UCC 1H
Additional information on Scholarships available to International Students can be found here.
Do I have to pay a deposit to secure my place?
Accept your place on the CRM Recruit System.
You will then receive an offer letter with your offer.
A deposit of €2,000 is required to secure your place; you must pay it within 21 days of receiving your offer.
Working in Ireland after Graduation
Once you have graduated, you are entitled to work in Ireland for one year
Legally resident non-EEA third level graduates are allowed to remain in Ireland for the purpose of seeking employment and applying for a green card or work permit. This scheme allows students with a minimum of a Bachelor and Master degree the opportunity to work in Ireland for a period of time after graduation based upon the level of their degree. Information on working in Ireland
Guide to salaries in Ireland
Career Service at UCC
The Career Service at UCC offers great support for students seeking employment. You can book an appointment for a free consultation; receive regular email alerts on job opportunities; meet companies at industry specific roadshows etc. For more information on the UCC Career Service, click here.
Our Student Voices
Alex tells us about his experience as an international student (from India) living in Cork and studying at UCC.
Ankita shares her memories of UCC and tells us about her work at Intel Securities in Cork.
John and David initially studied the Higher Diploma in Applied Computing Technology which provided each of them an entry route to the MSc Computing Science.
The MSc in Interactive Media provided Laura with the skills to re-direct her career to gain entry into the IT industry.
You can also read some of our graduates' fascinating stories on our Computer Science Blog Posts
The UCC International Students Blog Posts will give you further insight into life at UCC, Cork, Ireland.
The IT Sector in Ireland
The technology sector in Ireland directly employs over 105,000 people, with 75% employed in multinational companies and the remainder in the indigenous digital technology sector.
Ireland is home to:
10 of the top 10 global technology companies
9 of the 10 global software companies
5 of the 5 top security software companies
3 of the top 3 enterprise software companies
3 of the top 5 games companies
4 of the top 5 IT services companies
The top 10 'born on the internet' companies (Source: ictireland.ie)
The report indicated that skills shortages include ICT software developers, cloud, databases/big data, testing, security, technical support, networking and infrastructure.
"Driven by the continued growth of Ireland as a global technology hub, as well as the spread of digitalisation across all sectors of the economy, demand is forecast to grow at 8.5% annually, generating potential job openings of almost 73,000 during the period 2018-2022. " Tony Donoghue, Chair of the Expert on Future Skills Needs (EGFSN), March 2019.
"Ireland has made a good job of building a proto-Silicon Valley. By attracting global high-tech names to the country, it provides a high-tech hinterland in which smaller companies can grow...a whole ecosystem of support." Ben Rooney, The Wall Street Journal Europe.

UCC Indian agents and contacts
There are a number of Educational in Ireland, India Fairs run in New Delhi, Bangalore, Chennai and Pune. You can meet representatives from University College Cork and our Indian agents who can help you with your application.
International Offices - India
| | | |
| --- | --- | --- |
| Contact | Email | Telephone |
| Roy, Debalina | | +91 98740 75999 |
| Garigipati, Vaidehi | | +91 9891 755943 |
International Office UCC contact details
International Office, Roseleigh, Western Road, Cork T12 R229
Ireland
Email: internationaloffice@ucc.ie
Agents
A full list of agents working with UCC can be found here.