News and Events
News and Events
Terence MacSwiney, Cork Men's Gaol, and the Political Hunger Strike, 1920-2020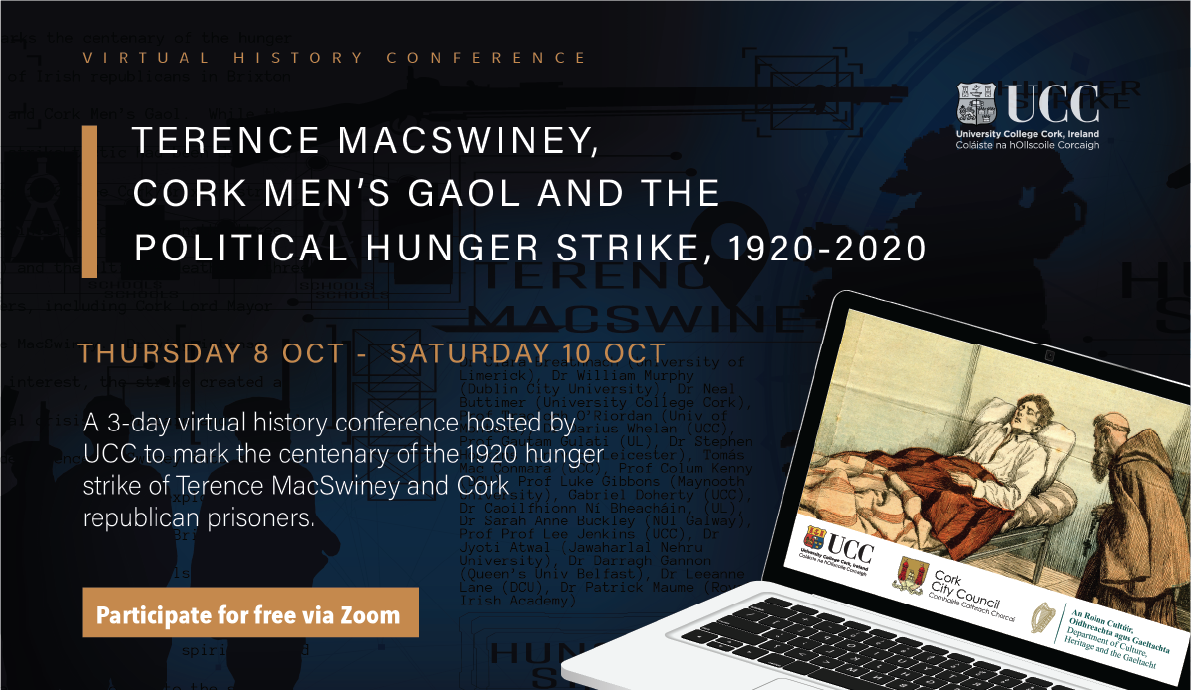 If you missed the virutal conference hosted by UCC School of History in October 2021, you can now view the proceedings online.
2021 marked the centenary of the hunger strike of Irish republicans in Brixton Prison and Cork Men's Gaol. While the hunger strike tactic had been deployed prior to 1920, the Cork/Brixton strike was distinctive for its length (three months) and the ultimate deaths of three prisoners, including Cork Lord Mayor Terence MacSwiney.
Drawing intense public interest, the strike created a political crisis in Britain and Ireland, and made Terence MacSwiney into a global figure.
UCC's virtual conference, held over three days in October 2021 explored various aspects of the 1920 Cork/Brixton hunger strike including the perils of force feeding, the medical and legal ethics of hunger strikes, cultural, spiritual, and international responses to the strike, and various aspects of Terence MacSwiney and the other Cork strikers.
If you missed the live conference you can now view the proceedings by clicking on the links below:
************************************
Conference Proceedings
Day 1
Part 1: Watch on YouTube
Introduction from Professor Chris Williams, UCC

Heidrun Mühlbradt, University of Goettingen: The Global Laboratory Ireland: Going on Hunger Strike
Meadhbh Murphy, University College Dublin: The Force in Force Feeding
Dr Tomás Mac Conmara, University College Cork: The Mountjoy Hunger Strike of 1917 and its effect on later hunger strikes
Niall Murray, University College Cork After the Strike: The revolutionary careers of Cork participants in the 1920 Wormwood Scrubs Strike

Dr Tomás Mac Conmara, University College Cork Continued.
Part 2: Watch on YouTube
Introduction from Dr John Borgonovo, UCC

Discussion: Dr Neal Buttimer, UCC; Prof Traoloch O'Riordan, University of Montana; and Íde Bríd Ní Mhurchú, Independent Scholar [Discussion held in Irish]

Dr John Borgonovo in conversation: 'Suffering the Most: The life and times of Tomas McCurtain and Terence MacSwiney' exhibit with Cork Public Museum curator Dan Breen; 'Citizen Nowhere' exhibit with Crawford Gallery curator Dawn Williams; and '74 Days' documentary film with director Ciara Hyland.
Day 2
Dr Darius Whelan, School of Law, University College Cork: Hunger Strikes in Prison: The Legal Issues
Dr John Borgonovo, University College Cork: The Cork Men's Gaol Hunger Strike of 1920
Gerard Shannon, Independent Scholar: 'Tell my people I want to be buried with Fitzgerald of Fermoy': The impact of Michael Fitzgerald's martyrdom on Liam Lynch
Prof Colum Kenny, DCU: To 'live for Ireland': Arthur Griffith, Acting President of Dáil Éireann 1919-1920, and the End of the Cork/Brixton Hunger-Strike
Síobhra Aiken, NUI Galway: Reclaiming the 'The Women's Weapon' in the Testimonial Fiction of Female Revolutionaries
Prof Luke Gibbons, Maynooth University: The Hunger Strike and Literary Modernism
Dr Caoilfhionn Ní Bheacháin, University of Limerick: Time, Memory and Contested Narratives: The Case of Séan McCaughey (1946)
Dr Stephen Hopkins, University of Leicester: The Hunger Strike as an 'Obsolete Weapon'? The Internal Debate within Irish Republicanism after 1920

Dr Sarah Anne Buckley, NUIG, in conversation with Gabriel Doherty, UCC; Prof Lee Jenkins, UCC; and Dave Hannigan, Suffolk County Community College
Day 3
Prof Brian Girvin, University of Glasgow: Confronting Empire: Mohandas Gandhi's Use of the Hunger Strike as a non-violent revolutionary strategy
Prof Jerusha McCormack, Trinity College, Dublin/Beijing Foreign Studies University: Staging the Revolution: Terence MacSwiney and Guo Moruo
Dr Jesse Harrington, Cambridge University: Indo-European, Pagan, or Christian? The pre-modern origins of fasting as a form of protest
Dr Darragh Gannon, Queen's University Belfast: 'Inside the "British" Cult of Terence MacSwiney
Gerry White, Independent Scholar: The Diary of Annie MacSwiney and the Brixton Strike
Dr Leeanne Lane, DCU: The hunger strikes of Mary and Terry MacSwiney, 1920-1922
Dr Patrick Maume, Royal Irish Academy: Terence MacSwiney, Daniel Corkery and the Cork Dramatic Society: civic drama and social transformation
Dr Fiona Brennan, Independent Scholar: A Hunger for Literary Fame: Terence MacSwiney's Dramatic Legacy
Dr Will Murphy, DCU: The 1920 Brixton and Cork hungers strike in context