Chapter 5. The Aftermath of the 1916 Rising
Chapter 5. The Aftermath of the 1916 Rising

British reaction to the Easter Rising was unrelenting across the country. Despite the fact that rebel activity had largely been centred on Dublin, martial law was proclaimed and extended across Ireland.
Fifteen rebels were executed in a nine day period between May 3-12. Roger Casement was later put to death in Pentonville Prison, August 1916.
The executions provoked public outrage with particular anger directed towards the British following the executions of William Pearse – who many feel was put to death simply because he was the brother of Pádraig Pearse, Major John MacBride – who had played no part in planning the Rising but had previously attracted British hostility during the Boer War, Joseph Plunkett – who was gravely ill and James Connolly – who had been badly injured during the Rising.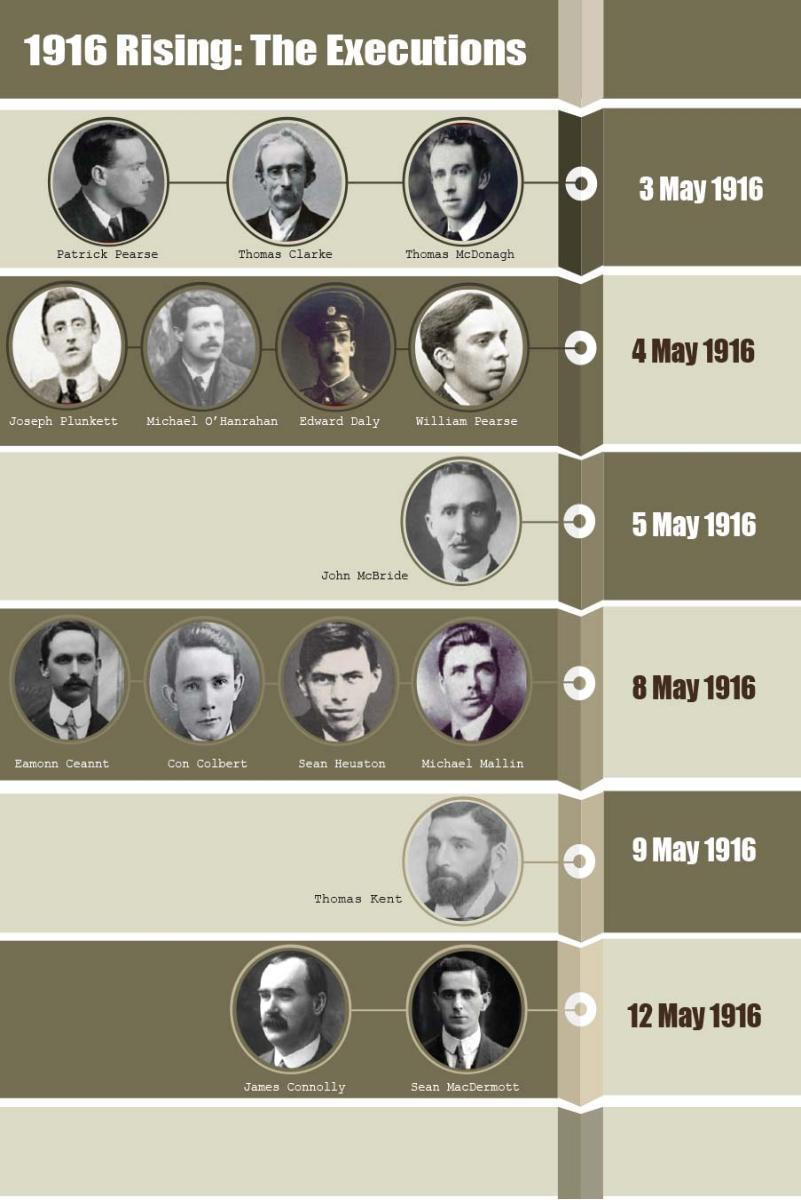 Allied to the fate of Francis Sheehy Skeffington, the well known pacifist and writer who was murdered during the Rising, public opinion was quickly turning to one of support and sympathy for the rebels.
In the House of Commons, John Dillon of the Irish Parliamentary Party denounced British policy and summarised the changing public mood:
"In the whole of modern history… there has been no rebellion or insurrection put down with so much blood and so much savagery as the recent insurrection in Ireland."
Subsequent funerals and masses for the executed, the return of released internees and the funeral of Thomas Ashe following his hunger strike in September 1917, became big occasions of public demonstration and clearly demonstrated the vast change in public sentiment that occurred in the months following the Rising.
Read More about the 16 men executed after the Easter Rising, from their biographers in the '16 Lives' series by O'Brien Press.
Read about the Press Reaction to the 1916 Rising in this article by Ian Kenneally and this project by Alan McCarthy