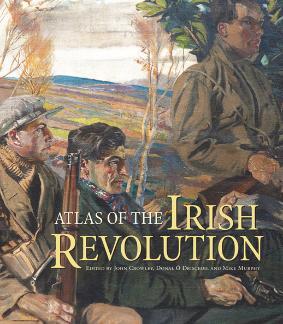 The publication of the Atlas of the Irish Revolution in 2017 provided a wealth of new perspectives on the Irish revolutionary period. Its thematic essays and case studies by over 100 scholars are accompanied by photographs, documents and, most significantly, over 300 original maps.
Created by UCC cartographers Mike Murphy and Charlie Roche, these maps present trends and topics relating to the Irish revolution in forensic cartographic detail. Readers can trace the extent to which location and the physical landscape played a role in the War of Independence and in the Civil War that followed.
Inspired by the public interest in the historical geography of the revolution, the Atlas of the Irish Revolution team continue to publish map-based articles on the irishrevolution.ie for both the scholar and the interested casual reader.
As the Decade of Centenaries continues, we will release maps from the Atlas of the Irish Revolution contextualised by UCC historians, as well as new maps based on ongoing research into the military, political and social aspects of the Irish Revolution.