December 5-11, 1916
December 5-11, 1916
Each week, we look back at what was "in the news" the same week 100 years ago – as reported in the Cork Examiner in 1916.
By Nicola Stathers
Tuesday, December 5, 1916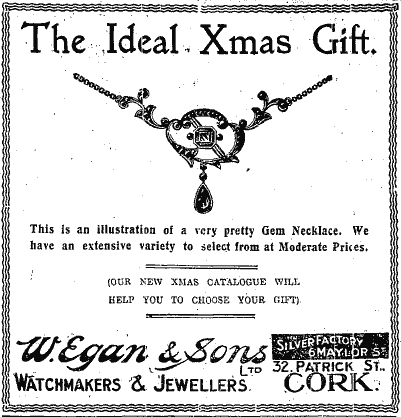 Irish Prisoners in Frongoch
The Dublin Corporation today appointed Alderman Thomas Kelly, O'Neill and Sherlock to visit Frongoch Camp, to investigate the condition of the Irish prisoners interned there.
Wednesday, December 6, 1916
The official announcement made last night that Mr. Asquith had tendered his resignation to the King – though such a possibility was indicated in various quarters – must, nevertheless, come as a great surprise to many.
….It may be worthwhile to recall the principal allegations that have been made against the Coalition, which stands indicted for gross all-round incapacity. As far as Ireland is concerned, it is scarcely necessary to dwell on the subject…
Thursday, December 7, 1916
South Kerry Sea Fisheries
The South Kerry sea fisheries have not yielded satisfactory results in any department during the past week or so, though the weather has been favourable enough with a calm sea during most of the time. Here are there a few thousands of generally small-sized mackerel have been had and a few hundreds of herrings.
Friday, December 8, 1916
Caint na Daoine – weekly Irish language tutorials on common topics. This week: Toothaches and Tooth removals.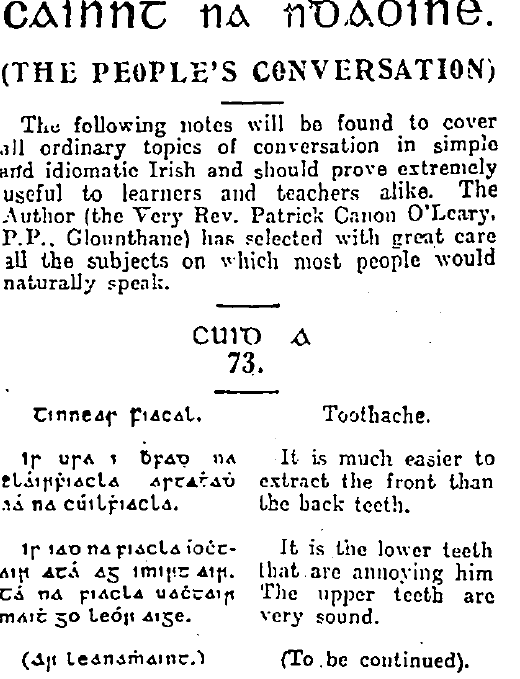 Saturday, December 9, 1916
Shackleton Expedition – Wellington
The Aurora, commanded by Captain Davis, is sailing on the 16th for the Ross Sea to the rescue of the members of the Shackleton Expedition, who have been marooned there for many months. Sir Ernest Shackleton is on board, and will take charge of the land operations.
Monday, December 11, 1916
Gaelic League and Politics
At a recent meeting of the Council an application for the use of the hall for Irish classes was granted unanimously, and he thought it his duty then to express the hope that no contentious subjects would be introduced, and that the classes would be used solely for the teaching of the Irish language, and he stated his reasons.
Arising out of the discussion, he had read a report of a meeting of the Cork Gaelic League. In reply to their invitation, he would say that so far as the country was concerned, he did not feel called upon to show that what he stated was pure fact. The people had long since ceased to regard the Gaelic League as what it was – non-political and non-sectarian. They looked upon it as what it appeared to be to-day – one of the most intensely political organisations and a libel on the language movement of 20 years ago.