February 22-27, 1916
February 22-27, 1916
Each week, we look back at what was "in the news" the same week 100 years ago – as reported in the Cork Examiner in 1916.
By Niall Murray, the Irish Examiner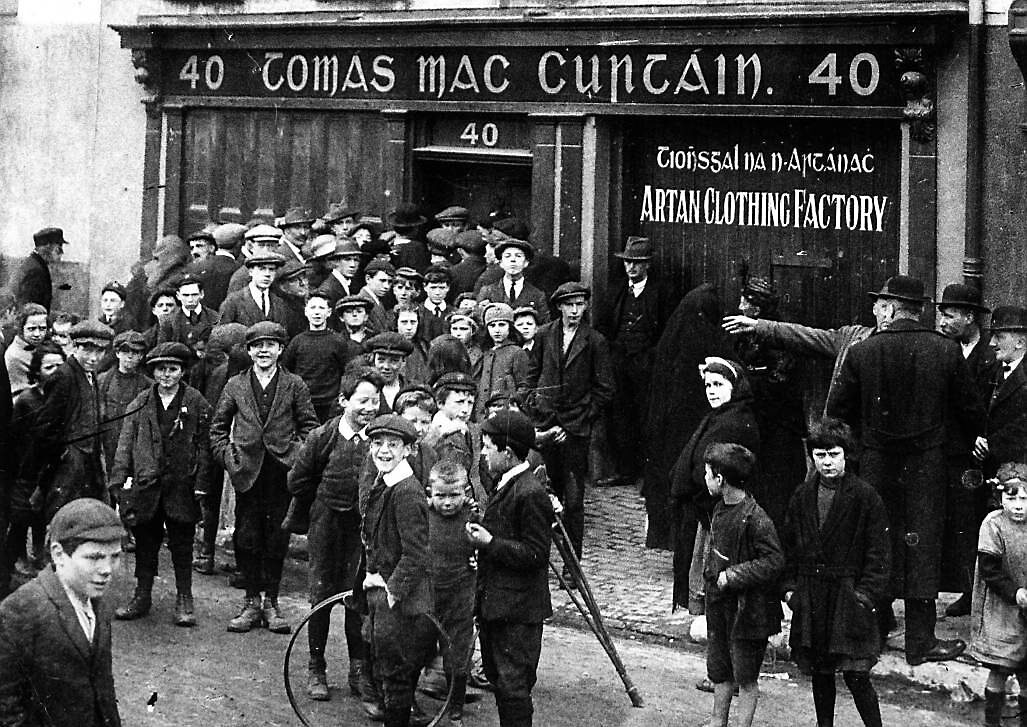 Monday, February 21, 1916
RESTRICTION OF PAPER | IMPORTANT NOTICE
To Readers of the "Examiner."
It is expected that the Government proposals, which entail heavy curtailment of supplies to newspaper owners and others, will be shortly enforced. This will necessarily lead to a reduction in the size of newspapers, and no waste of any kind on the printed editions can be permitted. Agents and Vendors will, therefore, be good enough to exercise the most rigid economy in ordering present supplies.
Tuesday, February 22 1916
KILLARNEY PRIEST VOLUNTEERS
Rev. Donal O'Sullivan, Professor, St. Brendan s Seminary, Killarney, has volunteered as chaplain to the forces.
COUNT BERNSTORFF U.S. INDIGNANT.
New York, February 20th.
All the morning newspapers indicate their displeasure with big headlines, and many practically accuse Count Bernstorff of having turned the German Embassy into a publicity bureau for the purpose of influencing American sentiment into pro-Teutonic channels, through the systematic giving out of misleading statements.
The "Herald's" Washington correspondent says—Threats that a certain Ambassador will be sent home if the unfair Press propaganda does not cease are made by an official who is in a position to make such threats good.
The ambassador's dismissal could have thrown the Rising plans into disarray. Count Johann Heinrich von Bernstorff was the diplomat in New York who was relaying messages to Berlin of the required arrangements to supply guns for the Irish Republican Brotherhood's planned Rising at Easter.
Wednesday, February 24, 1916
This ad is for one of the family businesses of Tomás MacCurtain command-ant of the Irish Volunteers Cork Brigade, and his brother Seán. Tomás took on the flax mill, factory and shop at Thomas Davis Street in Blackpool the year before, and it was there he would be shot dead by police as Cork's Lord Mayor in March 1920, in front of his wife Elizabeth.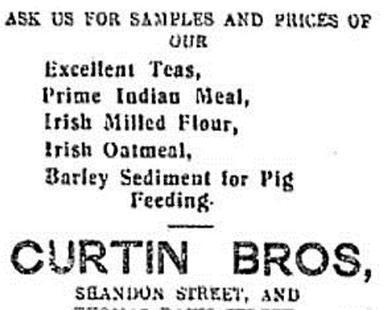 Friday, February 15, 1916
THE WOMAN OFFICIAL (From to-day's "Daily Chronicle").
Paris, Thursday.
Much has been written about the employment of women in private offices and businesses in France, as well as in the capacity of ticket collectors on the Metropolitan railway and in tram cars. The movement has gone much further than this, however. In the Government offices in public and municipal administrations...the employment of women is being more and more generalised. Not merely as heretofore as copyists or shorthand typists, but as recognised officials occupying posts requiring personal initiative and responsibility. In this sense the war has wrought a veritable revolution here.
The opening of such situations to women has, it is said, given excellent results... They have introduced a happy change from the impersonal mechanical conceptions of their work, which their male predecessors too often displayed.
Saturday, February 26, 1916
PEACOCK LANE
Tomorrow, as has been announced in our advertising columns, the annual Charity Sermon in aid of St Mary Magdalen's Asylum, Peacock Lane. will be preached by the Rev. Father Matthew, O.S.F.C. By the help of contributions of the Cork people, and by the work of the inmates, this institution has been able to carry out a most noble and meritorious charity for more than a century.
Not in the News
Some more of what we now know was being done 100 years ago this week by those planning — or who would play a role in — the 1916 Rising.
Compiled by Nial Murray, the Irish Examiner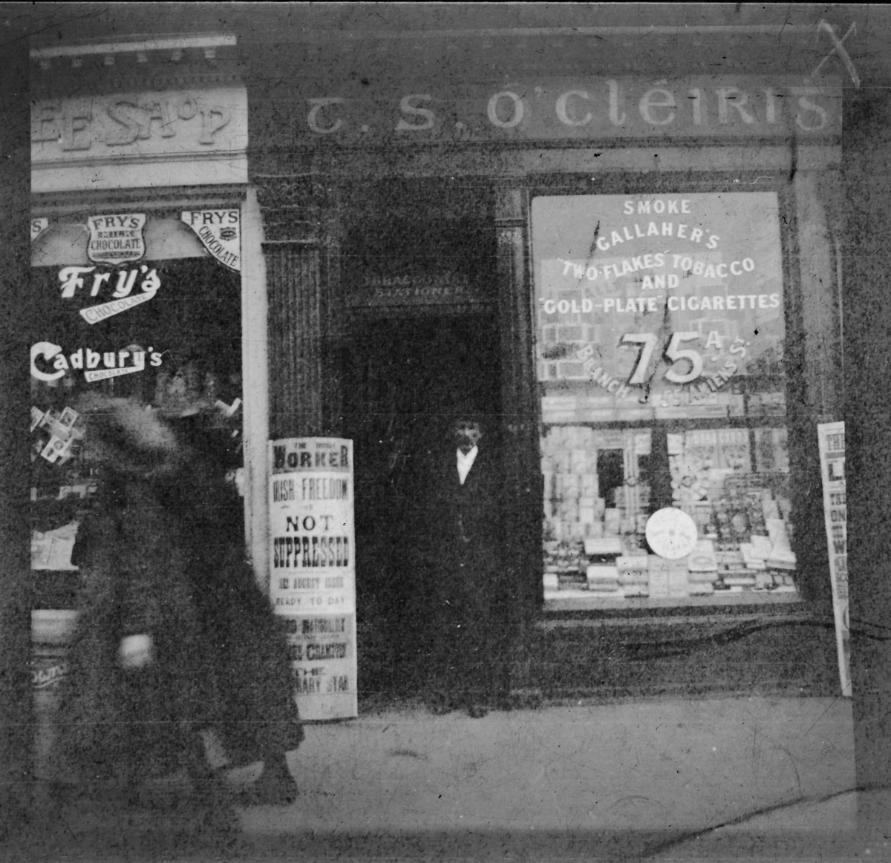 Tom Clarke seen outside his shop at 75a Parnell Street. [Photo: Courtesy of the National Library of Ireland, Tom Clarke and Kathleen Clarke Papers, 1890-1972, NLI Ref.: TC 13]
Following the slap on the wrist of a one-shilling court fine for Irish Volunteers full-time organiser and publisher of Fianna Fáil newspaper Terence MacSwiney, concerns were raised in the mind of the RIC Inspector General Neville Chamberlain about the organisation's growing influence. "Already, as exemplified by the action of Justices at Cork Police Court, who though no Sinn Féiners dismissed charges brought against Irish Volunteers under the Defence of the Realm Regulations, which were clearly proved, they appear to have acquired more influence," he wrote in a report to Dublin Castle in March. MacSwiney had been charged with making a speech likely to cause disaffection to the King and hostility to His Majesty's Government at Ballynoe, Co Cork, on January 2, and with having a cypher capable of conveying military or naval information at his home in the city's Victoria Road when he was arrested 11 days later. Liam de Róiste, a Cork city Irish Volunteers activist and friend of MacSwiney recorded in his diary: "The 'popular' magistrates knew they dare not convict, if they would retain popularity." The case against Thomas Kent of Castlelyons, Fermoy, relating to the event at Ballynoe was adjourned for a week.
The shop of veteran Fenian Tom Clarke at Parnell St in Dublin was visited by Edward Daly, and Seán MacDiarmada, Clarke's co-conspirator on the Irish Republican Brotherhood Military Council that had already set Easter Sunday on April 23 as the date for the Rising to start. The Irish Volunteers headquarters at 2 Dawson St, Dublin, were visited by four of the men who would be executed after the Rising: Eamonn Ceannt, Seán MacDiarmada, Thomas MacDonagh, and Michael O'Hanrahan. Also attending meetings there, according to Dublin Metropolitan Police detectives, were Volunteers founder Bulmer Hobson, James Whelan, Herbert Mellows, and Thomas McCarthy. McCarthy was an organiser for the growing armed militia, and had spent several weeks helping to set up and organise Volunteers companies in Co Cork in late 1915.
Gaelic League offices at 25 Rutland Square (now Parnell Square) were the location of a meeting between Michael Joseph O'Rahilly, Seán T Ó Ceallaigh, Seán McGarry, and Patrick Pearse. O'Rahilly, known as 'the O'Rahilly', would later be killed after being shot in a laneway off Moore St after the evacuation of the GPO in the later stages of the Rising.
Police saw Tom Clarke leaving Dublin, possibly on his way to recuperate in Limerick from a gunshot wound received accidentally at the end of January. (The DMP believed his lengthy absence from his under-surveillance shop had been due to a cold.) Clarke also met on this date with Seán MacDiarmada, also planning the Rising with him, and IRB Supreme Council member Diarmuid Lynch who had helped identify Fenit in Co Kerry for the proposed landing of German guns. Clarke's shop was visited by his aide, Seán McGarry — the man who shot him a few weeks earlier — and by Con Colbert and Edward Daly, two others who would be executed after the Rising, along with Clarke.
An article in The Gael, one of the 'mosquito press' being closely monitored by police, said "Remember England holds you in slavery by having a few policemen in every village. See that there is man for man at least… the time is short, perhaps too short."
James Connolly was seen leaving Dublin by train by DMP detectives. This may have coincided with a trip he made to Belfast around this time, where he told local members of the Irish Volunteers: "It is a mistake to fight only in the country — fight in the towns," pointing out that there would be a plentiful food supply in urban areas. One man there, James Smyth, told the Bureau of Military History in 1949: "I believe that the main purpose of the lecture was to impress on the Belfast Volunteers the imminence of an armed rising taking place."
100 Irish Volunteers carrying guns and pikes marched up and down several times during a recruiting meeting at Stuake near Donoughmore, Co Cork. Police reported a crowd of 40 people stood cheering "Up Sinn Féin". Earlier, freshly-posted anti- recruiting notices were found, advising a boycott of the British Army and carrying a copy of the Bishop of Limerick's 'notorious letter' saying Irishmen have no interest in the war.
60 Irish Volunteers interrupted a military recruiting meeting at Moycullen, Co Galway, forcing their way through it. The leader was prosecuted under the Defence of the Realm Regulations and jailed.
DMP reported "about 150 Sinn Féin Volunteers" assembling at 41 Rutland Square, under command of Edward Daly and Joseph McGuinness. Some of the original documents from which these accounts are based include:
Sources
Bureau of Military History (BMH) witness statements, and the BMH timeline, both accessible on the Military Archives website: www.militaryarchives.ie ( @dfarchives )
Dublin Metropolitan Poice (DMP) 'Movement of Extremists' files, digitised and uploaded to the National Archives website: www.nationalarchives.ie ( @NARIreland )
Monthly reports of the Royal Irish Constabulary (RIC) inspector general and county inspectors, accessed on microfilm at the special collections department of University College Cork's Boole Library