January 24-30, 1916
January 24-30, 1916
Not in the News
The preparations for rebellion, and intelligence reports by adversaries 100 years ago this week.
Compiled by Nial Murray, the Irish Examiner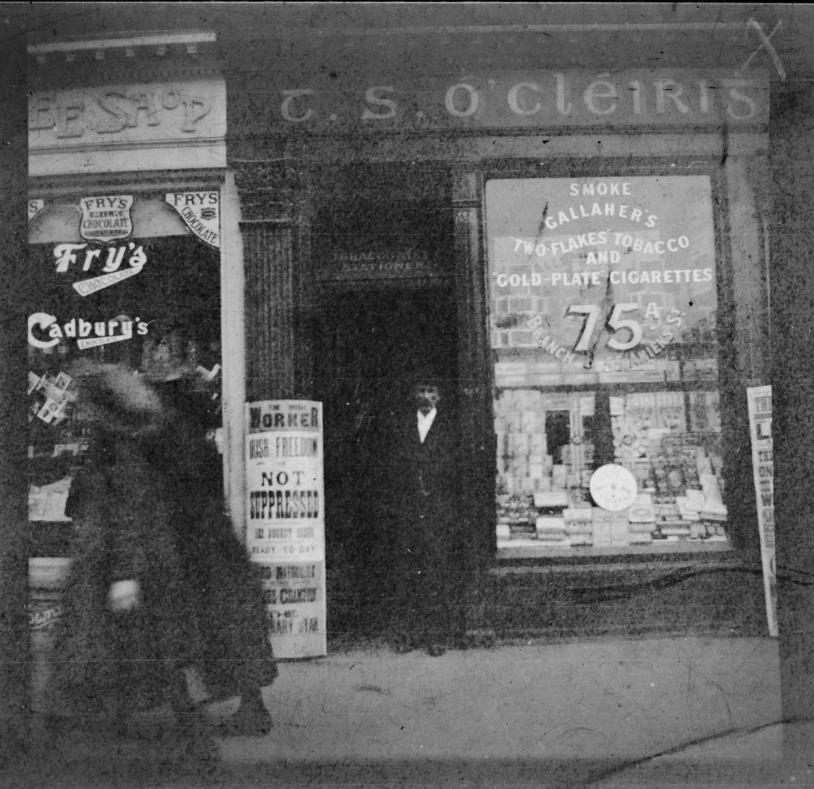 Tom Clarke seen outside his shop at 75a Parnell Street. Photo: Courtesy of the National Library of Ireland, Tom Clarke and Kathleen Clarke Papers, 1890-1972, NLI Ref.: TC 13
Monday, 24 January, 1916
The shop of Thomas J Clarke at 75 Parnell St in Dublin's north inner city was visited by Con Colbert (one of 16 men executed after the Rising, along with Clarke), CJ Kickham, Diarmuid Lynch, Ned Daly (also later executed), James J Buggy, MW O'Reilly and Joseph McGuinness.
In retrospect, the reports from constant surveillance of the premises by the Dublin Metropolitan Police (DMP) make clear how much of the planning was going on, particularly by senior IRB members like Lynch and others, and Clarke's fellow members of the secret organisation's Military Council, which by this date had selected Easter weekend as the date for a rising.
At Irish Volunteers headquarters in Dublin's Dawson St on this date were Herbert Mellows, Michael Joseph O'Rahilly, George Irvine, Patrick Ryan, Proclamation of the Republic signatory Thomas MacDonagh, (opinions vary on whether he was on the IRB Military Council at this stage), Éamon de Valera, Éamonn John Duggan, WT Cosgrave, and Con Colbert.
55 Irish Volunteers were drilled in 41 Parnell Square, Dublin. IRB Military Council member Seán MacDiarmada, executed as a leader of the Rising and Proclamation signatory in May 1916, was among those present, according to the DMP.
By the end of January, the inspector general of the Royal Irish Constabulary (RIC), Neville Chamberlain — not to be confused with a future British prime minister — estimated the Irish Volunteers had 7,187 members outside the capital.
Although still seen by him as a small force by comparison with other nationalist societies, membership had grown by 830 in the provinces that month, with 23 new companies formed in Munster alone.
Police were aware that they had amassed about 3,730 firearms, almost half of them rifles, but was not overly concerned about their intentions.
"It is probable that a great many of the Irish Volunteers merely joined in order to avoid military service, but the leaders, and many others, bitterly hate British Rule and would no doubt do anything to weaken and embarrass England in the present struggle, if they thought it would serve their purpose," Chamberlain wrote in his report for January 1916 to government officials in Dublin Castle.
*****
Wednesday, 26 January, 1916
With Eamonn Ceannt in the chair at a meeting in Dublin, the Irish Volunteers' central executive agreed "to remind Volunteers of their obligation not to part with their weapons but with their lives, and of the desirability of keeping their weapons in safe, but accessible places'
Among those seen attending the Volunteers headquarters by Dublin Metropolitan Police were Irish Citizen Army leader James Connolly (only days earlier, he had been brought into the Military Council of the Irish Republican Brotherhood, who were planning the Rising.)
Also present was North Cork man Thomas Hunter, an IRB member who was in charge, with Thomas MacDonagh, of the Irish Volunteers Dublin Brigade 2nd Battalion.
After the Rising, he was sentenced to death but instead interned, later becoming a member of the first Dáil for Cork North East in the 1918 election.
*****
Thursday, 27 January, 1916
'About 40' Irish volunteers under the command of Joseph McGuinness and John Milroy marched and assembled, according to police report.Friday, January 28 1916
*****
Friday, 28 January, 1916
Tom Clarke's shop was seen to be visited by, among others, Francis Sheehy-Skeffington. (The wrongful execution of the pacifist and journalist on orders of Captain Bowen-Colthurst in Portobello barracks during the Rising was depicted in a recent episode of RTÉ television drama, Rebellion.)
*****
Sunday, 30 January, 1916
DMP reported that James Connolly and Countess Markievicz were seen leaving Liberty Hall with 10 members of the Citizen Army carrying rifles.
In his end-of-month report, the RIC's county inspector for West Cork told superiors in Dublin he believed Ireland's exclusion from army conscription has dealt the Irish Volunteer movement in the area "a death blow". By his estimation, however, there were almost 600 members in its 15 companies.
Most had been established in the previous six months, largely down to the full-time organising work of Terence MacSwiney and fellow members of the city brigade setting up and drilling new branches in rural towns and villages.
"It would have been formidable, and very dangerous had it become popular and strong in numbers. It is now I believe a hopeless minority, and a more or less ridiculous one at that. It will nevertheless always be a movement worth careful watching, subsidised as I believe it to be, by German money, and composed, as I also believe it to be, of fanatics, more or less sincere.
"There are at present a number of its members from this Riding, the exact number we have not yet ascertained, but probably about twelve, undergoing a special course of instruction in military subjects in Cork, at the hands of J.J. O'Connell. Was B. List suspect no. 23.
"What the subject of this man's lectures are we cannot say, but if it inlcudes such subjects as "bombing", it is easy to imagine what a danger to the community his pupils may eventually be."
.
Sources
Files from the Dublin Metropolitan Police 'Movement of Extremists' files, on which some of these details based, are uploaded daily to the National Archives of Ireland website: www.nationalarchives.ie (@NARIreland on Twitter).
Many original documents from the period, including some used in this diary, are available at in the Bureau of Military History witness statements and Military Archives timeline: www.militaryarchives.ie. See @dfarchives on Twitter.
Other information came from RIC Inspector General and County Inspector reports held on microfilm in University College Cork's Boole Libary Special Collections - @theriversideUCC