Over 1,000 marched from Cork Villages and Towns
Over 1,000 marched from Cork Villages and Towns
Irish Volunteers were trailed around Cork by Royal Irish Constabulary on a miserably wet Easter Sunday 1916, writes Niall Murray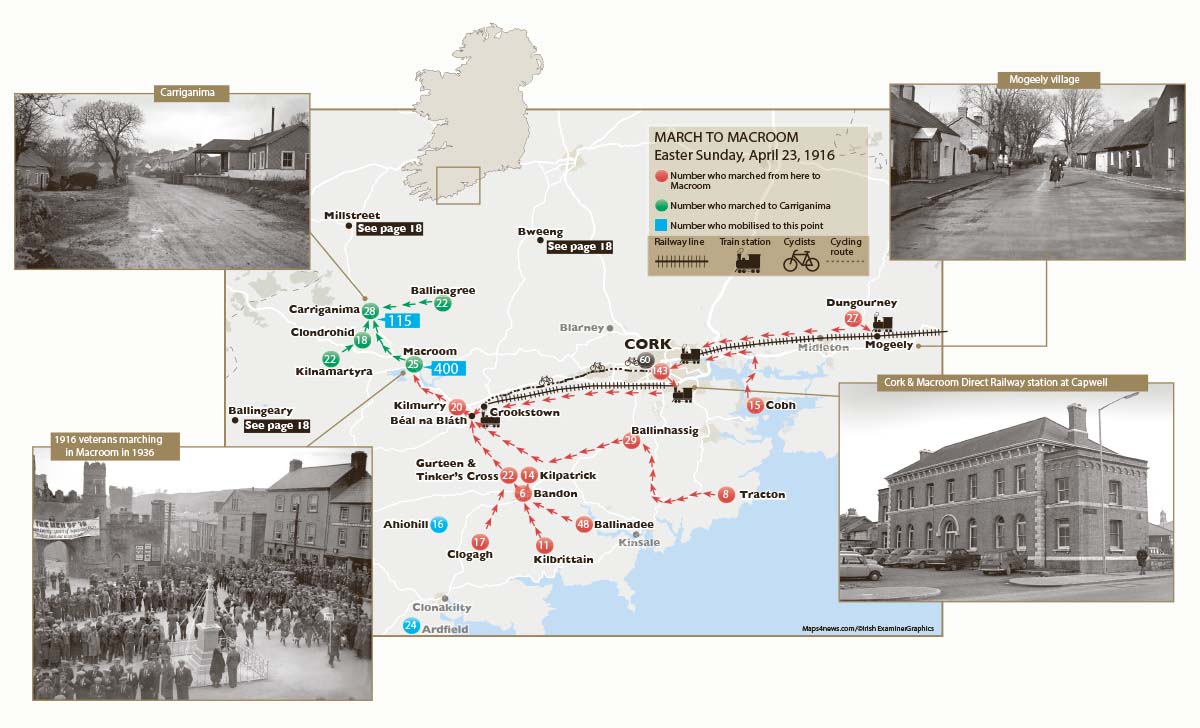 THE first men to mobilise in Cork were the 13 who left Cobh (then Queenstown) on Saturday afternoon, soon after hearing from local harbour pilots about a German ship being sunk in the outer reaches of Cork harbour.
They walked to the city and were followed on Saturday night by two colleagues on bicycles.
The news given by Cobh's Irish Volunteers company captain Mick Leahy to Brigade commandant Tomás MacCurtain that evening confirmed that the shipment of arms had failed.
Men from the city battalion of the Irish Volunteers had begun assembling at the Volunteers Hall on Sheares Street in the inner city on Saturday evening. Already, the streets outside were packed with police, as the Royal Irish Constabulary (RIC) was well aware of the planned national series of exercises, advertised in the Irish Volunteers weekly newspaper earlier in April.
Most ordinary Volunteers were unaware there was a plan to collect guns, never mind that those weapons would be used to help support or to take part in a national insurrection. However, by this stage, the word of the failed arms landing was already confirmed to MacCurtain and his vice-commandant Terence MacSwiney.
A report in Saturday morning's Cork Examiner said a boat was seized in the early hours of Good Friday, carrying "a large quantity of arms and ammunition", and "a stranger of unknown nationality" had been arrested nearby.
The details were a little flawed in the early stages, but came as little surprise to the Volunteers command in Cork, who had already learned of developments from Fred Murray's account picked up on his way back from delivering dispatches along the Cork-Kerry border.
"Considerable sensation was caused in Tralee this evening - by the announcement that, a collapsible boat containing a large quantity of arms and ammunition was seized about four o'clock this morning at Currahane Strand by the Ardfert police," wrote the correspondent of events in the early hours of Good Friday.
Despite the intended secrecy, Tomás MacCurtain's briefings about the planned mobilisation to Cork brigade and battalion officers in the weeks after Pearse's general order left many in little doubt that the Easter exercises would coincide with the long-rumoured arrival date for German- supplied guns, and that British forces might try to confiscate them just as quickly.
All companies around the county were under instructions to mobilise on Easter Sunday with all available arms, full equipment and two or three days' rations. For men in some Cork companies, the notion that there just might have been something more than lengthy exercises planned could have been strengthened by suggestions in the Volunteer Hall on Saturday night that they get confession.
Nearly 30 men arrived from Dungourney to the city by train at 8.30pm, having evaded police questions about their movements as they boarded the Cork-Youghal service at Mogeely carrying shotguns, pikes and military equipment. The east Cork men bedded down on straw on the hall floor overnight, while the commanders pondered whether to go ahead with the mobilisation or not.
At around 6am, joined by more than a handful of members of Tracton company, the Irish Volunteers of Ballinhassig set out on a cross-country march, initially for Béal na Bláth, a crossroads where various routes joining mid-Cork to the south and west of the county converged.
They would meet there by Béal na Bláth, picking up another 22 men of the Gurteen and Tinker's Cross and Clogagh companies on the way at Tinker's Cross. This band of over 130 men were trailed by RIC sergeant Michael Deegan from Bandon as far as Farnivane, where Sergeant Tom Lawless replaced him, until shortly after the Volunteers passed the Ballinhassig and Tracton men at Béal na Bláth.
As they passed Kilmurry RIC barracks two miles further along approaching midday, a fresh police tail was employed, and followed the entire mobilisation at a short distance all the way to Macroom.
In his instructions to Tom Hales, MacCurtain gave him the impression there might be an effort to disarm or disband the mobilisation, and Kilmurry was spelt out as a destination that must be reached at all costs.
On Easter Sunday, 1916, the city battalions also passed through Béal na Bláth, taking a train from the Cork & Macroom Direct Railway's city terminus at Capwell (now a depot for the city's Bus Éireann fleet.)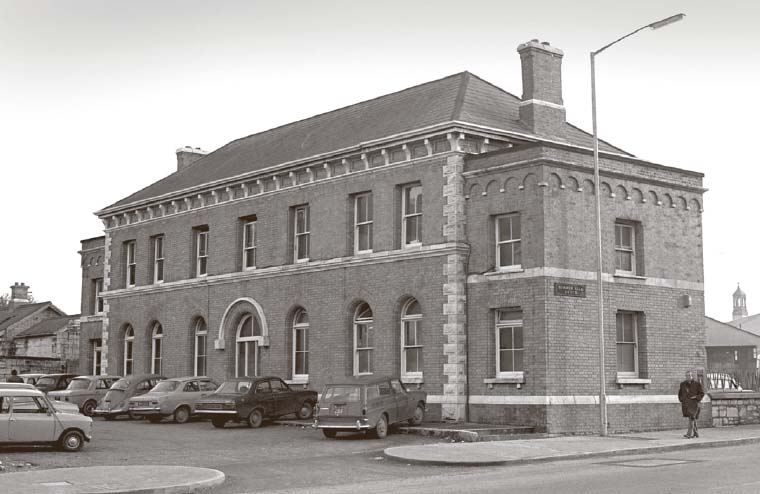 Cork and Macroom Direct Railway Station at Capwell [Photo: Irish Examiner Archives]
More than 130 of them got off almost 45 minutes later at the station east of Crookstown village. From there, they took the circuitous route by walking the two miles to Béal na Bláth, before marching two miles more, uphill to Kilmurry.
By that stage, MacCurtain and MacSwiney had already arrived by car to Béal na Bláth where they informed Brigade communications officer Pat Higgins, travel- ling with the Ballinhassig Volunteers, that the mobilisation was to be cancelled on reaching Macroom.
The brigade commanders then left again, in a bo rowed car driven by David O'Callaghan from Courtbrack, before the city Volunteers under their battalion commandant Sean O'Sullivan arrived.
Higgins told O'Sullivan of the new orders as more than 350 armed Irish Volunteers congregated in Kilmurry village sometime between 1pm and 2pm, where some from the Bandon battalion had midday mass while waiting for the rest to arrive, joined by 15 of the local Kilmurry company.
Some of them had travelled earlier in the day to Carriganima, between Macroom and Millstreet, where the entire city and ac- companying Volunteers were originally intended to camp overnight.
The growing column was joined on the onward march to Macroom by around 60 members of the city battalion's cyclist corps, as well as some of the east Cork cyclists, whose delayed departure meant they got to late morning with men of the Bandon battalion under command of Tom Hales of Ballinadee, one of the best- organised companies in the country since its formation early the previous summer.
Their 48 men assembled at around 8am on Bandon Bridge with counterparts from Kilbrittain and Kilpatrick companies, and the town's small company of six.
From there they walked to Crookstown after the earlier Volunteers passed through. A smaller number of cyclists travelled the more discreet northern Lee Road through Coachford and Dripsey to avoid being halted by police as they had rifles strapped to their bicycles.
As they arrived into the square in Macroom around 4pm, Easter Sunday had turned from what was forecast to be a fabulous sunny day into an afternoon of unrelenting rain. It may have come as a major relief to most of what was now a group of around 400 when, probably after some short drilling, Sean O'Sullivan gave the dismiss order.
Most were able to travel home by train to Cork city or beyond, others took shelter in Crookstown and Béal na Bláth district before walking home Monday morning, or stayed over- night in the Volunteer Hall in Cork ahead of the final leg of their journeys.
However, it was nearly dark on Sunday before companies assembled outside Carriganima were given orders to return home. Dan Corkery, officer in com- mand of what was then the Macroom area battalion had marched 25 of his men and the five from Kilmurry there for 12pm.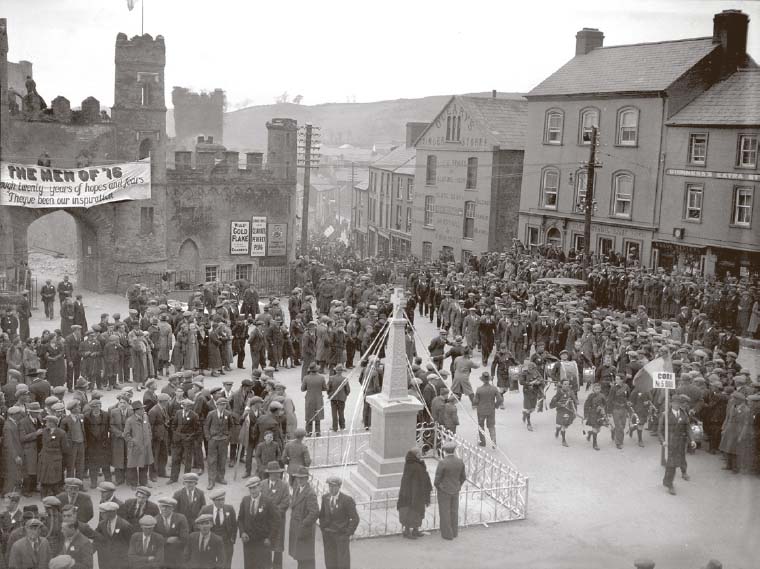 1916 veteran marching in Macroom in 1936 [Photo: Irish Examiner Archives]
There they met with those from Kilnamartyra and Clondrohid, Ballinagree and the 28 local Carriganima company who were under the charge of captain Páud O'Donoghue. For Ballinagree's 18 Volunteers who mobilised, the seven-mile distance to Carriganima was shortened by getting there cross-country.
At 9pm, Michael Lynch from Tracton — whose brother Diarmuid was a key figure in the logistics of the gunrunning plan from Dublin — arrived with MacCurtain's orders. He had been touring the countryside most of the day on a motor- cycle, with a sidecar full of explosives which might have been employed to block roads or blow up bridges, had the plans gone as intended.
If the planned arms importation had gone to plan, and if all the Volunteers intended to reach Carriganima had made it to their destination, more than 500 men armed with nearly 200 rifles, over 250 shotguns, over 200 revolvers, more than 20lbs of explosive, and 60 pikes would have been assembled.
They would have been ready to pick up some of the Aud's 20,000 Russian rifles in the Millstreet-Rathmore area in the early hours of Easter Monday.
Instead, they returned home, ready to fight another day. And many would do just that in the years that followed, as parts of Co Cork from which most of them had come would later be some of the areas of bloodiest violence in the subsequent War of Independence.
Thsi article appeared in 'The Rising in the Regions' Supplement, published by the Irish Examiner on 21 March 2016