The next phase for rugby's rising star
Jack O'Sullivan has his eyes on the prize after fighting back from injury
In conversation with Adrian McGearty. Words by Jane Haynes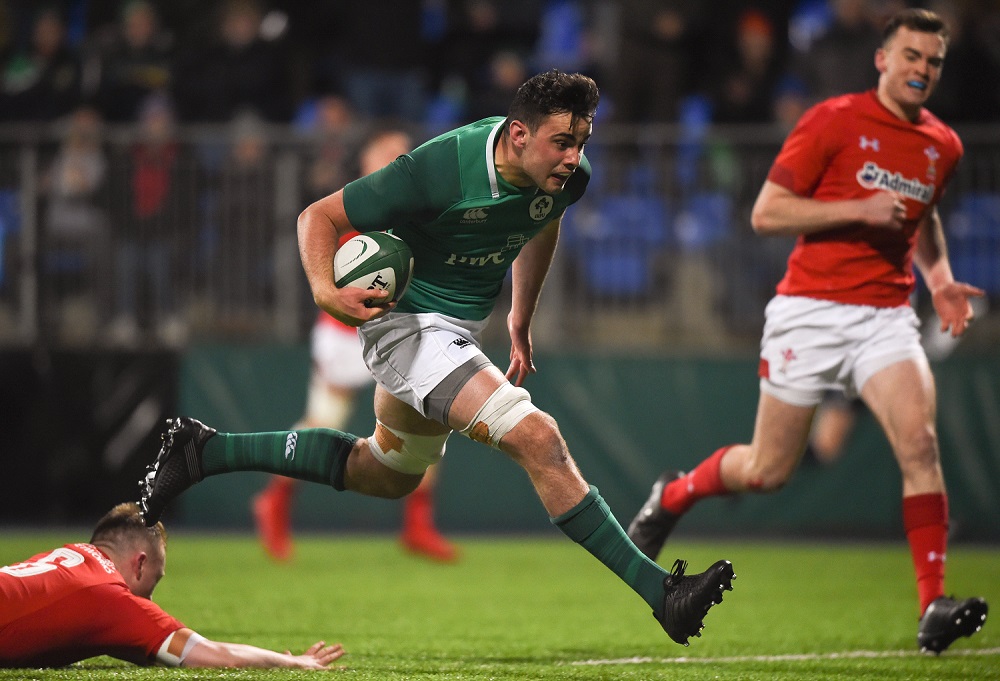 It's the mark of a great sportsman when, in the midst of praise of his personal achievements, he takes the greatest satisfaction from the successes of his team.
If you ascribe to this belief, then you'll surely agree that Jack O'Sullivan, second year Finance student and rising rugby star at UCC, is a shining example.
2018 was quite the year for Jack, a member of UCC's Rugby Club as well as the Munster Academy. His selection for Ireland's U20 Six Nations squad in the spring prompted excitement from fans and critics alike, with his performance in the tournament earning him two Man of the Match awards.
When we speak with Jack, however, he describes the plaudits as 'bittersweet'.
"It's hard, because I got Man of the Match against Wales, but we still ended up losing the game. Against Scotland, we still won the game but we didn't play great," he reflects.
"There is nothing like sharing a win, or winning with your teammates."
Jack would know all about reaping the rewards of hard work within a team. He first fell in love with rugby at the age of six, at Sunday's Well RFC, after being introduced to the sport by his father – himself, a fellow former number 8.
"You wouldn't see it, but the injured player is the first one in in the morning, and the last one gone in the evening, Monday to Friday. You're working harder than anyone else to ensure you come back" - Jack O'Sullivan
When the time came to move on, Jack followed the footsteps of many successful UCC rugby stars, to Presentation Brothers College. There, he was part of teams that won a Junior Cup, a Bowen Shield, and the coveted Senior Cup. Jack also represented at Munster youth teams during the summer where, as he says himself, the selectors 'get a real look at you'.
The Munster cohort liked what they saw, and Jack was welcomed into the Munster Academy, a wing of the club dedicated to 'preparing young players for life in and beyond professional rugby'. Now in his second year of the Academy, Jack has big ambitions for the year ahead.
"I want to be in the starting team. I want to win with Munster and try to cement my place on the Munster team," says Jack.
If the past few years are anything to go by, Jack is well on his way to realising those goals. Not only has he enjoyed success, but he has shown amazing dedication. As well as Munster and his international involvement, Jack has become a prized asset for UCC, where he describes his experience as 'brilliant'.
"I find you're developing two sides of the game from playing at UCC – with people your own age and a little younger – because you're just out of school and almost helping them as well," explains the Quercus Scholar.
"The team's form last year really helped me to improve my own game, because everyone else was playing so well around me. That's what got me onto the Irish squad, to perform in the Six Nations."
While success has characterised Jack's rugby career thus far, like any other player, it hasn't all been plain sailing. After the excitement of being selected for the Irish U20 World Cup squad last summer, he was dealt a crushing blow just a week before the tournament, when a cruciate ligament injury side-lined him.
"It certainly wasn't good timing, but recovery has been going well and I've some great people working with me," says Jack.
"You wouldn't see it, but the injured player is the first one in in the morning, and the last one gone in the evening, Monday to Friday. You're working harder than anyone else to ensure you come back. I've been working hard and keeping to plan, and hopefully I'll be back soon to hit the ground running."
Jack's positivity and resolve to focus on the positive is refreshing. So, too, is his acknowledgement of the people who support him daily, especially those helping him to find a balance between sport and study.
"There's no doubt that being up in Limerick with Munster and trying to study down in UCC is very tough," says Jack, joking, "I'm always getting an earful from my parents!"
"Michele [Power] and Elaine [O'Mahony] in Quercus, Jack Casey [Rugby Development Officer, UCC] – they have been very helpful...Then, in Munster, we have Marcus Horan, who works with all the players and helps you get through all those pressures. There is a great support team around me."
Looking ahead to getting back out on the field in 2019, Jack sounds off with his trademark positivity.
"We [UCC] have our first win, so I'm confident we'll have a good run of games. I would like to be back in January, and I hope to be playing in every game while I'm selected."
We don't doubt it for a second.
Follow this link for more information about the Quercus Talented Students' Programme.
Related articles
In this issue
By topics