UCC Springboard+: Kieran Egan
Kieran Egan shares how his experience on UCC's Springboard+ scheme has impacted his life and career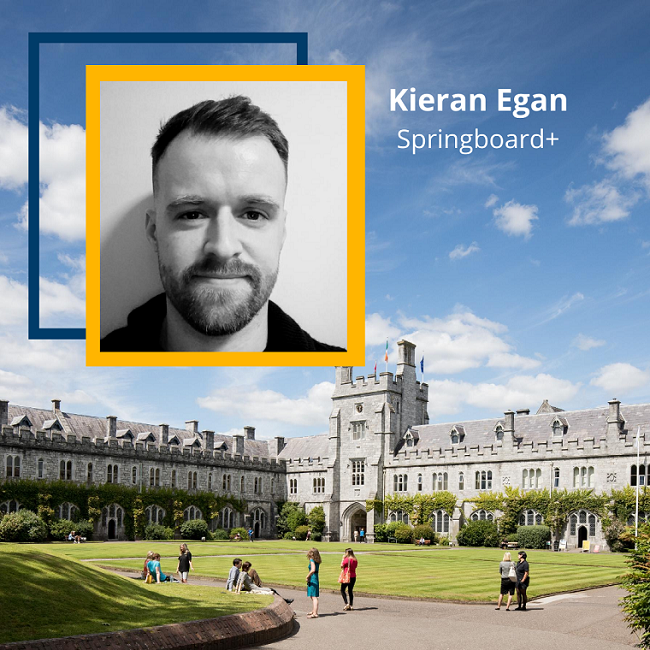 "Academic credentials do not define anyone's future, but they can open up opportunities. Opportunities lead to future job security, and, for me, job security gives me the ability to provide a good life for my family."
In 2018, Kieran Egan undertook the Level 7 Certificate in Operator Development in Advanced Manufacturing through UCC's Springboard+ scheme, which offers subsidised places across a range of industry-focused courses.
Having completed the Applied Leaving Certificate, Kieran spent a few months laboring for a local tradesman, before going on to begin an apprenticeship for what he hoped would lead to "a lifelong career in the mechanical plumbing sector". However, after spending over three years learning the trade, Kieran was laid off as a result of the economic depression.
"Unfortunately, I was not in a position to wait for employment in the construction sector to return; this is when I entered the manufacturing industry, where I have resided for the past eight years," he explains.
"I started off in the medical device sector, pharmaceutical, and have spent the past three years in bio-pharmaceutical."
It was during this time that he spotted advertisements for UCC's Springboard+ scheme, and enrolled in a one-year Level 7 course. While attracted by the course's broad syllabus and flexibility, Kieran – who works as Packaging Shift Lead in BioMarin Pharmaceutical – was ultimately drawn by how the course would help him progress in his career.
"I had been in an industry where I had gained a lot of experience and knowledge, but not so much of the technical knowledge that I would have liked. This is where the course was beneficial; in terms of giving me the theory behind the practices I was carrying out on a daily basis," says Kieran.
The biggest takeaway from the course, he says, was the knowledge he gained in relation to the procedures, practices and complexity involved in the manufacturing of pharmaceutical and bio-pharmaceutical products. In addition, he says it helped to push him outside of his comfort zone with regard to important skills, like presenting and public speaking.
"It helped me to develop those skills I was lacking," he explains, "and, ultimately, it helped me to progress both academically and personally."
Kieran graduated from the course with first-class honours, and says the experience has significantly impacted both his professional and personal life.
"The course has definitely played its part in my own personal development, in relation to the effectiveness of how I apply myself in my current role," he says.
"I have gained the knowledge to move forward within this industry, and the confidence to further progress my education. Most importantly, I've learned that no matter what age you are or how hectic one's life can be, it is never too late to commit to something that will ultimately make you a better person.
"Speaking from my own personal experience, not having completed the 'traditional Leaving Certificate' and not moving onto third level education until I was 28 was quite a daunting task.
"And yet, I not only completed the course with first-class honors, but also gained the confidence to keep pushing forward with my education and set the example for my children that, sometimes, just because you don't follow the 'status quo', doesn't mean you can't become the best version of yourself."
UCC is currently offering subsidised postgraduate and higher diploma places to those seeking to upskill, through Springboard+ and the Human Capital Initiative (HCI). For more information on how you can apply, please visit https://springboardcourses.ie/.
Related articles
In this issue
By topics