Top business talent share their secrets to success
Attracting a thousand-strong audience, the third annual CUBS Conference played host to world-class panellists and award-winning speakers.
Being tech-savvy, resilient in your field and agile to changing environments were listed as key qualities for work-ready graduates, by leading experts at this year's UCC CUBS Conference.
The conference, held in Cork Opera House on 13 March, played host to an audience of almost 1000 third-level students, business professionals and media personnel.
Now in its third year, the conference built on the success of previous years with a line-up of award-winning speakers and world-class panellists from the worlds of business, finance and technology.
Under the theme of 'Leading the Way', attendees enjoyed a day of inspirational graduate success stories as well as panel discussions on topics including sustainability, entrepreneurship and innovation in business.
The Emmy Award-winning Gina London served as host at the conference, with UCC alumnus and radio presenter Matt Cooper taking on the role of interviewer for the panel discussion portion of the day.
Keynote speakers included Microsoft's Regina Murray as well as Deloitte Partner Caroline O'Driscoll, who shared some nuggets of wisdom on success.
"Resilience, but also, being able to take a risk are important to success," said Caroline, who is also a co-founder of I Wish, an initiative set up to encourage female students to pursue careers in STEM.
"I also think it's important to go out of your comfort zone; challenge yourself, and the rewards can be astounding."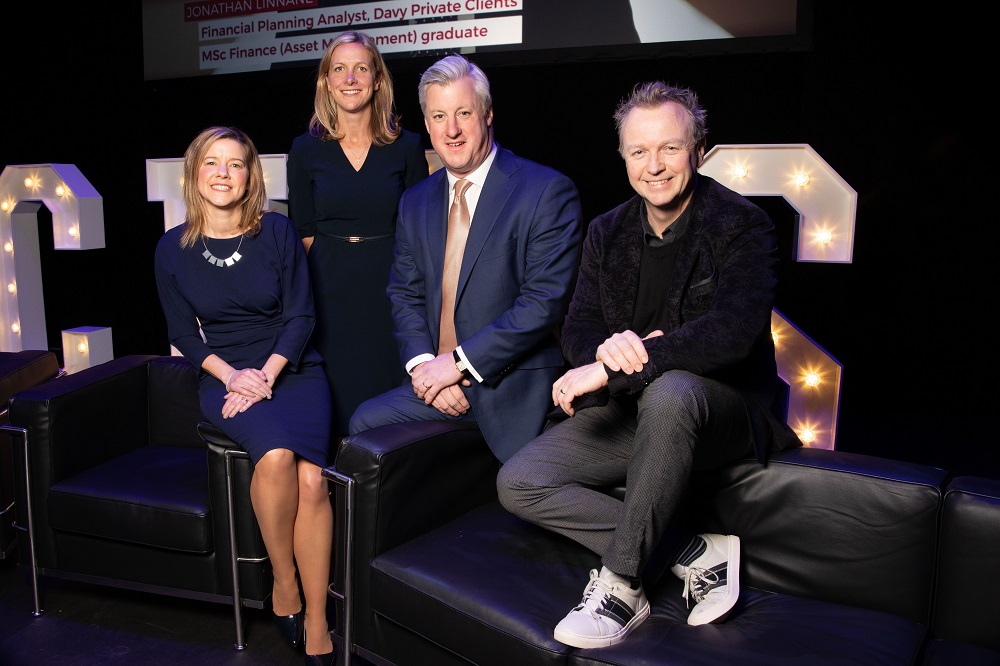 The importance of nurturing and encouraging student ability was explored by a panel including UCC's President, Professor Patrick O'Shea; Chairman of Bank of Ireland, Patrick Kennedy; Dean of CUBS, Professor Thia Hennessy; Jim S. Cunha of the Federal Reserve Bank of Boston, and Deloitte Partner Honor Moore.
Honor, who is a UCC alumna (BCommerce), identified confidence as being a key attribute in her own career journey.
"As a shy 17-year-old, I probably had to learn to be confident and to back myself, and to be confident in my own ability – that I was good at what I was doing," she explains.
Elsewhere during the event, experts including Pádraig Mallon of Kerry Group, John Curran of Musgrave, John Dardis of Glanbia, and Natalie Hodgess of Vodafone Ireland discussed the topic of sustainability in business.
"It's important to go out of your comfort zone; challenge yourself, and the rewards can be astounding" - Caroline O'Driscoll
The worlds of sports and psychology collided for the highly-anticipated afternoon segment, where a panel consisting of Rob Heffernan, Paul O'Donovan, performance psychologist Caroline Currid, and Bank of Ireland's Liam Sheedy explored the importance of entrepreneurship and innovation when changing careers.
The success of the conference comes at an exciting time for the school, following the opening of the UCC Centre of Executive Education in November, and the recent announcement that UCC has acquired Cork City's Trinity Quarter site for the development of a new business school.
Professor Thia Hennessy, Dean of CUBS, said: "The conference coincides with what is truly an exciting time in the development of the new Cork University Business School, with the news of our new building coming on stream in the last few weeks.
"This growth and expansion is hugely important to us, as we're seeing strong interest in our business programmes across the board, with enrolment figures expected to grow in the coming years and a lot of international students coming to study in Cork."
Follow this link for more information on Cork University Business School.
Related articles
In this issue
By topics