(Re)Sounding Holy Wells
(Re)Sounding Holy Wells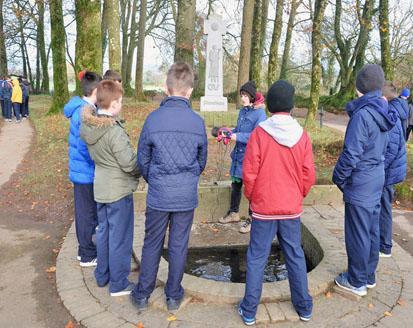 Primary school students explore St Fanahan's well, Mitchelstown, with artist Vicky Langan using hydrophones to access the underwater soundscape present new and impactful experiences of the space
(Re)Sounding Holy Wells
Building on community interest in pilgrimages and vernacular heritage, this innovative participatory project used audio methods to engage youth and adult groups in exploring holy wells in Cork to produce new understandings and appreciations of these features embedded in the cultural and natural landscapes.
The Challenge
Our research project presented an innovative approach for young people and communities to explore and appreciate their local holy wells. Using sound to consider these spaces, the participants came to know the springs in a fresh way, and learn about soundscapes all around us.
Across Ireland, on roadsides, seashores, and mountain passes, holy wells can be found as enchanting spaces where the Pagan, Christian, and natural blend together. Popular interest in these sacred springs is increasing with a resurgence in pilgrimage and local heritage activities. Aligning with this enthusiasm, the project used audio research methods and recordings to examine the histories and on-going social functions of four holy wells in County Cork. The project helped harness interest in these sites, explored them in new ways with different groups, and built on community capacities to appreciate and use these spaces as cultural and touristic amenities.
The project demonstrated how the holy wells and other places can be explored through the use of sound. This fresh and innovate method resonated strongly with participants, as it presented primary school students and communities with a distinct way of reaching new understandings of the sites. Participatory workshops enabled further discussion of the springs, situating them in their cultural context and examining their social and economic potential.
The Research
The collaborative project was led by Dr Richard Scriven, Department of Geography, UCC, and Vicky Langan, independent artist, who worked with 96 students from three primary schools and 55 adults in three community heritage groups to explore St Fanahan's well Mitchelstown; Tubrid, Millstreet; Trinity Well, Kinsale; and, St John's well, Carrigaline. It was funded by the Creative Ireland County Cork Grant Scheme under the community participation strand of the Creative Ireland Programme.
A foregrounding of audio recording as a creative research method enabled participants to generate new insights into the wells. The project deployed interactive workshops, with participants sharing stories of the local holy wells and discussing their future potential. Young people from local primary schools in Mitchelstown and Carrigaline made audio recordings, drew pictures, and took photographs at the holy wells. The students also gathered stories of the well from family and neighbours encouraging intergenerational discussions of the sites.
All of the workshops were recorded to preserve the oral histories and capacities of the springs to further benefit the community. The audio recordings made by participants have been used for creative outputs and developed by Vicky Langan as part of an artistic production.
The Impact
The project has had three distinct impacts:
1. The successful deployment of a participatory methodology centering on the use of audio recordings. A key pillar of the research was the utilisation of an innovative and creative methodology that blended audio and visual methods to harness community knowledge and co-produce new understanding. Additionally, the methodology progressed towards goals three and four of UCC's Civic Engagement Plan through a scholarly and creative approach, while the planned publishing of the project in the inter-disciplinary peer-reviewed journal, Qualitative Research will demonstrate the participative nature of the research. Cumulatively, this process facilitates and nurtures more diverse forms of engagements to work with communities and different stakeholders on issues of local and regional significance to foster capacities and encourage development.
2. Increased awareness around the historical, contemporary, and potential uses of holy wells as sites of local spiritual and cultural heritage. The research has produced fresh appreciations of the sacred springs by fostering communal and intergenerational conversations, and has enabled grassroots discussion on the uses of these spaces for local development. This impact occurs in a larger national and international growth of interest in pilgrimage and spiritual cultural heritage as community amenities and tools for rural economic growth. Across Europe, regions are pursing initiatives to replicate the success of the Camino de Santiago, including the creation of the Irish pilgrim paths network. Holy wells are increasingly valued as a sites embedded in the cultural and natural landscapes which can align with these larger developments. Feedback from participants illustrated the value of the workshops and the novel methods as catalysts for communal and civil society examinations of the springs.
The research content and approach feeds directly into my teaching on historical and cultural geography by enabling students to conduct similar work in small groups. Similar student-led research has produced a more active and impactful learning environment. This project provides a robust template for students to adopt in their own case study examinations, which have previously proven to be successful with Irish and international students as an applied means of studying cultural heritage. Additionally, the project works towards further partnership with local authorities in deploying a collaborative approach between community groups, practitioners, and university researchers which can foster cultural heritage as a tool to support rural life. Advancing an on-going relationship with the Heritage department of Cork County Council, the project team intend to complete more research on holy wells and their role as social and economic amenities.
3. Creative outputs to encourage further impacts. As a Creative Ireland funded project, there was a strong emphasis on artistic and innovative approaches and outputs. From its conception, the research was a creative venture through the leadership of Vicky Langan who devised the audio methodology. An initial output focus ensured the production of a short podcast and a project booklet (linked below) for distribution to the participants – these items feature materials generated by the communities and students in workshops. This priority advanced the participative nature of the research, ensuring the groups and schools received tangible outputs to help further their discussions.
Moreover, the recordings are being incorporated into Vicky Langan's ongoing performative and audio-based art. Her visceral style combines field-recordings with enactments and diverse spaces to present evocative and enchanting pieces. The recordings will also be develop for inclusion in an international audio arts festival. A reflective article on the creative aspects of the project is being prepared for the journal, Cultural Geographies.
Collectively, the project's impacts directly contribute to UCC's strategic goals two and three concerning research and discovery, and creative engagement on local issues by:
Developing and implementing a new methodology in-conjunction with civil society and youth participants. As well as receiving strong positive feedback from the majority of participants, the methodology will be published in an appropriate peer-reviewed journal.
Fostering partnerships with external bodies and groups. The involvement of community groups, schools, and a local authority were foundational to this project demonstrating the value and potential of future collaborations.
Demonstrably deploying an innovative approach to ensuring pathways of knowledge creation through external partnership with an artist, primary schools, community groups, and a local authority.
Pursuing a collaborative leadership model between a researcher and artist to further inter-disciplinary and creative research.
Attracting external funding from the Creative Ireland programme, a Government flagship initiative.
Producing a diverse range of creative and community-centred outputs, reflecting the audiences concerned.
For More Information
Provisional outputs of the project can be found here: liminalentwinings.com/resounding-holy-wells/
Contact/Twitter details
Dr Richard Scriven, Department of Geogrpahy, UCC: r.scriven@umail.ucc.ie / @RichardScrivGeo
Vicky Langan, independent artist: vickylangan.com / @vicky_langan
"We're having fun and checking out the sounds which are around us and in water; and, we're taking photos of the natural environment. We heard multiple sounds that we probably won't hear again."
Seán, Primary School participant