"Everyday Matters: Healthy Habits for University Life" Digital Badge
"Everyday Matters: Healthy Habits for University Life" Digital Badge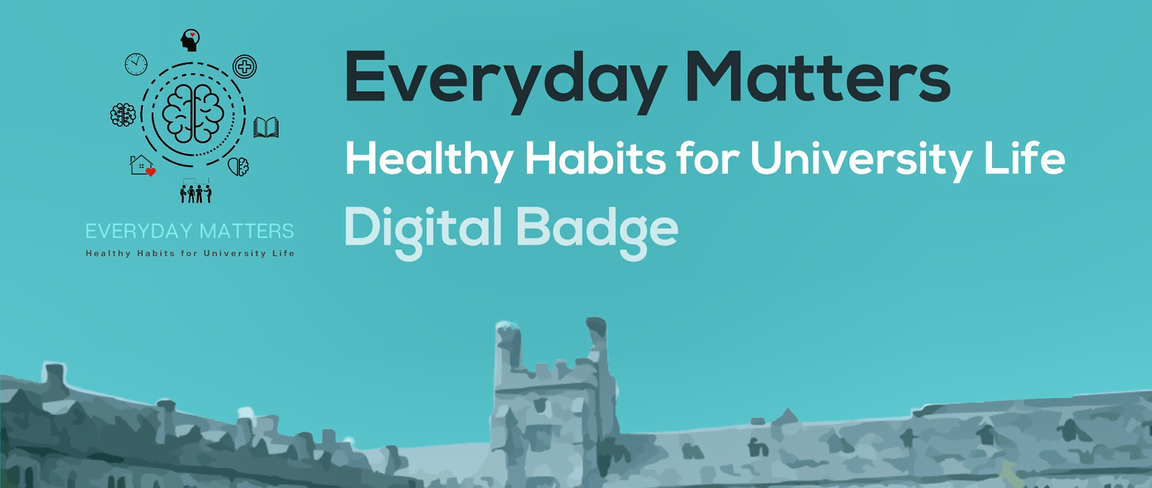 The 'Everyday Matters – Healthy Habits for University Life' digital badge will support you to explore some practical everyday things, based on the latest scientific research, that you can say and do to support yourself during this important time of your life and establish healthy habits and routines for your university lifestyle, enhancing your successful transition into and through higher education. This digital badge will enable you to explore how you spend your time across study/work, leisure, self-care and sleep and cultivate positive habits of mind including mindful self-compassion, growth mindset and joy & gratitude. You will learn about brain and body health, and how to create and maintain daily habits and routines that support physical and emotional wellbeing for learning and life.
The 'Everyday Matters – Healthy Habits for University Life' digital badge was one of two projects nationally to be highly commended by the prestigious Association of Occupational Therapists of Ireland Ann Beckett Award 2021. Here is some of what the judges said:
"It was a privilege to meet the participants who so openly shared their experiences of the Everyday Matters intervention and hear the positive impact it had on their university experiences. The use of words like 'transformative' so clearly emphasised the value of the intervention."
The first study of the 'Everyday Matters – Healthy Habits for University Life' digital badge, published in the Irish Journal of Psychological Medicine in November 2021, yielded statistically significant results relating to improved levels of wellbeing, self-compassion and growth mindset amongst participants.
Now we want to offer the Everyday Matters digital badge to even more students and see how it impacts their wellbeing. Will you join?
What previous UCC student participants have said about the 'Everyday Matters – Healthy Habits for University Life' digital badge:
"I found the programme gave me the opportunity to pause and take a breath and reflect on my college and personal experience. I found the content was extremely relevant to my own life. I could benefit from each session and apply the tools to my daily life."

"This year has been a tough one! However, through my participation in the Everyday Matters Badge I have built up some amazing skills to tackle most hardships."

"I love how this course was so smartly divided and guided us slowly through new small habits each week and approached different topics each week. This allowed me not to get overwhelmed and to improve different aspects of my life each week. It would have been harder to stay disciplined if it was too much all at once."

"This programme gave me a productive structure to spend time in the week trying to implement the lessens I had learned about earlier that week. I also liked the scientific evidence referenced throughout, this made the lessons easier to grasp."
About the badge developer:
The 'Everyday Matters – Healthy Habits for University Life' digital badge was designed by multi award winning occupational therapist and university lecturer Dr. Eithne Hunt, based on her doctoral research and further training in mindfulness, self-compassion and growth mindset and her extensive academic experiencing teaching students about daily activities and wellbeing.
Learning Outcomes:
Apply knowledge from published research to participant's own life
Analyse personal patterns of time use including study/work, play/leisure, self-care and sleep
Develop positive habits of mind (growth mindset, self-compassion, joy & gratitude)
Use a strategy for creating and maintaining healthy time use habits and habits of mind
The 'Everyday Matters: Healthy Habits for University Life' digital badge is delivered online over 8 sessions. There are two optional live online meet ups too, with separate meet ups for undergraduate and postgraduate students. You can expect to spend about one hour on each of the 8 sessions, at a time during the week that suits you best, with additional time for reading, watching videos, and preparing your short reflective paper at the end of the programme. Learner effort guideline is about 18 hours in total. All the materials are available on Canvas. Content will be released weekly at the beginning the of week. Past participants recommend setting aside about 1 hour in your weekly schedule to go through the content for that week.
Obtaining your Digital Badge Micro-credential:
You will need to complete the easy 5 item quiz at the end of each of the sessions. You will be required to submit a short reflective account of your learning from the digital badge. Submission is very straightforward as an assignment upload on the Canvas course. The word length will be 500 words. You will be asked to reflect on your most significant learning from the programme using Rolfe's (2001) reflective
model questions: what? so what? now what? This is not an exam and it is marked only on a submitted/not submitted basis.
Everyday Matters is available to:
Everyday Matters is available to all UCC students. Both undergraduate and postgraduate students have found it really enjoyable and beneficial