Drawing adapted from Dr Ronan O Rahally, showing left to right original Clarendon Building and extended Medical building as extended by Professor O Sullivan. Arrow indicates the junction of the extension with the old building.
‌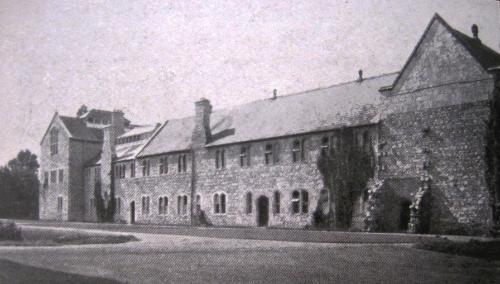 Medical Building after O Sullivan's extension. Note protruding blockwork ready for a proposed linking of the Medical Building to the Quadrangle. This work was never carried out and blockwork later removed.
The Anatomy Dissecting room, on the first floor, initially had three pairs of windows on the east side of the Clarendon Building, the extension involved removing a chimney and inserting five more sets of windows, creating a spacious and bright dissecting room. The British Medical Journal of 1879 refers to "the splendid anatomical room, which is 114 feet long, with capital light.1
"The Museum and medical library were located to the north of the building; the first floor of the museum which was a gallery was the location of the anatomical museum. The height of the southern end of the building was raised with the extension of the building.1
The internal arrangement of the building was altered over the years in response to pressure for space and to suit the changing needs of the departments. In 1907 a new dissecting was provided for the exclusive use of women medical students. The gallery anatomical museum was converted into a temporary drawing office. The north end of the dissecting room was partitioned off for a number of years and used by the department of pathology. The museum was converted into a medical library and the anatomical museum was relocated to the north end of the dissecting room. The original two lecture rooms at the southern end of the building were converted to one large lecture theatre, which is still used today.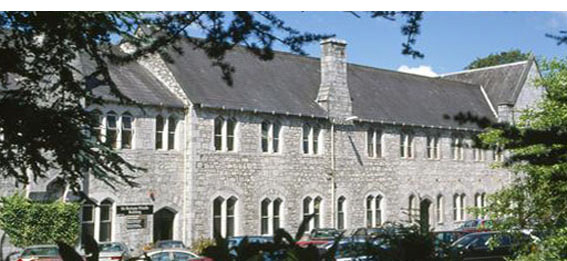 Photograph of Windle Building taken 1990s. With the relocation of the Anatomy and Physiology Departments to the Western Gate Complex a new era for the building has begun.
The ground floor of the Clarendon Building housed departments of pathology, material medica, and physiology. The departments of Anatomy and Physiology were originally one, however in 1907 the departments were separated. The President of the University Professor Windle was appointed Professor of Anatomy and, Professor DT Barry was appointed Professor of Physiology. Physiology now operated as its own department, located on the ground floor of the Medical building with the Department of Pathology. An operating room, physiological laboratory and histological and biochemical laboratories were all subsequently added on the ground floor.