Woodroffe art Michael Hanna
Woodroffe art Michael Hanna
John Woodroffe and the Cork Anatomists by Michael Hanna
John Woodroffe and the Cork Anatomists
From UCC Medical Alumni and Faculty Newsletter 10. January 2012 by Michael Hanna

History, when you least expect it, has a charming ability to throw up characters. One such is John Woodroffe who established Cork's first stand-alone School of Anatomy in 1811. A recent exhibition on Woodroffe in the Jennings Gallery in UCC's Health Sciences building presented a vivid picture of his life and times and included an erudite tribute by Professor John Fraher, Professor Emeritus of Anatomy at UCC, to some famous Cork anatomists whose early years must surely have been influenced by Woodroffe's presence. The trouble is that the records don't always yield information on the first steps in a famous career.Woodroffe provided a thorough grounding in basic medical sciences and gave his students a zeal for study and a hunger for learning. He came to Cork in his mid 20s around the timewhen Nelson was approaching immortality at Trafalgar. Probably nobody noticed this young Dubliner arriving in Cork to claim his inheritance. His great, great, great grandfather had been Provost of Bandon in 1641 and had three sons who were granted land by Charles II, probably for losses suffered in the1641 Rebellion.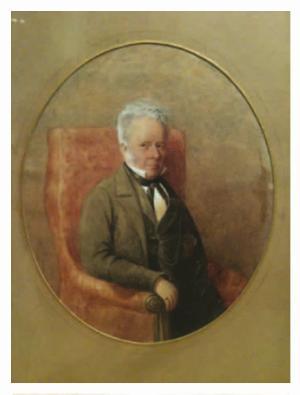 John's portion of the family inheritance was about 700 acres in East Carbery around the town of Ballyneen. He joined the Military Hospital in Cork as a junior surgeon where he was regarded by at least one leading Cork physician as "one of the very lowest rank". He seems to have had two things going for him – a passion for anatomy and a magical way with words. Before starting his school, he sought advice among the medical profession in Cork – mixed to say the least but it was enough.‌
In 1811, he leased a building in Margaret Street in the South Parish and offered a course of "Anatomical and Surgical Lectures". He seems to have been an overnight success. He welcomed all – aspiring art students or medical students or members of the military. He even offered his introductory lectures to the general public,"specially adapted to a female auditory". In 1815, the war with France having concluded, a doughty reporter of the Cork Mercantile Chronicle dropped into Margaret Street to listen.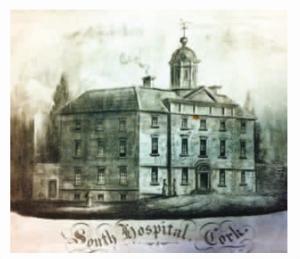 He begins his report thus: "Criticism is not intended to form any part of our notice of Dr Woodroffe's Lecture. Upon its matter it would be presumption in any other less acquainted with the subject to offer a contending remark; and as to the manner, we are disposed to pass over his peculiarities and slight defects, and lose them in the recollections of the beauty of his language, and the irresistible truths he impresses on us."
Whatever his mannerisms may have been, John Woodroffe could inspire with words. Imagine being a 15 year old with all life ahead of you and hearing this? "I will admit that, when the giddy season of boyhood is over, when the star of Science has illumined the darkened chamber of the mind, when, by persevering study and well directed application, the rudiments of the healing Art are fairly acquired, when the memory is stored with fundamental principles of Medical science,when the soil is cultured and the seed is sown, a warmer sun will ripen the intellectual fruits, and more large opportunities and extended practice will mature judgment and teach experience—but without such preparatory acquirements what manifold risks and dangers do you run."
For nearly 20 years he had the field to himself and in that time a number of pupils passed through his school who went on to fame, if not fortune, in the Victorian era – artists suchas Daniel Maclise, Samuel Forde, William Fisher, George Russell Dartnell, the great sculptor John Hogan and surgeons and anatomists such as Joseph Maclise, Richard Butcher and possibly one or more of the Quains. The link between anatomy and art is not surprising for Anatomy has always been a visual science. Joseph Maclise produced some truly stunning images of dissections, drawn from life on stone in a new process called lithography. Woodroffe was not just an inspiring teacher. He was a hard working surgeon in the South Infirmary – the proceeds of his public lectures all went to the Infirmary – and a tough opponent when crossed.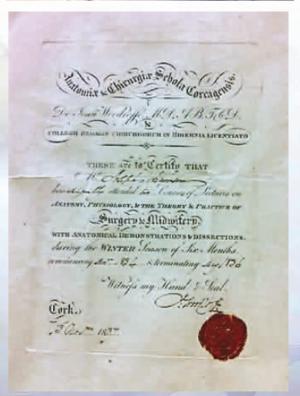 In 1820 he fought "a furious paper war" with William Bullen for his reputation and won. In 1829 he and other medical men (for they were all men in those days) fought a campaign to combine the County Infirmary at Mallow and the North and South Infirmaries in Cork into one General Infirmary and lost. In the course of that campaign he penned this letter in defenceof his school: "I am well aware that to obtain aknowledge of Medicine requires years of serious application, and if I sought by my Lectures to abridge a single day of pupilage or undergraduate study, I should feel myself amenable to Doctor Galwey's censures. I even think the prolonged period now insisted upon at Colleges and Universities, far too limited for the acquirement of the great mass of knowledge necessary to be obtained. I do not then pretend to any shortcut, to any Royal road to Medical Science. Of all acquirements, Anatomy is the most essential, and to the student the most difficult and repulsive, and if he can be accomplished in this necessary rudiment of professional education, previous to his entering a University, the heavy obstacle to his progressis removed, and he can at once apply himself to all the elegancies and refinements of Medical literature. That the Cork school is of essential value in this way has been acknowledge by almost every pupil I ever had; and it is an admitted fact that the most expert Anatomists to be found among the Classes at the University and at the College of Surgeons for some years, are those who commenced their careers of study in this City.
"This exhibition, which uncovered this previously unknown portrait of John Woodroffe (courtesy of his living descendants), does muchto bring back a tough and rather appealing character from 150 years of relative oblivion.‌