Nuadán
Nuadán
Nuadán
Sunday, 16 May 13:00
Nuadán will document the music of Irish traditional group Nuadán, heavily influenced by the music of one of Ireland's most prominent Gaeltacht areas, An Rinn. Featuring interviews and stories from band members Pax Ó Faoláin, Macdara Ó Faoláin, Cárthach Ó Faoláin and Iarlaith MacGabhann, as well as music from the band's debut album, Dén Díobháil, this documentary captures the place of traditional music in our communities today, and the significance of place in our culture and identity.
Artist: Nuadán
Producer: Mary O'Donnell
The Artist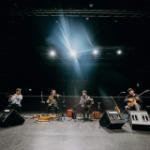 Nuadán
Nuadán are a vibrant band from the Déise & Dublin, who play a wide range of traditional tunes and sing sean-nós, macaronic and traditional songs in English. The band focuses on keeping the tradition they were brought up with alive, while also adding something new to the music. Each member of the band brings a flavour of their own to the ensemble, which brings a fresh and energetic feel to their music.
The band comprises of brothers Cárthach Ó Faoláin (accordion, melodeon, vocals), Macdara Ó Faoláin (bouzouki, piano, fiddle, vocals), Pax Ó Faoláin (fiddle, bodhrán, vocals) from An Rinn and Iarlaith MacGabhann (flute, whistles) from Dublin.
In January 2016, Nuadán launched their debut album, Lá Laindí Lugha, which has been received extremely well by a national and international audience.
Nuadán have played at many festivals and concerts nationwide including the Gala Concert at the Chief O'Neill Festival Bantry in 2018, Traidphicnic 2017 in Spiddal, Ennis Trad Fest Kilkenny TradFest 2017 and the Fleadh Nua in Ennis. Nuadán are delighted to be launching their new album 'Dén Díobháil' in 2019.
In November 2019, they launched their second album, Dén Díobháil at the Ennis Trad Fest. This new album has received an even better response, frequently featuring on national and international radio stations since its launch. They have played two CD Launch concerts to a full house and have more of these concerts booked nationwide in 2020.
Grúpa ildánach ó sna Déise & Baile Átha Cliatha iad Nuadán a sheineann agus a chanann i stíl traidisiúnta as Gaoluinn agus as Béarla. Tá'n traidisiún ina phríoracht don ghrúpa ach cuireann siad a splanc féin lena gcuid ceol chomh maith.
Is iad Cárthach Ó Faoláin (bosca ceoil, mileoidean, guth), Macdara Ó Faoláin (bouzouki, piano, fidil, guth), Pax Ó Faoláin (fidil, bodhrán, guth) ón Rinn agus Iarlaith MacGabhann (fliúit, feadóg) ó Bhaile Átha Cliath baill an ghrúpa seo.
I Mí Eanáir 2016, sheol Nuadán a gcéad ceirnín, Lá Laindí Lugha agus tháinig tóir air go náisiúnta agus go hidirnáisiúnta go tapaidh.
Tá siad tar éis seinnt ag go leor coirmeacha agus féilte ar fud na tíre; Féile Chief O'Neill 2018, Ennis Trad Fest, Traidphicnic 2017, Oireachtas na Samhna & Féile Ceoil Chill Chainnigh ina measc.
Sheol Nuadán a gceirnín nua Dén Díobháil ag Féile Ceoil na hInse i Mí na Samhna 2019, atá an-rath air go dtí seo. Tá péire de sheoltaí a bhí lán go béal déanta acu go dtí seo agus tá breis pleanáilte acu do 2020. Tá'n ceirnín nua seo le clos go minic ar RTÉ RnaG agus ar stáisiúin eile go náisiúnta agus go hidirnáisiúnta ó seoladh é.