Romantic Rhythms of Rebirth
Romantic Rhythms of Rebirth
Romantic Rhythms of Rebirth
Saturday, 15 May 16:00
Have you ever wanted to know the inside scoop on how jazz improvisers express and create music, during this unbelievable pandemic? If so, I warmly welcome you to Romantic Rhythms of Rebirth - a digital project, exploring the transformative relationship between emerging jazz artists and their evolving art. This project will document the individual journeys of four separated musicians that, when together, form an ensemble. Two of the artists will be commissioned to compose a piece of jazz music each, which will then be shared with their fellow ensemble members, in their respective locations. The project will document the spontaneous art of improvisation, and how it can teach us to be open to whatever emerges in life. Through the eyes of each jazz artist, we will battle through the hardship of lockdown, and triumph in the profound journey that is musical improvisation. The finale of Romantic Rhythms of Rebirth will have each of the musicians come together on a virtual platform, to perform and improvise on the two pieces of music, as one collaborative embodiment of creative work. We are all within our own cocoon of isolation. Let improvisation show us the way out.
Artists: Hugh Levis, Michael Riordan, Nyala Thompson Grunwald, Rob Long
Producer: Brietta Kerins
The Artists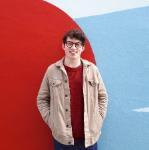 Hugh Levis
Hugh Levis is a 21 year old musician from Ballydehob in West Cork. He is a third year music student at UCC. Having played the piano since the age of seven, he has in recent years focused on performing and composing jazz. Each year in UCC, he has performed in their jazz ensembles and has gained considerable experience in improvising with other musicians. Over the course of the past year, Hugh has started to also focus on learning jazz on the guitar and the bass guitar. This has included learning improvisational skills which has further strengthened his improv techniques on piano. It has also added an extra facet to his compositional techniques, which he hopes to demonstrate in this project.
Photo: Haidee Doyle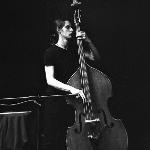 Michael Riordan
Michael Riordan was born in Cork City in 2001. His first instrument was the piano, learning classical music. In his early teens Michael took up the bass guitar and soon it was his main musical focus. He spent his teen years starting to gig playing blues, pop, rock and in his later teens, jazz. Soon after discovering jazz music, Riordan fell in love with it and took up the double bass. His live performances since have mostly been function/wedding bands, local jazz gigs where he has been a recurring house band member in a number of regular jam sessions, folk gigs and also symphony orchestra concerts. Riordan is a regular session musician in Blarney's Stoneview Studio where he has also recorded with a variety of local artists in the folk and rock genres. Riordan is currently studying a BA in Popular Music at Cork School of Music, Munster Technological University.
Photo: Vito Werner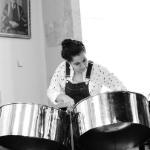 Nyala Thompson Grunwald
Nyala Thompson Grunwald (pronouns she/her) is a Franco-Trinbagonian pianist (steel drums) and percussionist. Nyala is a final year UCC Music student, and a Quercus Creative and Performing Arts Scholar.
Photo: Alana Daly Mulligan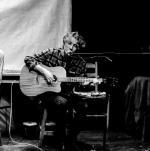 Rob Long
Rob Long is a composer, guitarist and drummer based in Cork City. He is a founding member of "Foldie", a local folk project started in 2018, and is currently undertaking a BMus in University College Cork. He likes contemporary guitar playing, improvising, pina coladas and getting caught in the rain.
Photo: Vito Werner
Video Editors: Michael Riordan, Ronan O'Shea