Anam Soma
Anam Soma
Anam Soma
Saturday 15 May, 18:00
Anam Soma is an arts event inspired by Irish culture's uniqueness, its deep roots in traditional music, and its influence on the community. This is an invitation to those who wish to explore a contemporary approach to traditional music, and experience the main ethnomusicological elements of trad. The Guys & Dolls Quartet will be performing acapella under the theme of "love". For this rare performance they will be accompanied solely by their own body, through body percussion under the guidance of Simone Mongelli.
Artists: Guys & Dolls Quartet, Simone Mongelli
Producer: Katerina Mullalli
The Artists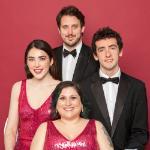 Guys & Dolls Quartet
Formed in 2016, Guys and Dolls established themselves as a Barbershop quartet with their first performance launching them into success winning National Gold at the Irish Association of Barbershop Singing convention in October 2016. Currently the group holds their third National Gold with IABS after their win in October 2019 at the INEC, Killarney, along with a third place prize in the Spanish Association of Barbershop International Competition in 2017. The group have participated in numerous charity concerts as well as Lady Barbarlade's 'Goldrush Tour' in September 2019 and have been featured in the Cork International Choral Festival selling out their first gig on the CICF 'Festival Trail'. In 2020, Guys and Dolls rose to the challenge of remote rehearsals and have been enjoying recording remotely but are nonetheless eager to return to the stage as soon as possible!
Photo: David Edmunds, Platform 3 Photography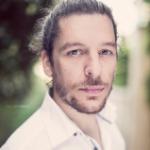 Simone Mongelli
Simone Mongelli holds an MA with honours in Music Anthropology, Italy, and Conservatory degree with honours in Traditional Percussion Instruments, Greece. His musical interests span from Mediterranean tradition to free improvisation, creative music, theatre and more. With more than 10 personal recordings, hundreds of live and studio collaborations in Europe and the USA, in various musical genres, as well as in the fields of theatre, musical, visual arts, dance, he has won prizes as a musician in Italy and Greece and has created several musical projects and directed an important folk music festival in Italy. Active also as a Body Music performer, he has developed a very personal musical language, rooted in his knowledge of traditional rhythms and sounds. He recently created Bodyterranean, an album and music show based exclusively on sounds from the body, inspired by traditional musical material from Greece and Italy. He teaches percussion and body music in several countries.
Photo: Fotis Fotopoulos
Video and Sound Editor: Robert O'Sullivan