MA Student Experience Blog
MA Student Experience Blog
Blog. Cork International Film Festival Premiere: Carmel Winters' Float Like a Butterfly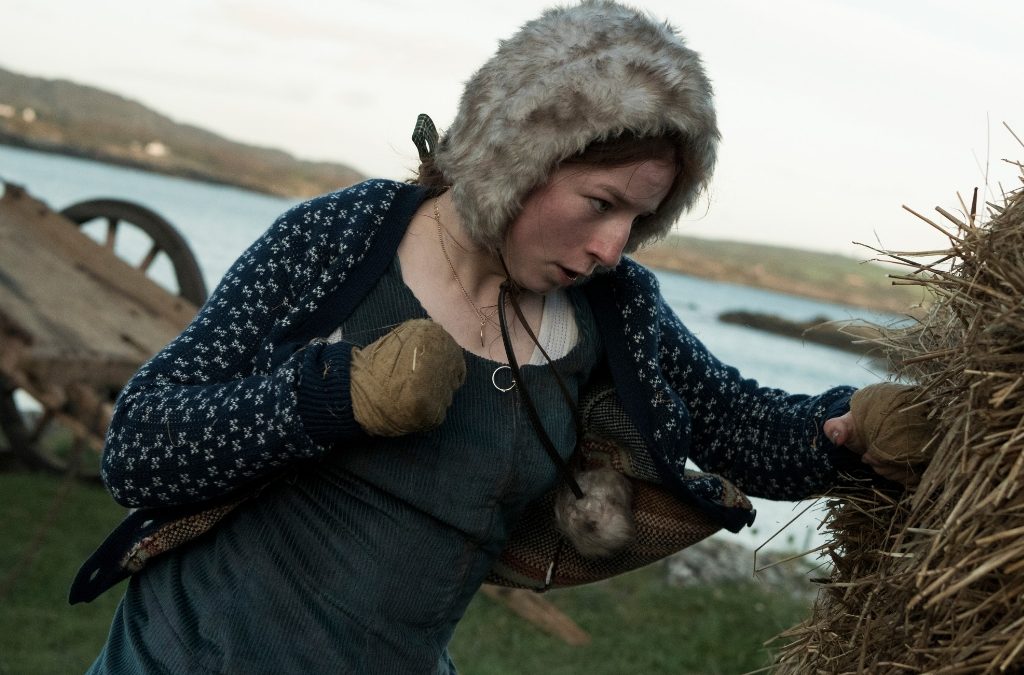 Friday night, I attended the premiere of the Cork International Film Festival...
whose opening title was Carmel Winters' Float Like a Butterfly (watch clip here). The premiere was in The Everyman Theatre, located in the city centre and a convenient walk from my apartment. I had never been to the premiere of a festival before and am extraordinarily privileged to have attended.
The event began with speeches from festival staff, including Festival Producer and CEO Fiona Clark, as well as Cork politicians, and culminated in Carmel Winters' introduction to her film. In her speech, she discussed her time as Arts Council/UCC Film Artist in Residence and how rewarding she found the experience. She also noted that she wrote Float Like a Butterfly during her time at UCC, and that students from the Film and Screen Media department helped her workshop the screenplay. As a UCC student, it was thrilling to sit at the premiere of an international film festival and hear my university praised by one of the leading filmmakers in Ireland. Winters' speech gave me a sense of the depth and value of the relationship between the department's artist in residence and students, and heightened my excitement to work with our current Arts Council/UCC Film Artist in Residence, Pat Murphy.
During her speech, Carmel Winters also addressed earlier praise for her FIPRESCI Prize for the Discovery Programme at the Toronto International Film Festival (TIFF), as well as comments at TIFF that Toronto audiences were the best in the world. A Cork native, Winters said that she was honored to open Cork's festival with her film and, grinning, opined that Cork audiences were certainly the best in the world. Her speech was punctuated by applause and shouts of support, particularly as she praised her hometown and the immense talent she has observed throughout Ireland. The crowd grew especially enthusiastic when Winters, in light of her TIFF award coinciding with her marriage to her wife, re-proposed to her wife and invited her onstage—Cork, after all, was not to be outdone.
Because her movie is about Ireland's Traveller community, Carmel Winters also commented on recent controversies regarding this minority group. To a near standing ovation, she announced that she wanted every member of the Travelling community in attendance that night to leave the theatre "feeling a mile taller," and that everyone in the audience should feel unstoppable after viewing the film. Winters also stressed her hope that Travellers feel celebrated and properly represented in the film, rather than maligned or misunderstood. She also spoke out against the othering of the Traveller community, relating it to her own experience as a member of the LGBTQ community. With great conviction and with her actors beside her, she stated that Ireland is one community and one family, inciting a positive and inspired reaction across the theatre.
For me, as a Latina, it was comforting to hear these words and the positive reaction they received. While there are not many other Puerto Ricans in Cork, I have felt wholly welcomed since I moved here, and Carmel Winters' speech solidified the sense that I am living in a progressive, inclusive community. The Travelling community may not be the specific minority group I belong to, but the message of diversity and coexistence stretches across these socially constructed borders and remains universally inspiring.
After Carmel Winters' speech, we began to watch Float Like a Butterfly. I had heard a great deal about the film prior to seeing it, and in cases such as these I endeavor to clear my mind and avoid any bias or preconceived notions while viewing it. That being said, the film truly blew me away. The visuals—sometimes minimalistic and muted, other times vivid and detailed—were stunning, along with the film's masterful cinematography. Winters' high praise for her child actors also proved incredibly accurate, because I was consistently impressed by the subtle depth of emotion and interpersonal chemistry the actors captured. The film was all at once heartbreaking, nostalgic, funny, and even educational, and I am privileged to have seen it.
When I introduced myself to Carmel Winters after the film, I struggled to express my praise this without sounding insincere in my rave review, and she was incredibly gracious even as friends and colleagues approached to embrace her. Reflecting on the past few hours, I left the theatre filled with gratitude and excitement to see the next film.
Gabrielle Ulubay is a writer from the United States and is currently studying at UCC for the Masters in Film and Screen Media. For her undergraduate, she studied history, cinema studies, and international affairs at Northeastern University, and so far has published film reviews, interviews, and an essay for the New York Times. Moving forward, she intends to make films and to continue pursuing writing, and is particularly interested in social justice themes.