MA Student Experience Blog
MA Student Experience Blog
Blog. Brian Deane Masterclasses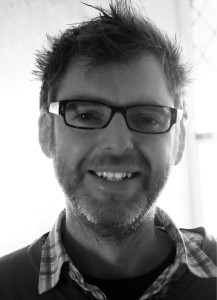 Between this and last semester, the Film and Screen Media department hosted a two-part masterclass from filmmaker Brian Deane, who has made acclaimed features and shorts including Volkswagen Joe (2013), First Love (2014), and Blight (2015)...
During these sessions, he particularly focused on the visual components of filmmaking, noting the importance of visual cues such as colour, deep or flat space, texture, and camera movement. His presentation was extraordinarily detailed and comprehensive, marked by examples from well-known films such as Touch of Evil (1958), Sixth Sense (1999), Citizen Kane (1941), American Beauty (1999), and Die Hard (1988). When asked about the limitations that low- or no-budget filmmaking might have on a film's visuals, Deane reminded the audience that sometimes limitations could be helpful: They might necessitate greater creativity and stylization, and could lead to unique visual choices that might not have otherwise been considered.
Deane then proceeded to discuss shot composition and visual continuity between shots. He used films such as Shawshank Redemption to illustrate the composition of vertical and horizontal lines in scenes, and showed the importance of actor placement in action sequences. Deane's lesson gave a clear sense of directorial responsibilities, and he emphasized that directors need to control all of their films' visual components or else the film could suffer aesthetically. Visual imperfections or a lack of continuity could then distract the audience and draw attention away from the narrative/
Deane then used his own experiences as a filmmaker to teach us about effective post-production and marketing. Volkswagen Joe, he noted, was a difficult film to distribute to film festivals because its length (about thirty minutes) was longer than a typical short, yet shorter than a feature. He also stressed the importance of developing positive relationships with people in the film industry, including members of the Irish Film Board. Deane stressed that although good films have the capacity to speak for themselves, it is also essential to market one's personal artistic style and identity in order to achieve respect and recognition within the industry.
Finally, in the last segment of his second session with us, Brian Deane focused on screenwriting. He reviewed the primary types of scenes and the importance of balancing dialogue and action. "Dialogue," he noted, "should only say what the picture cannot." In sum, Deane's masterclass was illuminating with regards to both film practice and his own career trajectory.