Current Students
Current Students
Student Insights - Final Year student Stefan Healy talks about 'The Outsider'

Final Year student Stefan Healy speaks about his experience taking the text 'The Outsider' by H.P. Lovecraft and creating a piece of theatre with his partner Tommy.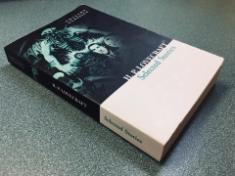 When first reading The Outsider by H.P. Lovecraft I never would have thought that there was so much to be discovered within such a short text.
I was largely unfamiliar with the author's work before beginning our Final Year Project; my only experience of his ideas came when I played the role of Father in In Their Horror Unheeded, a play written and directed by Department of Theatre alumnus Darragh Mulcahy. This piece was heavily inspired by the work of Lovecraft, and the result was a dark horror depicting a man spiralling into insanity.
The Outsider, however, was the first work of Lovecraft that I had ever read, and after reading it a few times, a world of ideas began to open up in my mind.
The story itself is relatively straightforward, at first glance at least. A man has been living in a castle all his life with no memory of human contact.
No light enters the castle due to the menacingly tall trees, so candles are his only light. After a number of attempts at escaping the castle, he attempts to ascend the treacherous black tower, which is the only part of the castle that reaches above the trees.
He manages to reach the top, and somehow emerges onto an open courtyard, seeing the moon for the first time. He explores this new land he has found and happens upon another castle.
The Outsider peers through a window to find people dancing jovially. He climbs through the window and suddenly everyone flees in fright.
Searching desperately for the source of their terror, he discovers a golden archway, behind which stands a hideous monster.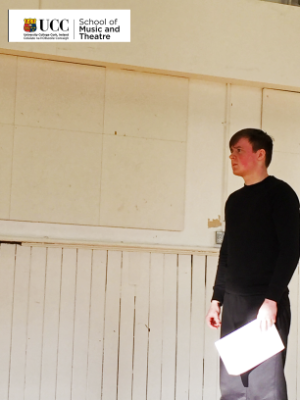 Despite being absolutely appalled by the grotesque creature, he approaches it and they touch fingers. The last line of the story, however, reveals that he is not in fact touching a monster, but a mirror.
The story manages to be hopelessly bleak and immensely gripping at the same time. After reading it a number of times I showed it to Tommy, my partner in crime for FYP, who also loved it.
We came to a swift decision that it would be the basis for our adaptation, and we instantly began to discover sentences and even words in the text which linked perfectly with our approach.
These subtle sections of the text drove our progression and we quickly figured out what the main element of our adaptation was going to be: I would play The Outsider and Tommy would play my reflection, The Insider.
We tell the story through a dialogue between man and reflection, a dynamic we have found comes naturally to us. After drawing directly from the original text for the beginning of the piece I wrote a section of dialogue where the pair begin to understand each other and develop their relationship.
I had not done much playwriting before sitting to down to write for our FYP, but Tommy and I had created such a solid basis for the performance already that the words seemed to flow onto the page!
After I had written this small section we took this piece of dialogue and improvised from the last line. Much of the script now is bits taken from these improvised sessions.
We found ourselves really comfortable with the dynamic and already had a strong understanding of our characters. We had struggled to find a consistent method of producing the script before our improvisation sessions, and having that little bit of written text to begin with helped to give us a starting point.
Since then we have spent hours discussing the potential ending of our adaptation, with so many ideas thrown around.
The ending is something I will absolutely not say a thing about - you'll have to come and see the show to see what we've done! But we have settled on an ending that we hope will really get audience's minds working.
We are now spending a lot of time working on movement and moments where Tommy and I perfectly reflect each other on the stage.
With only four weeks to the show there's so many things we need to finalise and touch up, so we will have to be super focused to get it done! But it has been a really enjoyable journey so far, and I'm sure the next month will hold many more surprises and discoveries!
Stefan Healy
Betwixt One Man