News
News
New exhibition on cinema and cinema-going in Youghal, curated by Mr. Michael Hussey. Youghal Library. Sep 20th - Oct 11th.
The Department of Film and Screen Media is delighted to announce that a new exhibition on cinema and cinema-going in Youghal, curated by filmmaker, historian and recent graduate of the BA in Film & Screen Media, Mr. Michael Hussey, will take place in Youghal Library from September 20th to October 11.
The Exhibition charts the development of cinemas and cinema culture in Youghal and its environs, from the first films by the Horgan brothers—including a wonderful animated film from 1910, showing the clock tower flipping!—to the development of two cinemas in the town (The Regal and The Horgan Cinema), and the shooting of Moby Dick by John Huston and Barry Lyndon by Stanley Kubrick (in nearby Templemichael).
Visitors can check out an extensive display of vintage photographic and film equipment; archive and amateur footage showing behind-the-scenes on John Huston's set; selections of interviews, historical material and analysis of Youghal as "the cradle of Irish filmmaking" from the CACSSS/Creative Ireland funded Cork Movie Memories project; and memorabilia and rare photos from the town's cinemas.
This wonderful exhibition will immerse you in the important history of film in Youghal and evoke memories of the Golden Age of Cinema-going and photography.
Entrance is free.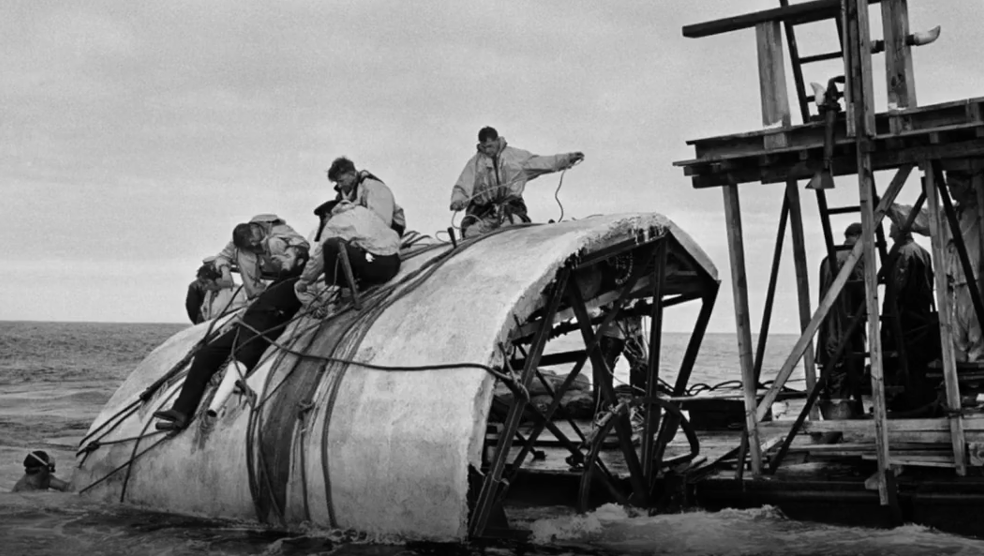 Whale Capture. Scene from Moby Dick. Image courtesy of Michael Hussey.