News Archive 2021
News Archive 2021
Congratulations to Professor Aideen Sullivan on her appointment as Head of the Department of Anatomy & Neuroscience at UCC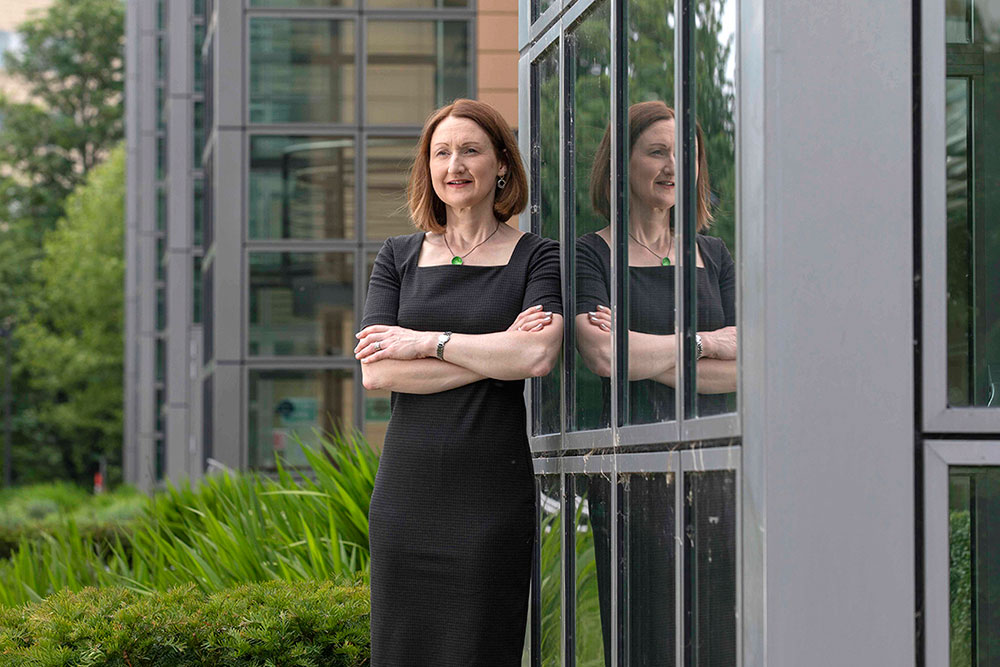 Congratulations to Professor Aideen M. Sullivan who was appointed Head of the Department of Anatomy and Neuroscience at University College Cork, in March 2021.
Professor Sullivan, originally from Co. Waterford, graduated from University College Dublin in 1992 with a BSc in Pharmacology. In 1995, she obtained a PhD in Neuropharmacology from the University of Cambridge, UK, then worked in Imperial College London School of Medicine as a post-doctoral researcher from 1995-1998, on a project funded by the Parkinson's Disease Society. In 1998, she was appointed as Lecturer in the Department of Anatomy at UCC, and was promoted to Senior Lecturer in 2006 and to Professor (Scale 2) in 2014, the first such appointment in the Department.
Speaking about her recent appointment, Professor Sullivan says
I am very proud to take over as Head of such a vibrant and dynamic department and looking forward to continue to progress the research and teaching activities". I am honourd to be the first female Head of the Department since it was founded in 1850.

The Department has changed hugely in the 23 years since I started working here. Before I joined, there were four full-time academic staff, all male, as well as two female part-time Lecturers.

At that time, the Department was located in the Windle Building on the main campus and taught Anatomy mainly to undergraduate medical and dental students.
Teaching in the Department now includes Anatomy and Neuroscience, as well as related subjects and techniques, not only to undergraduate Medical and Dental students but also to students of Graduate Entry Medicine, Nursing, Physiotherapy, Speech and Language Therapy, Occupational Therapy, Pharmacy, Public Health, Dental Hygiene, Psychology, Neuroscience, Medical and Health Sciences, and MSc in Human Anatomy. Professor Sullivan remarks how the size and range of activities in the Department has expanded during her time in the department
The Department today has 17 academic staff, 12 of whom are female. Considering all full-time staff in the Department, the gender balance overall is now 70% female and 30% male.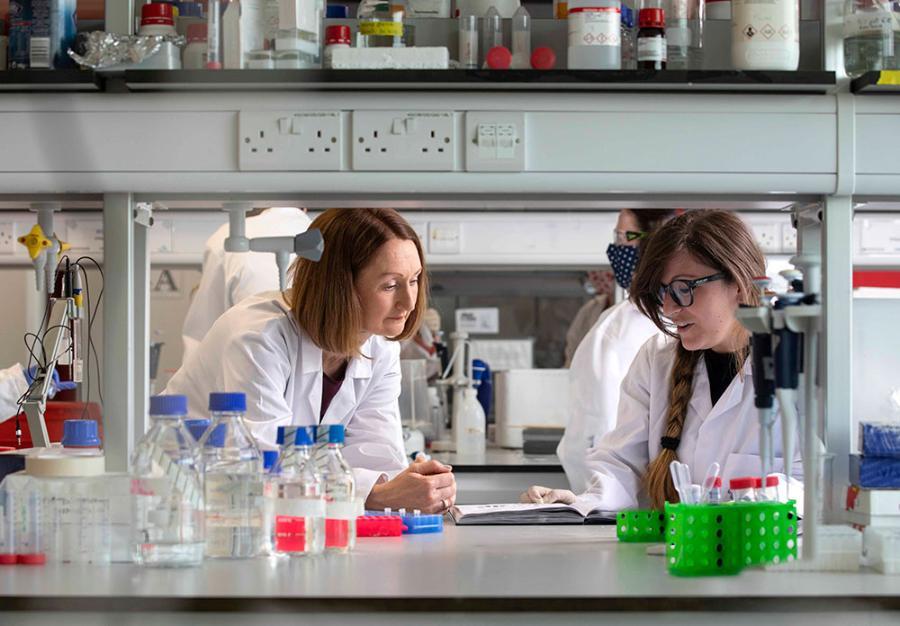 Professor Sullivan was instrumental in leading a significant expansion to the Department's interdisciplinary teaching with the establishment of the BSc degree in Neuroscience in 1998, the first Neuroscience degree in Ireland.
The BSc Neuroscience is now a very established successful and recognised degree programme, which saw its 20th class graduating in 2020.
More recently, Professor Sullivan led the development of the new cross-College BSc degree programme in Medical and Health Sciences, which had its first student intake in 2018.
On the topic of the impact of the Covid-19 pandemic on teaching activities, she says
The restrictions imposed due to the Covid-19 pandemic have given us the opportunity to re-consider and re-design the ways in which we educate our students. Staff have worked flexibly and effectively, learning new ways to enhance the student experience at UCC. Across all programmes, online education has enhanced digital fluency and virtual communication skills for both students and staff.

In the BSc Medical and Health Sciences programme, we have used this opportunity to introduce new components to our curricula, focusing on small-group active learning. We have included new elements to help our students become proficient in transferable competencies such as communication skills, critical thinking, digital technologies, and patient and public engagement, which are really important attributes for all of our graduates.
In terms of research activities, the Department has a long-standing focus on Neuroscience research. In 2010, it was renamed the Department of Anatomy and Neuroscience to reflect the research emphasis therein. Its expansion and move to new teaching and research facilities in the Western Gateway Building aligned with plans to continue to develop an internationally-recognised research unit in the neurosciences, with a goal to advance knowledge, and to educate both students and society, on the mechanisms of and potential treatments for brain disorders. Other research activities in the Department today include the research on the scholarship of teaching and learning in Anatomical education. Under the guidance of Professor Sullivan, it offers first class opportunities for postgraduate study and research and continuing professional development.
Our aim is to provide doctors, health professionals and scientists of the future with a world class, student-centred education, based on current knowledge, informed by research and with an awareness of societal needs.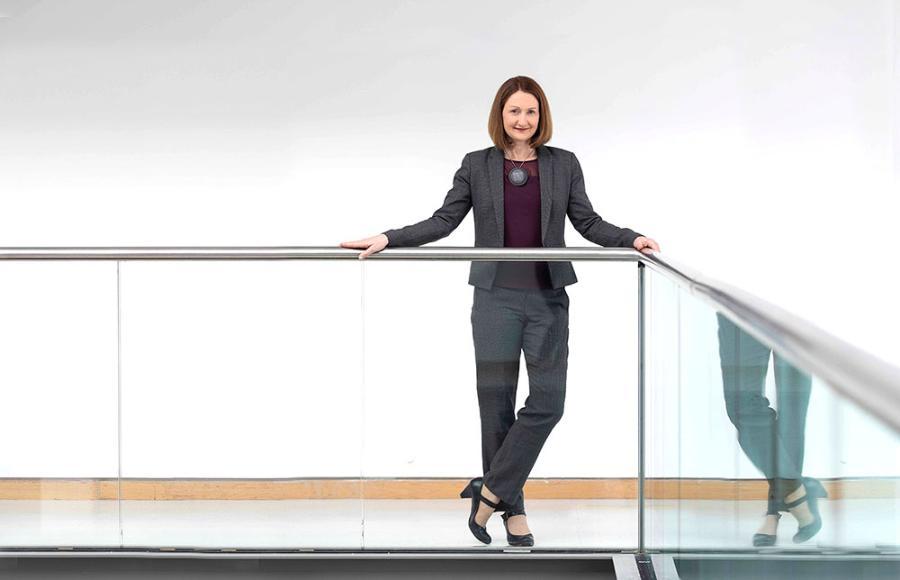 Professor Sullivan's own research activities are focused on the development of novel approaches to the treatment of Parkinson's disease. Professor Sullivan is an expert in investigating neuroprotective therapies, which have the potential to slow or reverse the progression of this debilitating disease. On this topic, she runs a collaborative research programme which has secured funding from a range of national and international organisations. This is highlighted by the recent award to Professor Sullivan and her colleague Professor Gerard O'Keeffe of funding from the UK trust, Cure Parkinson's, to further their research on the neurotrophic factor GDF5 as a neuroprotective therapy for Parkinson's. This study will use gene therapy to deliver GDF5 in an effective and long-lasting manner to the brain, in a clinically-relevant animal model of Parkinson's. This will lay the foundation for the use of GDF5 in clinical trials aimed at stopping Parkinson's pathology from worsening. On the topic of the recent grant success, Professor Sullivan says
It is an honour to receive funding from Cure Parkinson's for our ongoing research on GDF's therapeutic potential. The Cure Parkinson's trust has a large emphasis on patient involvement in research, and this is something which is very important to our research group. Over the past two decades, I have increasingly engaged with the local and national Parkinson's communities, in a bidirectional sharing of research priorities and ideas. I am delighted to have two Irish people with Parkinson's as co-applicants on our Cure Parkinson's grant and I am looking forward to their valuable contributions to our ongoing research.
Her research on Parkinson's led Professor Sullivan to be the founding Director of the Cork Parkinson's Disease Research Cluster and the vice-Director of the Cork NeuroScience Centre.
Professor Sullivan is passionate about public and patient engagement and outreach and she led the organisation of several conferences on the topic of Parkinson's disease research, including the highly successful BRAINTALK Parkinson's Community Meeting and Art Exhibition in the Glucksman Gallery 2015. This event brought together Parkinson's patients, carers, clinicians and scientists for sharing of experiences and ideas - with plenty of art, music and dancing to ensure that all attendees had a very enjoyable and informative day.
Professor Sullivan is also very active in mentoring students and colleagues, and in the promotion of equality, diversity and inclusion in Higher Education. She participated in the Leadership Foundation's Aurora programme for women in Higher Education and in UCC's 'Through the Glass Ceiling' Programme for Female Academics and Researchers. She is a member of the University's and the College of Medicine and Health's Athena SWAN steering groups. She was Chair of the 'Flexible Working' group in UCC's successful Bronze Award in 2019.
Staff in the Department of Anatomy wish Professor Sullivan every success and happiness in her recent appointment.
Photographs Clare Keogh
For more on this story contact:
News item B. Riedewald. Photographs Clare Keogh.