News Archive 2019
News Archive 2019
Music and science brought together to develop music programme for children with Down Syndrome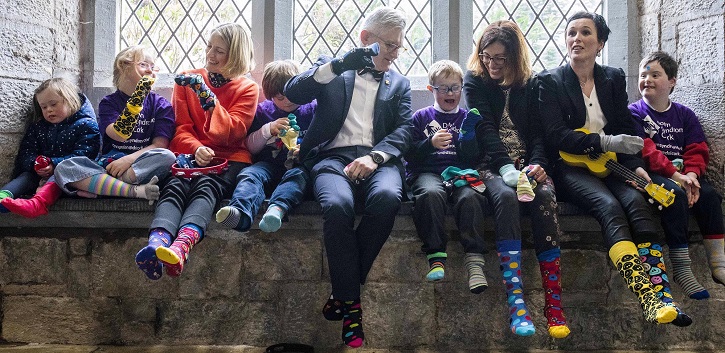 The power of music to aid in the development of children with Down Syndrome is being studied in a remarkable research project at University College Cork (UCC).
The study brings music together with the fields of psychology and neuroscience so that the cognitive and neurobiological effects of a specially-designed music programme for children with Down Syndrome can be developed and fully evaluated.

The lead researcher of the study, Dr Eva McMullan, stated that the research project was inspired by the ongoing work between Music4Children and Down Syndrome Cork. "Since 2017 we have been teaching the Music4Children programme to children with Down Syndrome. Shortly after commencing the programme, the immediate benefits became apparent. Most often people tend to see the disability before they see the ability and this carefully designed music programme has allowed these children's immense abilities to come through. This is what this project is about, celebrating ability."

"I don't think any of us as parents at Down Syndrome Cork, when we started music with Eva and the puppets, ever imagined the amazing impact it would have on our kids. The amount of benefits these sessions have had on auditory processing, language skills, speech, shared experience with parents, attention building, turn taking, literacy skills and most of all fun is astounding" stated Alison Nolan, whose son Connor, participated in the initial music classes.
Through the support of the College of Health and Medicine at UCC, Dr McMullan was able to form an interdisciplinary research team of experts in neuroscience, psychology and music, which will seek to examine this promising early anecdotal evidence.
"Globally this type of research that brings a number of disciplines together and works with children with Down Syndrome is rare" commented Dr Jason Chan, collaborator on the project and Lecturer in the School of Applied Psychology at UCC, "our ultimate aim with this research is to enhance the lives of children with Down Syndrome through the creation of specifically designed music programmes."

"Advances in neuroscience are providing new insights into how our brains develop and function, and we are excited to work with our colleagues in Music and Applied Psychology on this innovative research" Dr Yvonne Nolan, Senior Lecturer School of Anatomy and Neuroscience at UCC commented.

Over an eight-week period, children with Down Syndrome will take part in a carefully designed daily intervention music programme both in their homes and at UCC. Before and after each musical programme a series of tests checking for various mental skills in a fun setting will be conducted, and brain activity will be measured by electroencephalography (EEG) at University College Cork, Department of Music and the Department of Applied Psychology.

"We know that music is good for everybody's brain, but it is important to consolidate the parents' report of huge benefits with children with Down Syndrome with solid scientific research, which can help us understanding exactly which improvements we can expect and how to make a music program more and more effective" said Dr Annalisa Setti, Lecturer in the School of Applied Psychology at UCC.
For more on this story contact:
Eoin Hahessy, Head of Media, UCC: 086 046 8950 / eoin.hahessy@ucc.ie.