News archive 2017
News archive 2017
Brazilian PhD student Brunno Levone meets President of Ireland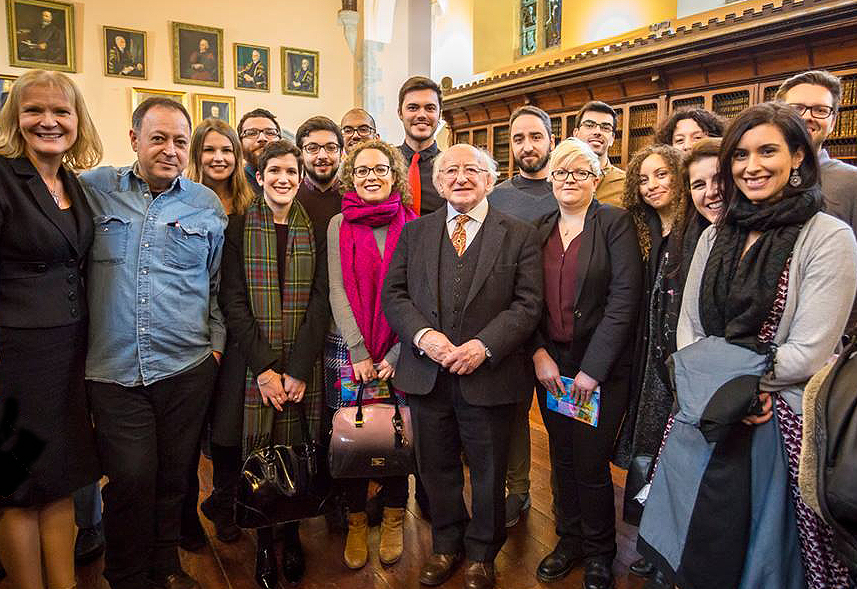 Brunno Rocha Levone a PhD student in the Department of Anatomy and Neuroscience was delighted to meet President of Ireland Michael D. Higgins at the opening of the 'Irish in Latin America Exhibition' held recently in the Aula Maxima University College Cork.
Brunno who is in the final year of his doctorate studies under the supervision of Professor John Cryan and Dr Olivia O'Leary came to Ireland three years ago on a 'Science without Borders' programme funded by the Brazilian Government. Originally from Rio de Janeiro, his family moved south to Florianópolis where Brunno studied before travelling to Ireland.
'Meeting the President of Ireland was a great honour' said Brunno, and he was particularly delighted to hear the Irish President address the audience in Spanish, as well as Irish and English. Brunno remarked at how warmly the President spoke 'as if he was speaking to his family or friends' and how comfortably he mingled with the crowd with much less security than expected, he suggests that this is 'because the president is admired by Irish and foreign people'.
'I will move out from Ireland next year, but I will always remember the charismatic president that this country has, and dream of a president of my country who, like President Higgins, is admired and respected by all people". In the meantime Brunno is enjoying his time in Ireland 'what I like the most here are the summer and music festivals and the peaceful yet busy life. My main hobby is to travel both in Ireland and abroad'.
Also in attendance a the opening of the 'Irish in Latin America exhibition', was the Brazilian Ambassador in Ireland Afonso Jose Sena Cardoso. The exhibition celebrated Irish figures who have influenced the cultural, intellectual, scientific and political landscape of Latin America honouring historic individuals such as General Daniel O'Leary, who helped Venezuela win independence from Spain and Eliza Lynch, a national heroine in Paraguay.
The exhibition is open to the public in the Aula Maxima, UCC. It will also be open to viewing in the Glucksman Gallery foyer from February 7th to the 12th and in the O'Rahilly building from the 16th to the 28th of February.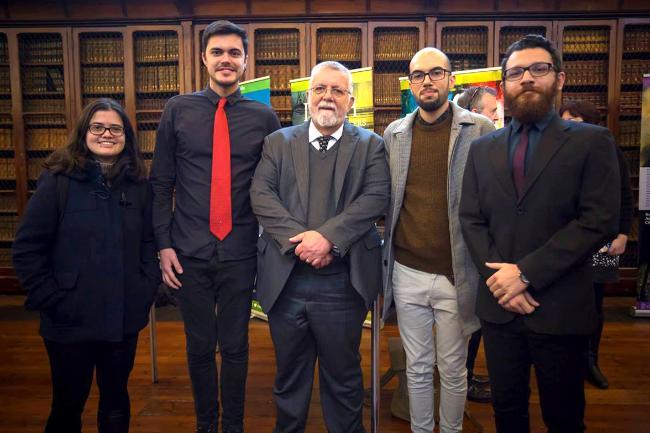 Brunno Rocha Levone (second from left) meets Brazilian Ambassador in Ireland Afonso Jose Sena Cardoso (centre) with other Brazilian students in UCC.
‌
‌